Cleaning At The Last Minute
It is possible to do your cleaning at the last-minute if you are expecting company, especially if you are celebrating a special event. While it is always a good idea to plan and to clean on a regular basis, if something happens or a friend lets you know they are popping round, knowing how to make your home appear clean is great; it makes you feel better and your friends won't know how you keep your home looking so great. It is also great if you can't be bothered to do a proper clean but you want it to appear clean, even just for you and your family.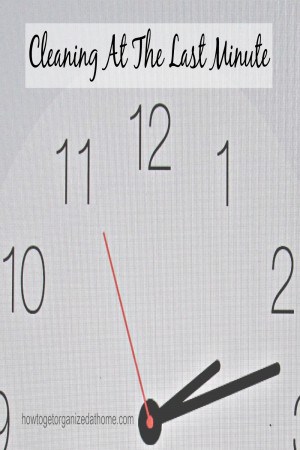 Quick Home Cleaning
You must create a plan of attack, the tasks that you must do and this depends on what you are cleaning for, if it is for a visitor then chances are they don't need to see into certain rooms, shut the doors and that is one less area you need to clean.
If this last-minute cleaning needs to cover all rooms then you need to look through at the most important areas, mine are:
Make beds, this can tidy a bedroom quicker than anything else you can do.
Clean the toilet, open the window, this way it reduces the chances of any smell lingering.
Quickly clean the outside of the door they will use when they arrive. This gives a person a first impression and if this looks clean, chances are they won't notice the rest of the house.
Clutter, clearing the surfaces of clutter makes your home appear tidy, check the floors too; if necessary hide this clutter in a cupboard but don't forget to sort it later, put it on your to-do list.
Dusting, now it is important to know the areas of your home that shows the dirt and dust, mine is my TV unit, it is glass and it just shows the dust off. This is for me the most important area to keep clean and it gives the impression that the rest of the room is dust free too.
Open windows and this will allow fresh air into your home and it can make it smell fresh too!
Vacuuming, now don't worry, I am not suggesting to hoover your whole house, just the middle of the rooms and only the rooms you need. If you get those vacuuming lines even better!
Getting On Top Of The Cleaning Jobs
To prevent you falling into this quick cleaning cycle in the future, it is best to plan your cleaning regularly. It isn't always easy to ensure that you fit in cleaning into your daily schedule, there is always something else that can seem important. However, even just spending five minutes a day cleaning will help how you feel about your home and how much less you will have to do when you are expecting visitors.
If you dislike cleaning that much, it might be an idea to look at a cleaning service and to see how much this would cost, it might be less than you think! Then at least you wouldn't have to worry about cleaning and could start enjoying your free time.
Therefore, don't panic if you need to do a quick house clean, it is important to make choices, what needs doing versus what doesn't. In future, it is important that you plan your cleaning; this could mean contracting it out if you can afford someone to clean for you, or doing little bits each day. However, what is important is knowing that if you need to do a quick clean isn't a disaster and there is a solution to your crisis.