Gift Guide For The Best Cleaning Products
If you have a friend who loves to clean, buying them the best cleaning products for a gift isn't always a bad idea. I want to share with you this gift guide for cleaning products ideas that your clean freaks are going to love.
I love cleaning and I really would love cleaning products as a gift, however, some people might not appreciate cleaning products as a gift, so make sure you know the person well and they would be happy to receive a cleaning product as part of their gift basket.
Before you make your holiday shopping list, always check first what items that person needs, rather than you spending money on something they already have or don't need.
The Best Cleaning Products For This Holiday Season
Before you rush out and buy the first thing you see you have to stop and think about the person and what they need and like. Finding the perfect gift for someone this holiday season is going to be different because I want you to put thought into what that person actually wants.
Some gifts, however much you love them, might not be suitable. So think about their circumstances and what they need and ultimately love and use.
If they are looking for a big item, there are a few that can come into the area of cleaning, but cost a lot, think carefully before choosing a big appliance.
You might want to let the person receiving the gift choose something they like, rather than surprising them with something that might not fit their needs.
So, for some of the bigger items it might be a good idea to involve them in the purchasing process because some items are expensive and personal choice can be so different.
You can do your research first and maybe give them a couple of options to choose from.
Affiliate links are included for your convenience. (Which means if you make a purchase after clicking a link I will earn a small commission which won't cost you a penny more!) Click here to read my full disclosure and privacy policy.
Remember, just because you might like a product other people might hate it and so for some of the bigger ticket items like those listed below I would get the person's opinion before purchasing.
Cleaning Products For Neat Freaks
Cleaning and having a clean house has become popular in the last few years with the likes of Mrs Hinch and her cleaning Instagram account, however, there have been people who love to clean long before she made cleaning popular.
When it comes to gift ideas for neat freaks then you aren't just thinking about cleaning products but ways to make your home look and feel clean and sometimes this means having homes for everything so that the room looks like it's been styled by a professional.
So, it wouldn't be fair in this holiday gift guide to just include cleaning products but also products that you can use to make your home look amazing and something out of a designer magazine.
If you put together a gift basket with some of these products I know so many people would love these items and most of them aren't overly expensive but they would make a great gift in a mini collection or gift basket.
Gift Ideas For Gift Baskets For Clean Freaks
It's OK to mix and match these products to suit the person you are buying for. For example you could buy products that are all pink, there are so many different options and it's a great idea to come up with a theme for your collection.
You could then come up with a clever way to present these products in a nice rope basket or wire basket depending on the taste of the person receiving the gift. Having the 'must have cleaning products of the season' doesn't mean they are always the best product for the job. Often, those products you see on influencer pages on Instagram are paid for advertisements and not always their own opinions on the product.
Additional Reading: What's The Best Way To Use Zoflora? Mold In Your Home?
Pin This: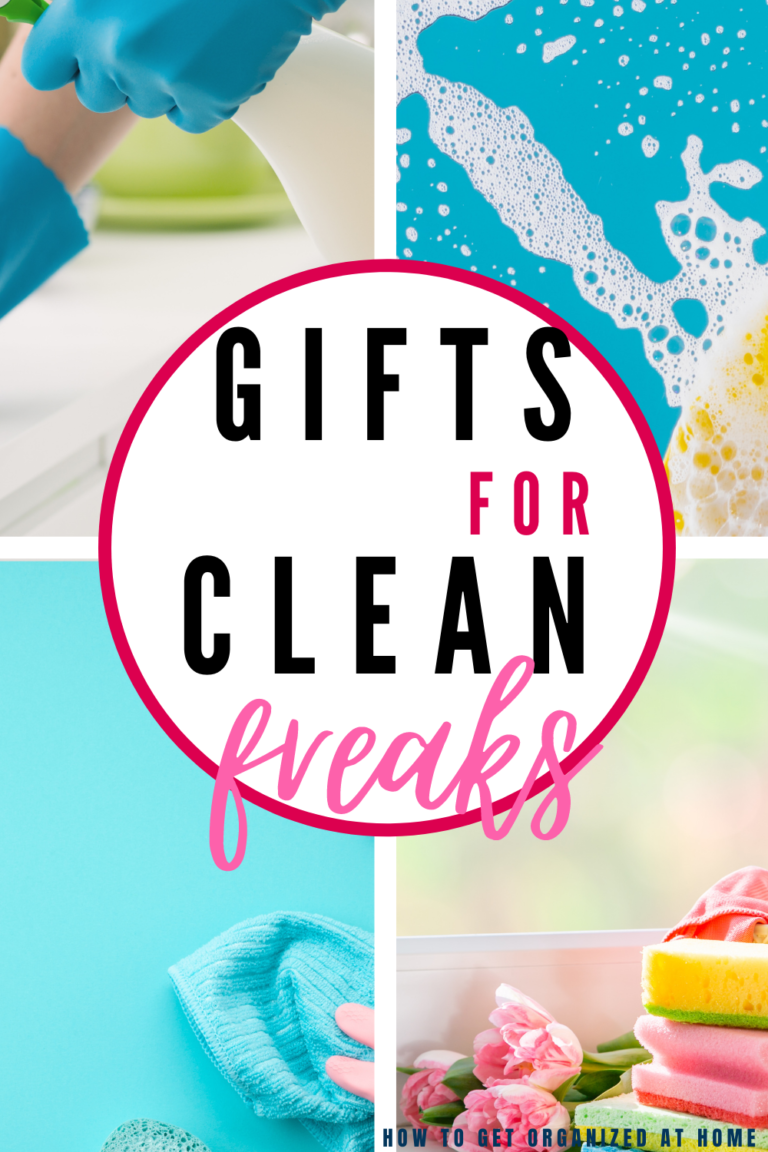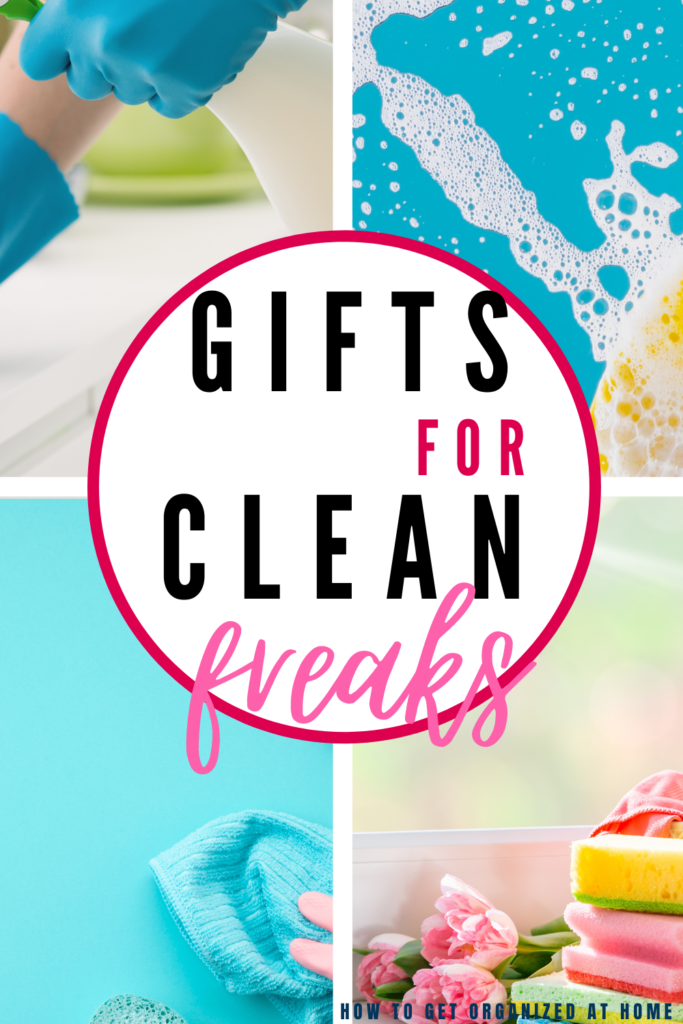 Cleaning Products For The Floor
For me if a floor is dirty, then it can spoil the whole look of the room, so I do pay attention to the floors in my home a lot.
I do love a clean floor, unfortunately, it doesn't stay clean long in my home though with three dogs and three adults.
There are so many different products you can use but it also depends on the flooring as to the main products you need.
The choice of these is vast too and it will depend on your budget as to the option you go for. Also, with some of these items being expensive you might want to find out the style of the person you are giving the product too.
For example, I hate cylinder vacuums and prefer an upright, whereas my daughter hates my upright vacuums and prefers a cylinder. Getting this simple detail wrong could have major consequences for the person you are buying the gift for.
Let's Talk Vacuums For Gifts
I have different options when it comes to vacuums and there are good and bad points for them all.
When it comes to corded vacuums I do love the Shark Lift Away. It cleans well and it isn't as expensive as some of the other brands. However, Swan has also some corded vacuums that are really inexpensive and reportedly work really well too.
Cordless vacuums, I have two, I have the Swan Power Plush and I will admit that I do love it. It functions well and the price is great. But I am trying out a new vacuum, the Hoover H-Free 500 and the most important feature for me is that it's able to stand up on it's own!
Let's not forget the robot vacuum, I love mine, it saves me so much time and effort when it comes to keeping areas of my home clean.
Additional reading: My thoughts on the Swan Power Plush and my thoughts on the Shark Lift Away.
Mops On Christmas Wish Lists
I do have a thing for mops, I'm not keen on having a mop that you need to dry out after use, they can smell but also I have a fear of spiders living inside the mop heads.
But again not all mops are suitable for all floor types and it's important to think about that before buying the first one you see, if you have hardwood floors you won't want to get them wet as this could damage them.
Must-Have Household Cleaning Products
When it comes to the must-have cleaning products, always be aware of the product and the instructions for use, there are some questionable videos on the internet that suggest using products in a way that they aren't intended for.
It is important with any cleaning product that you read the instructions and only use that product the way it was intended.
Cleaning Cloths As Gifts
There are some things that I love and use all the time and that is the Ecloth.
Not only are these useful gifts, but they are going to save the use of buying chemical products as they can clean with just water. Each cloth has a label ensuring you are using the right cloth for the right task.
They even have a duster version which can be used dry, so you could buy a set of these cloths and pretty much do the entire house from:
Cleaning furniture
Dusting the house
Spot cleaning the floor
Cleaning the bathroom
Cleaning the kitchen
Window cleaning
Cleaning Services You Might Not Think About
When it comes to cleaning and cleaning products there are so many different ideas out there you might be overwhelmed with the choices. But there are different options you might not have thought about but might help the person you are buying for. Many of us are restricted by the price point of items and sometimes there are items that might not cost you money but your time instead.
Paying for a cleaning service so they don't have to think about the cleaning for the year
Paying for a deep clean
Giving your time to help with cleaning. This is great if you are short on money but still want to give something special to someone
Let's Recap…
When it comes to giving cleaning products as a gift it's important that you know the person well enough that they will be OK to receive such an item.
Check the type of cleaning products they would like and what your budget allows. Some people look for natural ingredients in their cleaning products, it's important that if you are buying them the same to ensure they follow the same ethics as what they normally buy. Some people might already have a lot of natural cleaning products and are looking to expand their range.
As with any gift buying, knowing what that person likes and wants is important so you don't waste your money on items they will never use.
Once you are done buying gifts for this neat freak remember to cross them off your Christmas list so that you don't spend more than you intended on one person.