Save Money With Your Pet Care
Having a pet is an expense; they need you to give them the appropriate care. However, it is possible to save money with your pet care. It doesn't have to cost a fortune!
There are expenses you must budget for, but ensuring that you are getting the best value for your money isn't skimping on their care, it is just making sure you are making the right decisions for your whole family.
With different areas where you can save money in, getting the best value means considering all your options!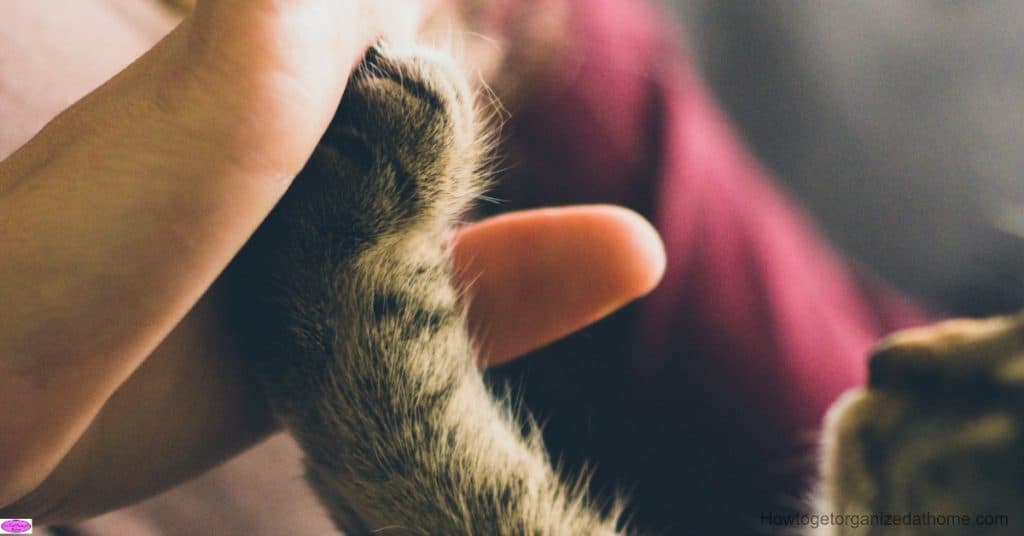 Affiliate links support Hot To Get Organized At Home
Why Save Money With Your Pet Care
There is nothing wrong with looking at the cost of your pet care and trying to find ways to reduce the expense. You might be surprised at how much you do spend on pet care, it isn't always cheap!
The different areas to consider:
Food costs
Medical expenses
Grooming costs
Boarding costs
All of these areas there are ways to look at the expense and to reduce costs, this is often long-term rather than immediate!
Create A Pet Care Budget
Creating a budget for all your pet care costs is a great way of actually seeing how much you are spending on the care of your pets. It might surprise you the actual amount that you are spending!
I have gone a step further and I break down my pet care into a more detailed budget and this gives me a greater understanding of the cost of my pets.
I know how much their vet care costs, how much food they eat and how long the food will last. This allows me to budget the right amount and not under or over calculate the expenses!
Saving Money With Pet Food
The food that your pet eats is important, what you put into their bodies is just as important as the food that you consume.
For this reason, I have found the best food for my dogs based on their needs. I know how much it costs. However, the food I have chosen isn't the cheapest dog food, it is in the middle range and they look good on this food.
I have 3 dogs and that means they go through a lot of food and for this reason I buy their dog food in large bags as this is the cheapest option. It saves me money.
However, if you have a small pet, buying too big a bag of food can also be a waste as it has the potential of going off before the food bag's finished. So, make sure you are buying only the biggest bag of food that you need.
Bigger isn't always the best option!
For me, buying my food in bulk and online, saves me money. Don't forget to check out prices of pet food shops online, you might be surprised at the savings you can make!

Medical Expenses And Pet Care
Taking care of your pet is important and providing them with the basic care is cheaper than having to spend more money on solving the problem.
With this, I mean the preventative care, the flea, tick and worming prevention, is cheaper than solving the problems when they arise.
The better you look after your pet the less likely they will need treatment for preventable procedures.
For example, brushing the teeth of your dog daily reduces the need for dental work later in life!
Reducing The Cost Of Grooming
There are some pets that need constant care of their coats more than others! But this isn't always cheap if you are looking for ways to reduce the cost of grooming you could learn to take on some of the grooming yourself!
If you still want the basic grooming you could increase the time between visits and keep on top of the daily maintenance saving you money in this area.
I have used grooming facilities in the past, however, I do prefer to do the grooming and the bathing at home. It gives me some one on one time with my dogs and I enjoy this interaction. Not always convinced of the mess it can cause, though!
Saving Money With Boarding Expenses
If you have a pet and you want to go away on holiday, chances are you are going to need to put your pet in some type of boarding facility.
Sometimes you might get discounts for more than one pet, or for booking in advance.
One option is to choose a time when the boarding kennels is less likely to have many bookings. This reduces the cost of the stay.
Talking to your boarding facility about saving money, they might have some suggestions for you.
Asking a friend to feed your pet is also a possibility, we have done this when we had cats, and a neighbour would pop in to feed them, saving us money in boarding fees!
Therefore, there are ways that you can save money with your pet care, however, you need to know how much you currently spend so you can see where you have the most expenses.
For me, it is the dog food that costs the most, this means that I am always on the lookout for deals and discounts on the food they eat and saving me money!