How To Organize Your Dog Supplies?
Do you find that your dog stuff can take over your home, from toys and bedding to their food? Well, it doesn't have to, learn how to organize your dog supplies simply and easily.
We all have different supplies and types of things depending on the needs of the dogs in our homes, so there isn't going to be one solution fits all.
You have to find what's going to work for you and your family and that might mean adjusting some ideas to meet your needs.

Related Articles
Organize Your Dog Supplies
I know how much stuff you need for your dog, we've had dogs all our married lives and we've had a few dogs with different needs.
You have to find a way that fits in with how you like your home to look and feel.
While I don't mind the leads at the front of the house, I'm not keen on seeing a lot of stuff at the back, so we organize the supplies in a way that hides more of their items at the back of the house and at the front things are more on display.
What Dog Supplies You Might Have
These are just some of the items that we have for our dogs, we have two dogs and they are medium size.
But to keep my home how I like it I like to organize all my dog's things, so I know where they go and so do my dogs.
Affiliate links are included for your convenience. (Which means if you make a purchase after clicking a link I will earn a small commission which won't cost you a penny more!) Click here to read my full disclosure and privacy policy.
It's a way to stay organized and on top of all my dog's needs.
Food
Bowls
Towels for the dogs
Toys
Organizing Dog Stuff
Organizing the items that your dog uses in different areas of your home is important, you want your dog to feel comfortable and able to feel at home too.
As we move around our home so to do our dogs and to make them feel comfortable, they have beds in multiple areas.
In the office there are two beds that are machine washable, in the living area another two beds and then in the bedroom there is a cage with a bed and a single dog bed.
We chose to have multiple beds because they need to lay down and have a place to go when they are there.
Where to place their beds, we chose areas that they liked, and we don't move them around the room as this confuses the dogs, we also had a partly blind dog up to last year and things needed to stay in one spot so he could find them.
Think about where you are in your home and what you want your dog to do, this will help to organize that dog stuff in a way that will suit your home.
Keeping Bedding Clean
It's important that you try and keep bedding as clean as possible, this means that I vacuum the beds weekly and try to wash them about once a month.
I normally do one bed at a time that way there isn't too much disruption to the dogs with finding somewhere to lay during the day.
Bedtime beds are always back and ready for bed, so they need to be washable and tumble dryable too.
Organizing Your Dog Food
How you store this will depend on the type of food you feed your dogs.
The best option is to find a space that is going to be just for dog food, we have a space under our stairs where we keep the dog food.
Each night I just measure the food out for the next day, they each have their own tub with their names on, so we know whose food is who's.
Storing your dog food is important, you want to ensure that's it's kept in a place that won't get infested with insects or rodents and that it's kept fresh as recommend on the dog food itself.
Click this link if you are looking for ideas on storing your dog food.
Dog Food We Are Trying Out
We've been trying out Pure Pet Food we were gifted a bag to try, its raw food dehydrated and blended. You just add warm water and serve.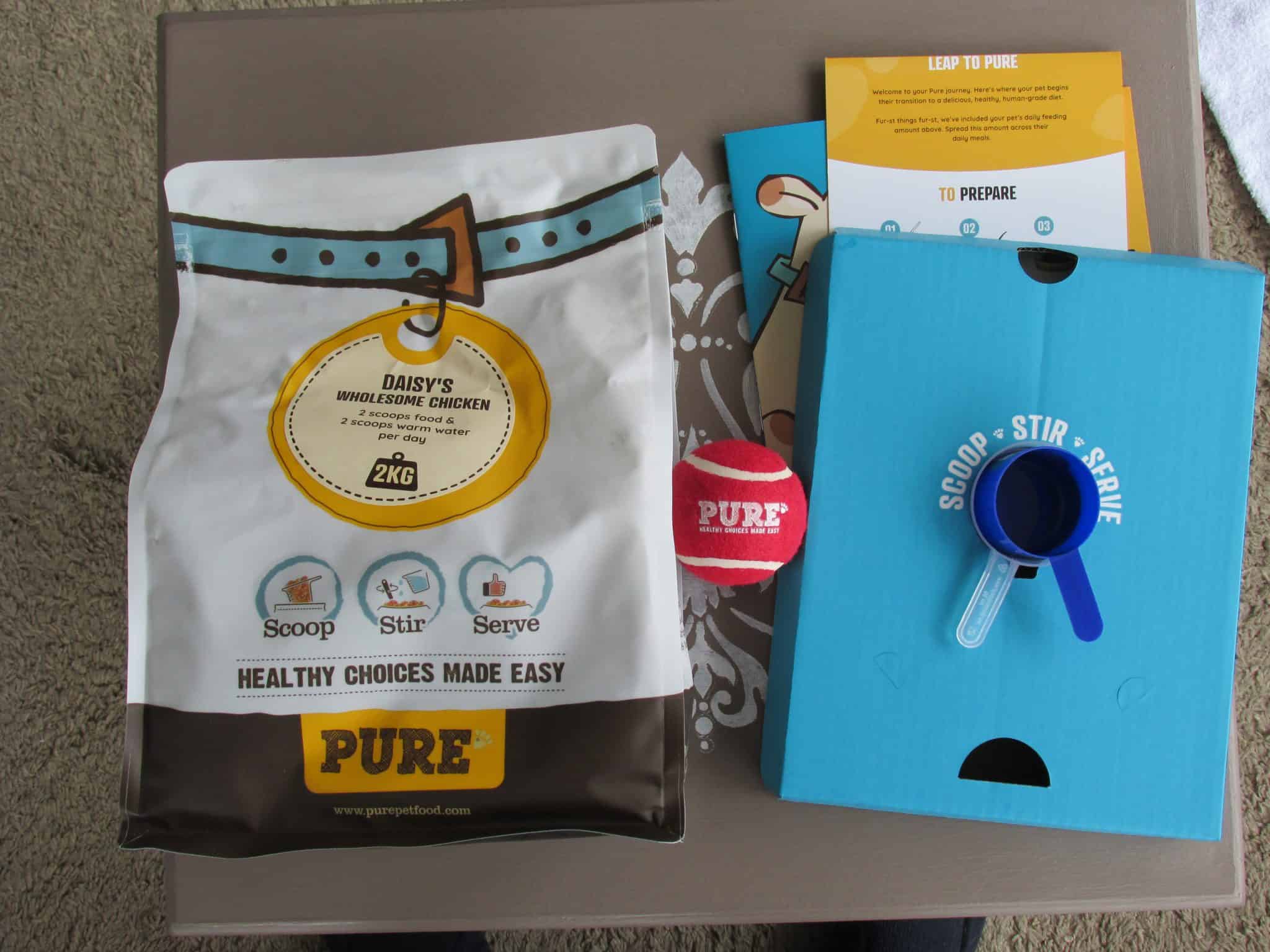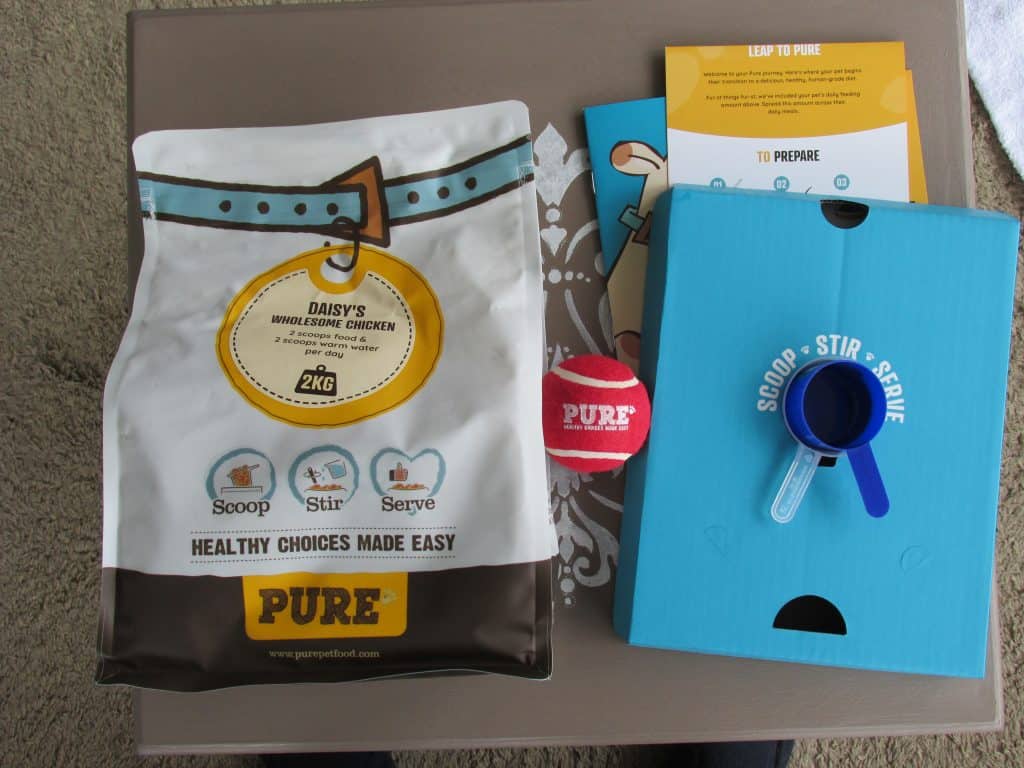 It arrives in a sealed bag and you can reseal it with the Velcro type fastening on the inside. It's amazing!
My dogs really love this food and because it's human grade ingredients I know there is no rubbish added to the food that could be harmful.
You can set up automatic deliveries of this food, so you don't have to remember to grab dog food. It's shipped to you on a regular time frame, every 27 days or you can alter this to suit your needs. This means it's one less thing you have to have on your mind.
This type of subscription is ideal if you have a busy lifestyle, it means one less thing you have to do each month.
If you are worried about the environment don't be because you don't even have to throw away the bags the dog food comes in. Pure Pet Food supply a label and when you have 5 empty bags, just pop 4 bags into one, seal add the address label that is sent to you and post the bags back to the company.
No plastic rubbish ends up in your bin and saving more rubbish going to landfills. I think this is an amazing idea.
Feeding Bowls And Water Bowls
When it comes to placements for feeding and watering your dog thinking about your environment is key. They need to be in a place that's easy for them to get and not in the way for the rest of your family.
When we had younger children the dog water was always in the kitchen out of the way of the children, it would have been all over the floor if it wasn't supervised.
It's the same with feeding your dog, have a regular place where you do this activity and it will allow you to build a routine with your dog.
We are using the slow feeder type bowls to help the dogs eat their food slower. It does make a difference and I love them.
Don't forget to keep dog bowls clean, I wash mine daily just using dish soap.
Your Dog Will Need A Towel
You need a selection of towels that you can use for your dog. It is essential if they are wet after a bath or walk.
This makes keeping your home cleaner a lot easier than letting wet and dirty dogs run around your home.
I actually have a selection of dog towels; they are all towels that have gone past their best or you can buy towels specially made for dogs.
I have a unit that I store all the towels by the back door, however, I have one towel at the front door too.
The reason I store them by the back door is because the unit they are in is the dog storage unit. It holds all the towels, spare blankets, toilet bags, and spare leads.
It's home for everything doggy.
You can buy unique storage options for your dog items or you can adapt items you already own to meet the needs of your dog supplies.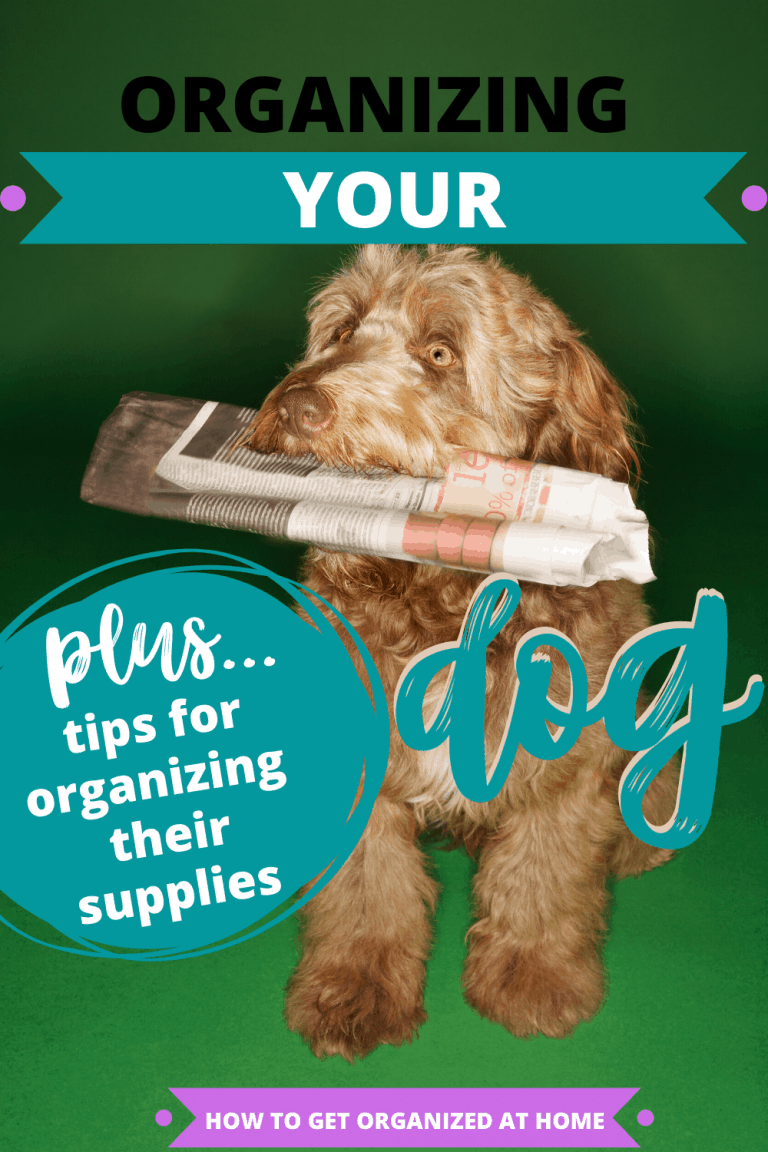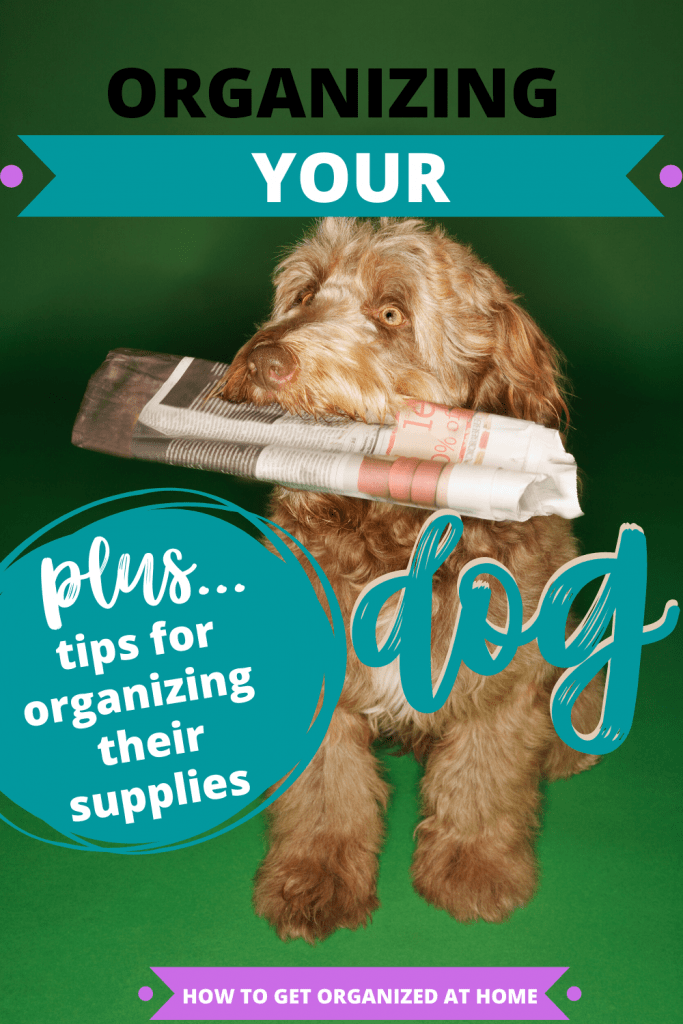 Organizing Dog Toys Storage
When it comes to dog toys it depends on what size your dog is and the toys your dog likes, on how to store their toys.
We have a dog toy box in the front room where most of the dog toys live, sometimes I feel that I have young children at home when there are toys all over the floor.
You can make the toy box pretty or you can keep it plain and simple, it depends on your house and how it would work in your home.
However, I do hide some toys and they are only brought out on special occasions, like tennis balls because they are a special treat toy and my Labrador tries to fit them all in her mouth at once.
Automate Your Flea And Worming Treatment
It's important to ensure your dog is as healthy as possible and that means making sure you treat your dog for fleas and worms regularly.
You can use Amazon Subscribe and Save for this, it's a great way to never have to remember to order the item and often you can save money on the product doing it this way too.
If you can automate it then do so as it can save you so much time if you don't have to remember to order them.
You must store them out of the reach of pets and children and if you are getting them through the mail ensure the dog isn't able to get access to the mail before you.
Where should you store them? I put them in a plastic basket, and it's stored on the top shelf in my pantry, that way I know where they are at all times and my dogs can't reach them.
If you are looking for more information check out this article that explains it in more detail about fleas and your dog.
How To Store Leads And Harnesses?
You will need to have your dog's leads accessible for when you go out for a walk.
So, storing it near to the door you use the most, is going to be key to not feeling stressed when getting ready to go out.
I have a stand, I need to paint it, it's a children's coat stand so it's only just over 4 feet tall and it's perfect for hanging leads and harnesses on as well as a place to store a clean towel for when they come in.
You might want a hook especially for the dog or a drawer where they can go.
Thinking About Your Dogs Needs
If you are looking to organize pet supplies in your home, you need to think about what they have and the most practical place for these items.
Creating space for their things in your home is key to making them feel part of the family and they too know where things are that they want.
Consider where you store your dog food and how you get it home. Have you considered a dog food subscription service to help automate the process?
Let's Recap…
Your dog will have toys, things that they like to play with, and you need a place for them to go. Having a dog toy box is the simplest way to ensure that you have a place for them to go. When you pick them up to put them away always check that they are still suitable for your dog.
Toys break and getting rid of them as soon as they are no longer suitable is so important to the health and wellbeing of your dog.
Consider using Amazon Subscribe and Save for ordering your flea and worm treatment for your dog, not only can you save money, but you also don't have to remember to order it.
Enjoy being organized and a dog owner, having a dog in your life is amazing, they give unconditional love and are the best companion you will ever have.
You Will Love These