Why I failed At Being Organized
I thought I would share with you that being organized takes time, it doesn't always go to plan and there are times when you can become overwhelmed and wonder if this organized life is achievable. It is, but it will take time and there are times that you will wonder how, with so much to fit into your day. Don't worry even the most tidiest of people can have an off few weeks.
When My Obsession Started
I did marry young and I am still happily married but my obsession with planning and organizing has always been a top priority for me. We moved a lot because of my husband's job and being organized made the moves so much easier.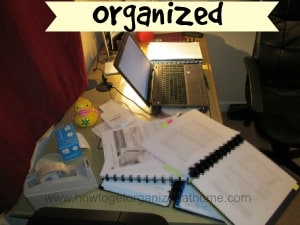 However, I, too, fell off the wagon; this happened a few years ago, but I have slowing made steps to get organized and able to function with a tidy and organized home.
My Saviour At Being Organized
For me the most important tool in my house is my diary, it keeps me organized and on track. I have tried electronic diary's and for me they just don't work, I think it has to be the act of writing something down that embeds it into my brain.
I have tried numerous different styles of diary and I always ended up with pieces of paper that would continually fall out until I discovered the ARC notebook system from Staples. It is perfect, I bought the hole punch that goes with it and all my pieces of paper notes etc, don't fall out of my diary any longer. The system was expensive but it is the best I have found and I continually look at diaries – I think I'm addicted to them.
My diary contains on a daily basis:
My to-do list, this contains all the essential tasks I need to complete that day. I include my business to-do list and my personal to-do in the one diary, I just can't have two, it would confuse me. I also note in my diary what we are having for tea, I did print this out and store it on the front of the fridge door but lately times been limited and it has just made it into the diary, but that doesn't matter because I have planned in advance what we are eating.
Any appointments, which I have for that day, I make a note the day before if I need to organize anything in advance, so I am ready ahead of schedule.
If I have any birthday's coming up there noted the Monday a week before the actual birthday to give me time to buy gifts and cards, unless I have these already. If I see a card on sale during the year and I think it is suitable for that person I will buy it and put a note on the Monday I would buy the card to remind me its purchased and where I put it.
I write any notes that I want to remember, like a person's name or a comment and then when I have a minute during the day, I transfer these to the correct place that I need this information.
I update my diary for the next day at the end of each day, this means I have given the day a glance over in case there is something I need to do or remember.
The Second Most Important Tip For Organizing
If something happens and your home isn't perfect it doesn't matter, take your time and address this situation. I found when I struggled with organizing it was because I let the mess overwhelm me and I didn't know where to start. Now I just start, if I don't get everything done it doesn't matter, move it to a day when you have less going on.
For me I have learnt that yes, whilst I would love my life to be perfect and organized at all times there are times when even the most organized of people can be messy, and this is fine. I know that during the day when I am working, my desk is not the most of tidiest, but before I finish for the day I straighten it out ready fresh for the morning.
I wanted to share that no-one is perfect and that is what is important; accepting people for who they are, no-one is perfect at everything.