It is just as important to take care of your garden in the autumn as it is in the spring and summer. This is the season for tidying up your garden; getting it ready for the winter and even the spring with planning some of the projects that you are looking to complete.
Gardening Tips And Jobs
Whilst it is important that you plan your gardening around the better weather, some jobs that you must tackle and putting them off can make the task even longer than necessary. If you are out gardening for a few minutes it is surprising what you can achieve.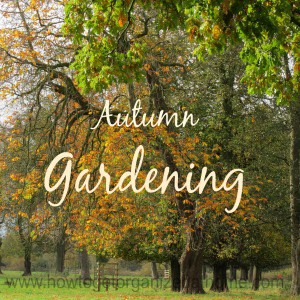 If you live near trees then it is essential that you pick up these leaves, they can make good compost, but leaving them on your lawn can damage the lawn. Left on paths they become slippery and wet and a danger to anyone on the path.
If you have good enough weather it is still important to keep the grass cut, but raise the blades of your lawn mower to allow the grass to be a bit longer in the winter. Autumn is a great month to remove the weeds from your grass and to give it a pampering, before the winter sets in. Remember to aerate your lawn, it is as simple as sticking a fork in and wiggling a bit. This allows space for the drainage you will need in the winter months.
Trim trees and bushes in the winter, one gardening tip; if you have trees in your garden, it is a good idea to check they don't have a tree preservation order, TPO. You can check this information with your local council. It effects the cutting down of trees but also the trimming of trees. I like to cut back my beech trees in the winter ready for the spring growth.
It is time to think about what to do with your boarders and pots when you remove the bedding plants. Some plants will keep a few more weeks if you are lucky, but most people have started to remove them. What to put in their place? You can leave the area empty or you can fill with winter plants. These can add a touch of colour to the winter months. Unfortunately, I have to miss these in my boarders because of the rainfall; some get water-logged, I might do a couple of pots but it depends on the bedding plants quality that I see. If they are poor, I won't buy them at all.
Preparing For The Spring
While the autumn has only just begun, it is important to start planning your gardening for the next year. If you want spring bulbs, you will need to get planting, especially before the ground gets too cold.
If you are making any changes to your boarders or want to redesign, use the colder and wet weather as an opportunity to start planning. When the warmer weather is here, your plans will be complete and your garden transformation can begin. Don't forget to plan and work out the best plants for the space too, this helps to get the garden you are looking for and not a mismatch of plants, just because the garden centre had them on sale.
Making sure all your tools are in tip-top shape is a good garden tip, before storing them away for the winter. This includes sharpening any blades that you might have, there is nothing worse than picking up shears and they are blunt.
Autumn is the season where you get to tidy up the garden, some of my favourite flowers have gone and now is the time to tidy it up. For me the garden brings back organization, sometimes I find the summer disorganized, with flowers doing what they want and weeds growing. The autumn becomes the time I can take back possession of my garden.
Therefore, if you are wondering what to do this autumn get out into the garden and enjoy.