7 Mental Health Tips To Make You Feel Better
Do you feel that your mental health is suffering? Are you feeling low and moody? It could be that you need to think about your mental health and how it can have an effect on your life.
It's surprising how little attention we pay to our own mental health until there is a problem. This was the same for me until my depression hit.
This article is sponsored by BetterHelp, but the opinions are 100% my own!
I couldn't understand how anyone could feel totally paralyzed and overwhelmed through depression, I thought it would be easy to deal with, how wrong I was, and I think so many people have the same thoughts when they haven't been through depression themselves.
I'm not a doctor and I don't claim to be one but I'm going through depression and I know what's helped me and might help you too.

7 Good Mental Health Tips To Make You Feel Better
These are a list of the top 7 things that I did to help me feel better:
Therapy
Exercise
Eating the right food
Fresh air
Drinking water
Relaxing
Smile
Let's go through this list in more detail and see why it helped me and might help you too.
Why Visiting A Therapist Helped Me
When I think about my depression, when I was at my lowest point the best thing I did was to go and talk to a therapist.
I always tell people that the first few sessions of therapy isn't going to feel like there's anything happening, maybe a lot of crying but therapy isn't a quick fix, it does work for so many people but it takes time.
You talk about your feelings; you are letting the emotions attached to those feelings a chance to be heard and learning how to manage those feelings.
But, for me, my breakthrough came when I realised that my recovery wasn't going to transform me back into what I was, but I was going to have to learn what a new normal looked and felt like.
To start to get better I had to let my old self go and feel OK about transforming into a better healthier version of myself.
The therapy sessions gave me the tools I needed to start my journey to getting better and to think about my mental health, something I'd never done before.
I now look to try and build positivity into my every day in a way that I've never thought about before.
If you are looking for more information on therapists you need to look at what Betterhelp offer.
Exercise Boosts Your Mental Wellbeing
I'm always being told that I need to exercise more, I know how good it makes me feel but it's about fitting it into my day.
I love to exercise, I have a running machine and an exercise bike it's finding the time to use them, but there are so many other things that all counts as exercise. There are so many things to do for your mental health that doesn't seem connected but all counts.
Vacuuming
Dusting
Cleaning windows
Cleaning the bathroom
Gardening
Going for a walk, walking the dog
It's really any activity that you do and when you are feeling low, often it's one of the last things that you want to do. But it can have the biggest impact on how you feel mentally.
Good Mental Health Tips
What you eat has an impact on how you feel. I know I'm not an expert but even I know that if I eat a well-balanced diet, I feel better than if I fill up on sugary foods.
Apart from the fact I'm now type 2 diabetic and I need to monitor my food intake, if I eat too much of the wrong food my body feels sluggish and that has an impact on how I feel mentally too. Boost your mental health with a balanced diet.
When it comes to things that you put into your body when you feel low don't be tempted to drink more alcohol, smoke or take illegal drugs as this won't help your mental health.
More Articles On Depression
Habits To Improve Your Mental Health
One thing everyone I've ever talked to about depression is the importance of getting outside in the fresh air.
Not only will it feel good to be outside, but your body can soak up the vitamin d from the sun and it can make you feel good.
I've even heard that standing bare foot in soil is good for your mental health, the microbes in the soil can be beneficial to your overall mental health.
If I'm feeling low getting outside during the day is a must, it really helps to get the fresh air and the sun.
If there is no sun or you have difficulty getting outside you can get lights that mimic the effect that the sun has and this will help how you feel too.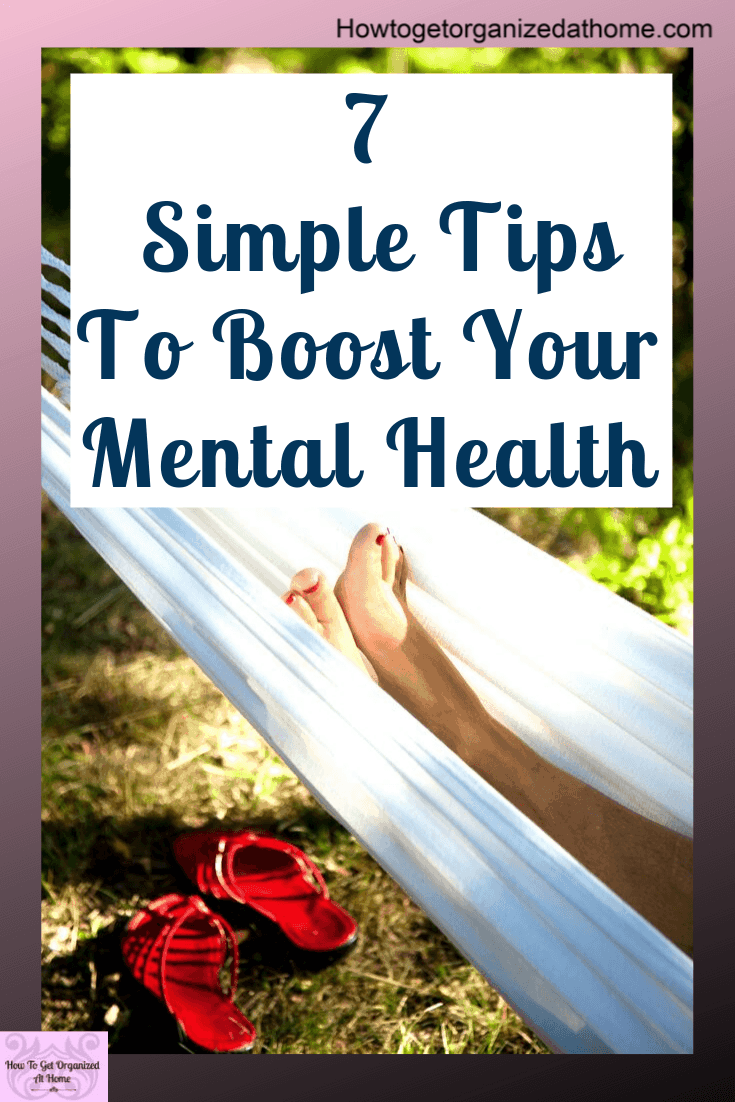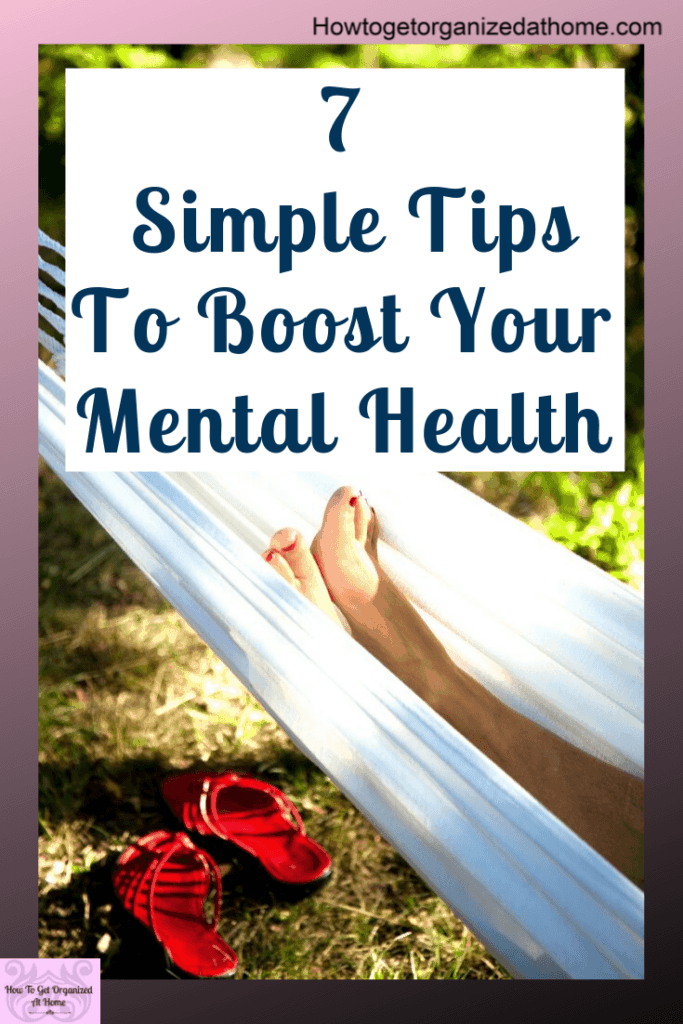 Healthy Mental Health Starts With Water
Hydration is key for good mental health. It's so easy to get dehydrated and not realise.
I'm not one for drinking x amount of litres of water, but I do try and make sure that I have a drink next to me at all times and that I'm refilling it frequently.
I know I struggle with drinking enough and often my best days mentally are those where I have drunk enough, those days when my mood suffers the most are days when I haven't been able to get enough liquid into me.
Not only does it make my mental health suffer but so to does the rest of my body, I become lethargic and less likely to move, I end up with a headache and have a bad day.
Make Time For Just You
Having time for yourself is key if you want to have good mental health. You need time to relax and unwind.
Getting your mental health right means getting enough of the rest your body needs as well as the physical and mental stimulation.
Having time for yourself is so important, it might be time that you just sit down with a book or go out for a coffee with friends, it's whatever gives you that feeling of fun and enjoyment.
Here are some ideas you can do for fun:
Colouring is good for the sole and not just for kids
Gratitude journal, this makes you think about the positive things in your life
Have a holiday or just a break from work
Go out for a walk, a time to think and reflect without the stress of everyday life getting in the way
Learn to set realistic goals, this will help your mental health as you progress towards your dreams
Keep learning, go back to school and engage your brain, make it start working and thinking about things
Take a nap, sleep is so important for the body and mind and if you don't get enough it will affect how you feel
Improve Your Mental Health
One of the most simplest things you can do to improve your mental health is to smile. Smile when you don't feel happy, this simple act can and will help you feel better mentally.
It's that old saying about faking it until you make it, it's the same with smiling.
Put on that smile and keep putting it on each morning and then one day it won't be a fake smile it will actually be a real one.
Let's Recap…
How you look after your mental health is so important and there are things that you can do on a daily basis that will help you develop good tactics to ensure you are looking after your mental health.
Seek medical advice if you feel that you can't continue going forward and that your mental health is really low.
Speaking to a therapist is a great way to learn about your mental health and what you need to do to ensure you are giving it the attention that it needs.
Exercise is a great way to feel better about your body, but it does wonders for your mind too.
The food that we consume has a direct affect with how we feel, if we fill it with empty calories then we aren't doing our bodies or our minds any good.
Get outside and let the sunshine down on you, it's good for you in moderation.
Make sure you are drinking enough, it's so important to keep hydrated as our brains and body need this fluid to stay healthy.
Have time for you, time that you can unwind and have some fun. It's important to take care of you. If you don't put your own health first, you can't look after the rest of your family to your best ability.
Don't forget to smile even if you don't want to, it can have positive effects on how you feel.
The most important thing you can do is to look after your mental health, ensure that you are feeling good on the inside is just as important as it is on the outside.