Having jewellery organized can save time and money, especially when you are in a rush and are looking for some particular item. There are different options open to you to store your jewellery, from a jewellery box to a jewellery tree. It will depend on what you are looking for and your own personal taste to what you will choose.
It is also important that expensive jewellery be stored appropriately and as per your insurance for the item.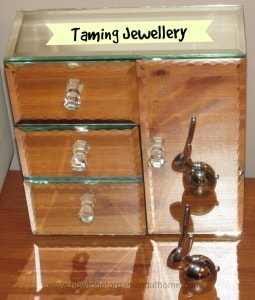 What To Do With The Box
One important area that I have only recently learned was the need to keep the original box from an item of jewellery. My first instinct is to throw the box away but it can reduce any price that you might get for an item if you were going to sell it later.
Therefore, it is important that even if you choose not to store the item in the original box, you must store this box with information of what item originally came with the box. It is easy to take a quick picture of the item and place inside the box. Alternatively, placing the picture on the outside does make matching the boxes to the jewellery easier.
Storing Necklaces And Bracelets
It is difficult to keep necklaces from tangling and bracelets that match them, impossible to find. Having the right system for you is important. It might mean storing the items individually on a flat surface to keep them tangle free. However, if you have a lot of necklaces this will take up a lot of space. It is possible to use a corkboard and pin the necklaces to the board to keep them safe and tangle free.
An alternative method is having small hooks on the wall and you have your necklaces hanging on these. One disadvantage to these methods is the fact the necklaces are on display and they will accumulate dust and dirt, which means something else to clean.
It will depend on the amount of jewellery that you have as to the best way to store your necklaces and bracelets, but keeping them tangle free saves so much time.
Jewellery is small decorative items worn for personal adornment, such as brooches, rings, necklaces, earrings, and bracelets.
Storing Earrings And Rings
Some of the fiddliest pieces of jewellery are rings and earrings. Earrings can have tiny backs that you need to keep together and rings are often small and easily lost. Keeping them safe and easy to use will mean that you will get the most enjoyment from the item instead of it sitting in a drawer. The corkboard principle is a great option for earrings that have a loop of some description so there is something to connect to the corkboard. If no loop then a more standard design is the better option.
If you chose a jewellery box as a holder make sure that storing them isn't too difficult, because this will make you more inclined to just drop them in with the intention to sort out later; this is where they become separated from its pair and never worn again.
For rings, which you regularly wear, one option is a ring holder display on your dressing table. These look elegant and can fit into most bedroom styles; making storing everyday rings an easy option. A jewellery box should always be used for the rings you wear less often.
Therefore, there are some great solutions in keeping your jewellery tangle free, easily accessible and together. Finding the solution that meets your own needs is important. Also, remember to keep those original boxes in case you ever consider selling your jewellery, it might make all the difference in the price you receive.