How To Vacuum The Right Way
You might think there is no right or wrong way to vacuum, but that depends on your perspective. For me, the floor is the most noticeable and annoying area that always seems to get dirty and knowing how to vacuum the right way can save you time, in the end, as vacuuming correctly can increase the life of your carpet and reduce the amount you vacuum, depending on your own personal circumstances. The floor is one area that becomes dirty quickly and this dirt can attract the dust mites and their faeces, which you really don't want to breathe in as this can increase health risks in the home.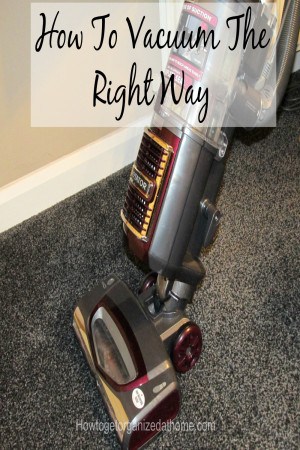 Affiliate links support How To Get Organized At Home
How To Vacuum
The dust removal will depend on the effectiveness of the vacuum you are using. There does come a point when they just no longer perform the job. I had this problem earlier this year; my vacuum was 11 years old and no matter how many times I cleaned it, the machine was not powerful enough to do the job, I had to purchase a new machine.
It was only after this purchase that I really realised how bad my vacuum was. Perhaps one of the reasons why I had started to hate vacuuming. The vacuum wasn't performing and it annoyed me.
My new vacuum gave me the love back in vacuuming, it isn't that difficult but if you follow these simple tips on how to vacuum you will love the results.
If you haven't got time for a full vacuum, doing the middle of the rooms and the high traffic areas is OK.
When doing a full vacuum do the edges first.
Go over the carpet in two different directions, not only will this pull up more dirt it can help with getting those vacuuming lines.
Vacuum yourself out of the room, this way you are not walking on the freshly vacuumed carpet.
Freshen the carpet monthly and clean carpets twice per year maximum. Some carpets come with guarantees, check these to see if you need to hire the professionals for a carpet clean to keep the warranty valid.
What Tools To Use
The vacuum you use will be a personal preference and budget depending also a defining factor. If you have a crevice tool, this is perfect for doing the edges of the room before moving into the centre of the room, using the normal vacuum head.
I use an upright and bagless machine, I didn't want the added expense of having hoover bags to buy or to empty, (I have done that in the past and it isn't pretty).
There are a number of different machines and the reason for this is that not everyone will like the same vacuum; as people are different, so are their likes and dislikes, so finding a vacuum that is right for you and your budget is important.
Using Carpet Fresheners
I am all for making the room smell nice and fresh, sometimes there is no denying it that for whatever reason a carpet can lose that fresh smell and can require a little help.
I talk about cleaning your carpet in detail in this article, it tells you how to deep clean your carpets and why you need to do this regularly.
However, there are options that you can use to make you carpet smell better without performing a deep clean.
There are carpet fresheners that you can buy which you sprinkle onto the carpet before vacuuming them away. I am not one for spending money on expensive products, which you are just going to vacuum up and throw away.
I use bicarbonate of soda, it is cheaper than other products and it is a great way to freshen up a carpet. You have to leave it on the carpet for at least half an hour for it to work. Then all you do is vacuum the bicarbonate of soda up and your carpet smells fresh again.
How Often To Vacuum
How often you vacuum will depend on your own personal circumstances; I have dogs and they drop fur everywhere. This means I have to vacuum some of the high traffic areas more frequently than other areas.
I think the best way to tell is to vacuum a minimum of once per week if you need more than that will depend on your circumstances. Some areas of my home I do vacuum, at least, every other day if not every day, but that isn't a full vacuum that is just getting the worst up in the middle of the rooms or where there is high traffic.
The Most Important Part Of Vacuuming
If you are looking for long-term value from your vacuum, then it is important to take care of your vacuum and to ensure after each use, you are cleaning and ensuring that your vacuum is well maintained. How to vacuum becomes useless if you fail to take care of the vacuum, keeping it clean and free from clogging.
With my vacuum being bag-less, it does mean that I empty this every time it's used and I take out the top filter to bang out some of the dust whilst I am out emptying the dust collection unit.
My new vacuum recommendation from the manufacturers is to wash the filters every month to ensure they are kept as clean as possible. Check your instruction manual to see how often and how you should keep any filters clean. I have this scheduled in my day planner as to when the task is due and I can the assign a day and a time to this part of my vacuum maintenance.
Having long hair which lands on the carpet a lot means that the bottom brush gets full quickly of hair; I clean this out once per week and this makes sure that the brush is able to do the job it's required to do.
Therefore, knowing how to vacuum and using these tips can help improve your vacuuming skills and to ensure you get those just vacuumed lines in your carpet. However, there is more to vacuuming than just picking up the dust, you must look after your vacuum, cleaning it regularly will prolong the life of the vacuum and this will save you money in the end.