5 Simple And Easy Tips To Keep Your Carpet Clean
This is a guest post by Gabriel Nelson from Msscleaning who specialize in how to keep your carpet clean.
Life is busy and if you're being honest keeping your carpets immaculate probably isn't always high on your priority list. Sometimes at the end of the day when you have to choose between a few minutes of downtime or vacuuming the floor, it's entirely understandable that you'd forgo the floor for the couch.

The truth is carpeting goes through a lot more than you think about on a regular basis. Between being walked on with dirty shoes to spills that leave behind a stain you just can't get out, it's not always easy to know how to keep your carpet clean like the pros.


Tips For Better Carpet Care
The good news is you don't have to spend hours carpet cleaning like a professional to get some professional level results. Keeping your carpet clean is a lot easier than cleaning up a carpet you've let go for a little too long. With that in mind, here are five simple and easy tips you can use to keep your carpets clean.
1. Use Area Rugs
Think of area rugs as a decorative way to extend the life of your carpet and give you an extra layer of protection for daily wear and tear. Area rugs are a great way to tie a room together, but they're also serving a bigger purpose. When you're talking about ease of use or cleaning an area rug is much easier to maintain than fully installed carpeting.

Runners are another option if you think you might not love area rugs. The general idea is just to give you some protection between your carpet and whatever might try to attack it. Pets, kids, spills, area rugs or runners can be your best friend in pretty much any situation.
Cleaning Rugs
If you end up with a spill (and everyone does occasionally) you're going to have a much easier time cleaning up an area rug. You can even lift it and flip it over to soak the stain out of the bottom of the rug if it's really soaked in. If you end up having to replace an area rug it's also much more affordable than having to replace an entire room's worth of installed carpet.

2. Ban Shoes Inside
The best way to deal with the mess left behind from dirty shoes is to prevent it from ever happening. Cleaning up mud or grass can be a huge pain. Stop this from happening by making a new house rule; no more shoes inside the house. You can keep an organizer or basket by the door for everyone to store their shoes.

Organizing The Shoes
The organizer or basket will keep you from tripping over shoes or losing your sanity because your entryway looks too crowded. You can even make a rule that everyone is only allowed to keep one pair of shoes by the door. This way any extra shoes will wind up in a bedroom closet instead of your entryway.

Make it as easy as possible to remind everyone in your house that shoes come off the minute they step inside. It might take a bit to establish this as a habit but it will sink in eventually. When it does and you realize you don't have to deal with unexpected muddy footprints you'll be much happier (and so will your carpets.)
3. Be Ready For The Unexpected
Like a boy scout, always be prepared. Yes, this is less about keeping your carpet clean and more about reacting to a dirty mess in the making, but it's still helpful. Luckily you can keep your carpet as stain-free and fresh as possible with things you probably already have ready to go.

When it comes to removing carpet stains the best tools you can use are baking soda, vinegar, water, and some soft towels. If you have a really set in stain you can use your iron to help you get the mess out too. You can also keep some club soda at the ready for super fresh spills.

Affiliate links are included for your convenience. (This means if you make a purchase after clicking a link I will earn a small commission which won't cost you a penny more!) Click here to read my full disclosure and privacy policy.
Dealing With Stains On The Carpet
When you're dealing with a spill that's just happened remember to blot (not scrub) and go from the outside of the stain inwards. Then you can soak the stain in club soda and let it sit for about 10-15 minutes. As long as the stain is fresh club soda really can work. Then blot it up in the same fashion you did the first time, working from the outside in.

Being ready for the spills that are inevitably going to happen is a great way to make sure your time spent dealing with set in stains decreases exponentially. The more you can do right when a spill happens the less you'll have to deal with later. Keep everything handy and ready to go so you know what to grab in a carpet cleaning emergency.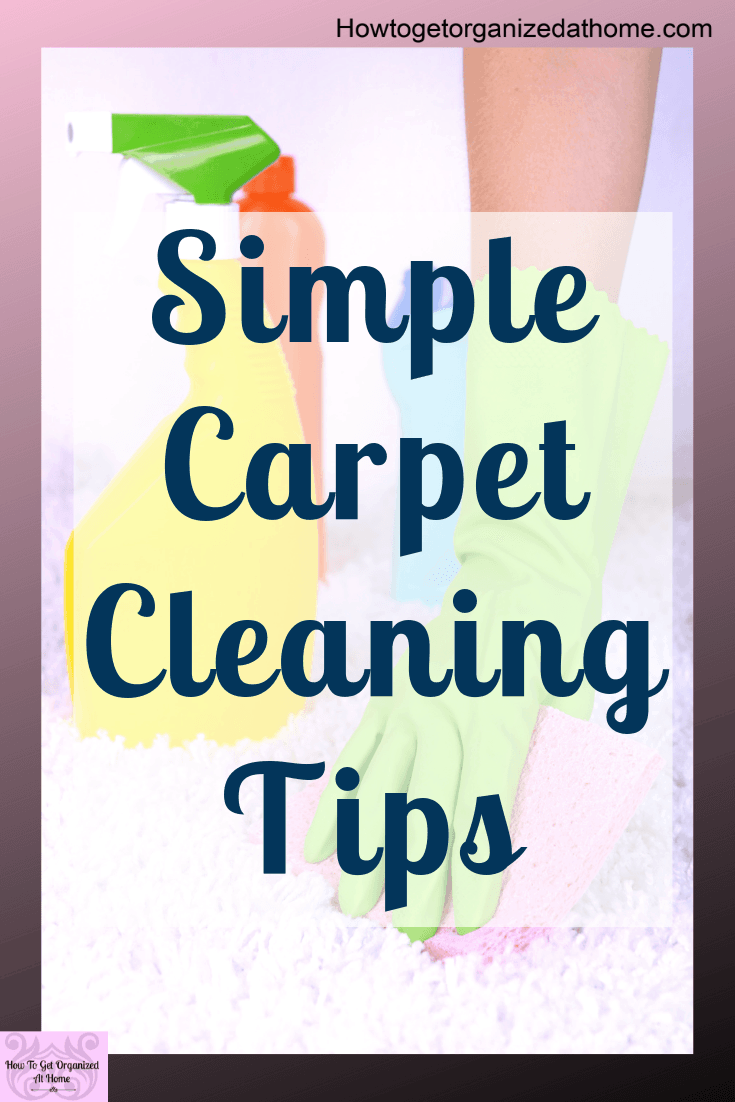 Stains That Have Set
For set-in stains, you'll want to break out the baking soda and vinegar. There are two options here. You can combine the vinegar and baking soda with about 3 cups of water in a spray bottle. Use that mixture to spray the set in stain and really make sure it's soaking in. Let it sit for about 20 minutes before you try to do anything else. Alternatively, you can mix the baking soda and vinegar directly on the stain and let it bubble and soak for the same amount of time.

Once you've let the mixture soak in you can blot it up just like you would with club soda. If the stain doesn't come out go ahead and grab the iron. Place a towel over the stain (make sure it's ok if it gets dirty) and then use your warm iron to lift the stain out of the carpet and up into the towel. You can repeat the process if needed. Each time the stain should get lighter.

4. Use Baking Soda A Second Way
Your baking soda doesn't have to sit on reserve until you have a stain to deal with. It's also a great way to freshen your carpet without using harsh chemicals. You can mix your baking soda with your favorite scented essential oils and sprinkle that over your carpets. Allow the mixture to sit on the carpet in your room for about 15 minutes.

Once you've let the essential oils and baking soda sit, you can vacuum the room as you normally would. Your carpets will look brighter and your room will smell nice and fresh. There are carpet fresheners you can buy at the store but if you have little ones or pets you're worried about this version is the most kid or pet-friendly option out there.

5. Stick To A Regular Deep Cleaning Schedule
You're still going to have to put in a little extra effort once in a while for your carpet's sake. The best way to make sure you're keeping your carpet clean is to set a schedule for when you're going to deep clean it. If you have your own steam cleaner you can use that, otherwise, it's easy to rent one from a grocery store in your town.

Steam cleaning on a regular basis is going to keep your carpet from getting debris and dirt built up. Vacuuming only removes the top layer of dirty, while steam cleaning gets to the deeper stuff that's going on below the surface. It takes a little extra time but you'll only have to steam clean about every 2 or 3 months so once it's done you can forget about it for a little while.

You can extend the time between regular steam cleanings by making sure to vacuum at least once a week, and using the other tips you've already read about. If you're active in maintaining the cleanliness of your carpet you can stretch your steam cleanings closer to the 3-month mark than the 2-month one. Either way, just make sure you are keeping up the regular deep cleaning.
Professional Carpet Cleaning
Even with these tips, you'll still eventually have to get your carpets cleaned by a professional. Steam cleaners available to consumers just don't give the same level of deep cleaning a professional will get. But with your effort to keep your carpet clean you'll be able to make the time between professional cleanings last longer and still have great looking carpet.
Related Articles:
Let's Recap…

No one loves cleaning their carpet but it's still something you're going to have to deal with sometimes. If you keep these simple tips in mind the time you spend cleaning can be cut down significantly. Remember, the more you do to prevent messes the less of a mess you'll actually have to clean up.

Once you have your deep cleaning done and your carpets are looking amazing make sure you take some time for yourself. You've definitely earned some of that downtime you might've used to skip carpet duties back. Plus, with the carpet looking amazing relaxing will feel even better.

This article was written by Gabriel Nelson from Msscleaning a specialist in carpet care.