How To Get Your Garage Organized
One area of your home that is often neglected is your garage; it is the first place items you don't want, will get dumped.
How to get your garage organized isn't difficult but it can take time.
Getting it right is important so spending time planning the best layout for your family's current needs will help prevent getting your storage wrong and wasting money.
Choose a system that is flexible it will allow you to change how things are stored in the future as your needs change.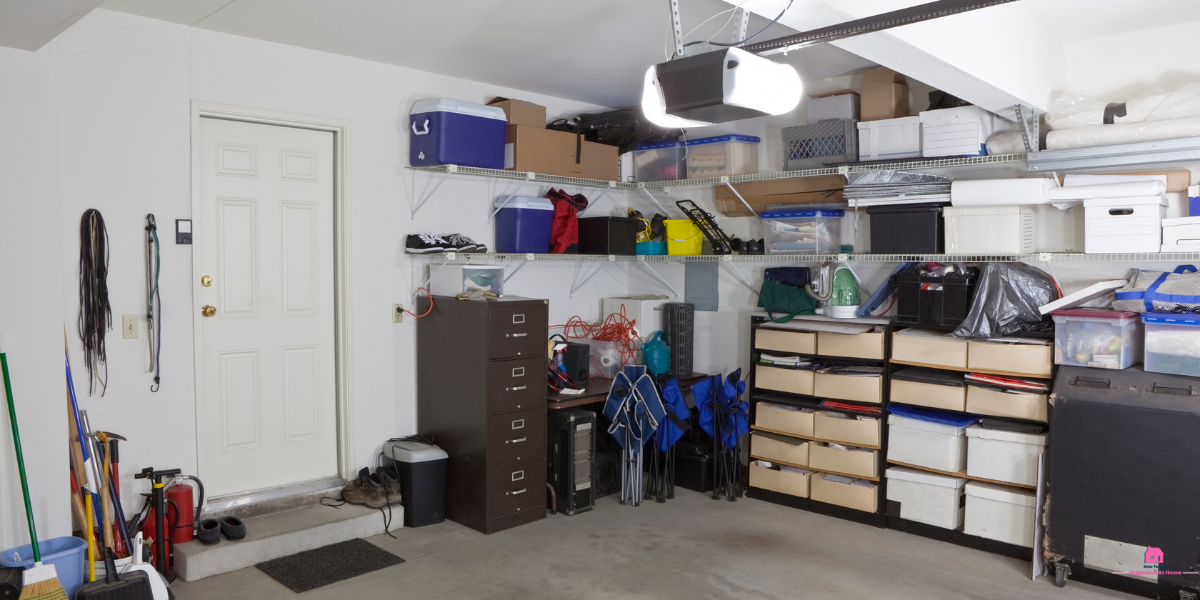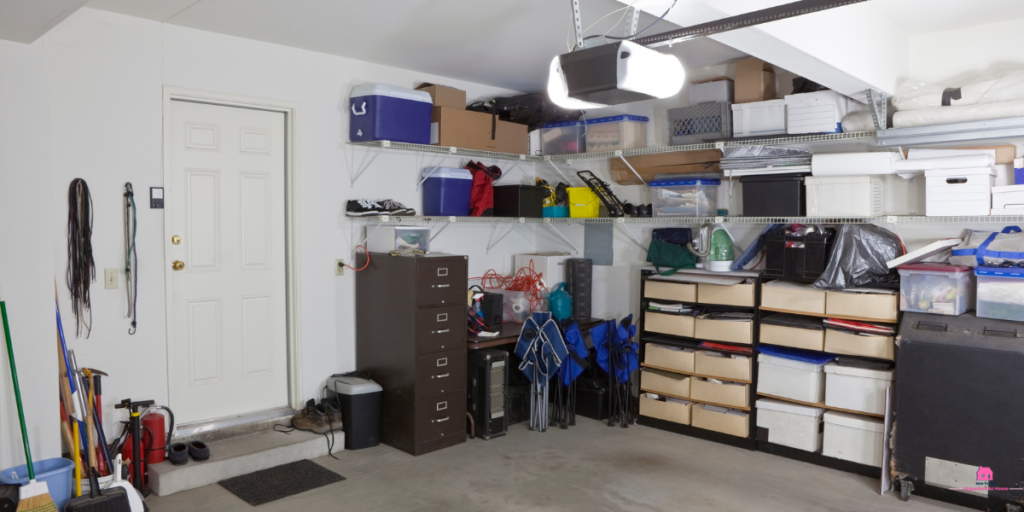 Garage Organization Planning
If you are looking to get your garage organized then you need to decide what's being stored there, often this is where the problems lies.
You need to go into the planning of your garage and work out what you want to store there and work out what needs to go elsewhere.
It's so easy to dump things in the garage without thinking about them as it's a space that is normally not organized.
Don't forget to set a budget on what you can afford to spend on this project, this will help highlight if your ideas and budget match up.
Getting Rid Of The Rubbish
This might sound like the most obvious place to start but it is surprising how much stuff is left in the garage rather than just being thrown away.
I know that if something arrives during the week I need to store the packaging until I am able to get to the local waste recycling center at the weekend.
However, I know that it is easy to forget this rubbish and it can sit there for weeks.
The best tip is to have a designated spot for items that need taking to the recycling center, this makes it easier to spot what needs recycling and what is meant to be in the garage.
Having this spot will help when you come to sort out the other items in your garage, you will know where to put the items you are planning to throw away, and having designated locations for items that you wish to sell or donate to local charities is a great idea too.
How To Get Your Garage Organized
Sorting out what you want to keep in your garage is the best place to start.
Only when you know what needs storing can you come up with a plan on how you can store these items in your garage.
Once you have come up with a plan it's time to get started.
Let's go back a step and work out how to assess the items you have.
Related Articles
Assess Your Items
Affiliate links are included for your convenience. (This means if you make a purchase after clicking a link I will earn a small commission which won't cost you a penny more!) Click here to read my full disclosure and privacy policy.
While it might seem as though this is an obvious step, it is one that is often overlooked.
You might end up creating storage for something you no longer need and this is wasting your precious time and energy, even money on something that isn't required in your home.
How do you assess the items, first you need to put like items together, this will help you see what categories you have.
Looking at every item can help you work out what you are keeping and what needs to go elsewhere.
Having a plan for what you will store in your garage will help you decide how items will need storing to make sure they are safe and stored correctly so they aren't a hazard to you or your family.
Put like items together as much as possible, for instance
Power tools together
Cycles together
Miscellaneous but similar items
Give Yourself the Gift Of Time
If you want to get your garage organized, you need to give yourself time, it's an easy job in comparison to some but the items you are organizing are often bigger and bulkier.
This often means more time planning because you are going to need time and space to get it organized.
You might not even complete the whole task in one day; it is possible that it takes a few weeks to get right. The more time you are able to give a project the easier it will be, however, you will have to live with things not in their proper homes until it's complete.
A rushed organizing task will look rushed; it will have tell-tale signs of lack of planning and poor organizing.
It is better to take your time on a project, and plan it properly so it meets your needs.
Organization Tools You Need
The most important tool is the ability to label; yes, the pretty ones look nice, but even some tape and a permanent marker will do the job.
Sometimes until you have the items in place, the tape can help you to change your mind and move a category without causing too much chaos.
If you are using storage boxes it is important to have a list of the items it contains, this will prevent the need from opening every box looking for an item.
You have a choice here, you can record this information directly onto the box or you can code the box and have a record of the box contents held in a file. This allows you to look for items without climbing around your garage looking and reading labels until you find the right box.
What To Avoid
Round storage containers are popular, however, they aren't good at sharing the space on a shelf, and they tend to leave wasted space.
This means there is potentially wasted space and this isn't always an option you want to consider.
Brilliant Garage Storage Ideas
The most brilliant invention ever was peg storage holders, they are amazing and so versatile and perfect for the garage if you need to organize tools and equipment.
Getting things off the floor and off the workbench saves space and makes cleaning easier, something everyone needs to consider.
Pin This: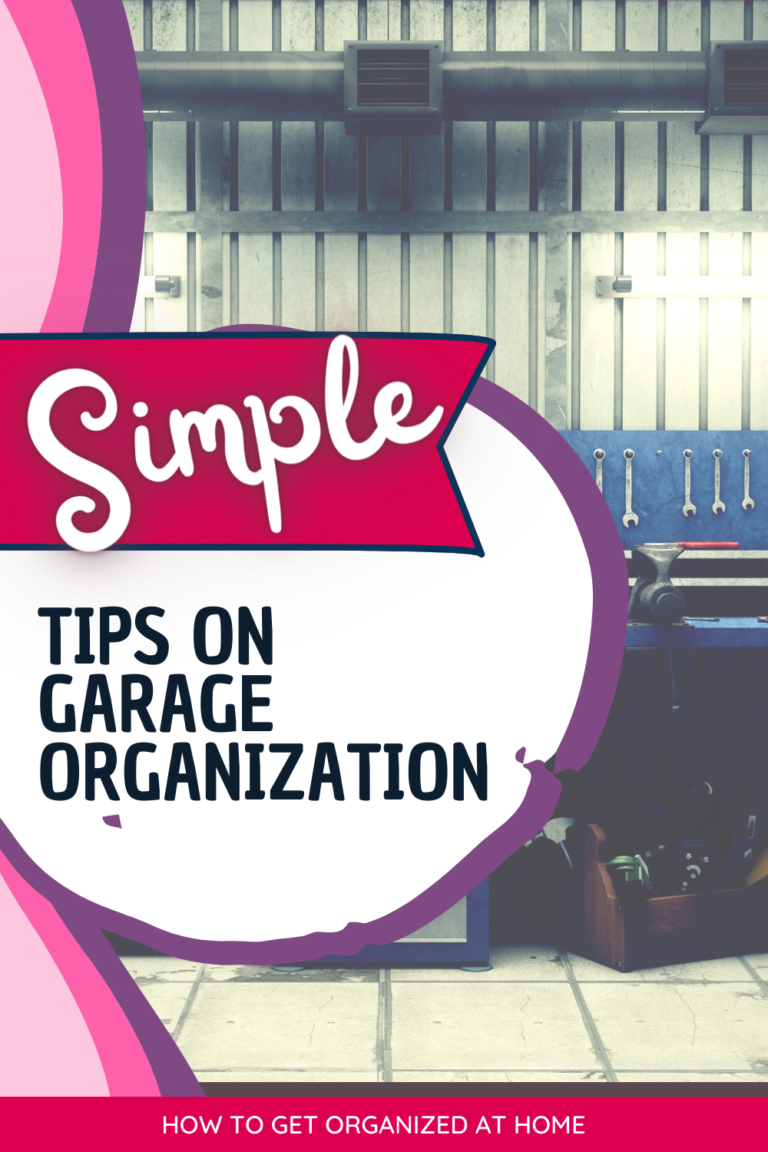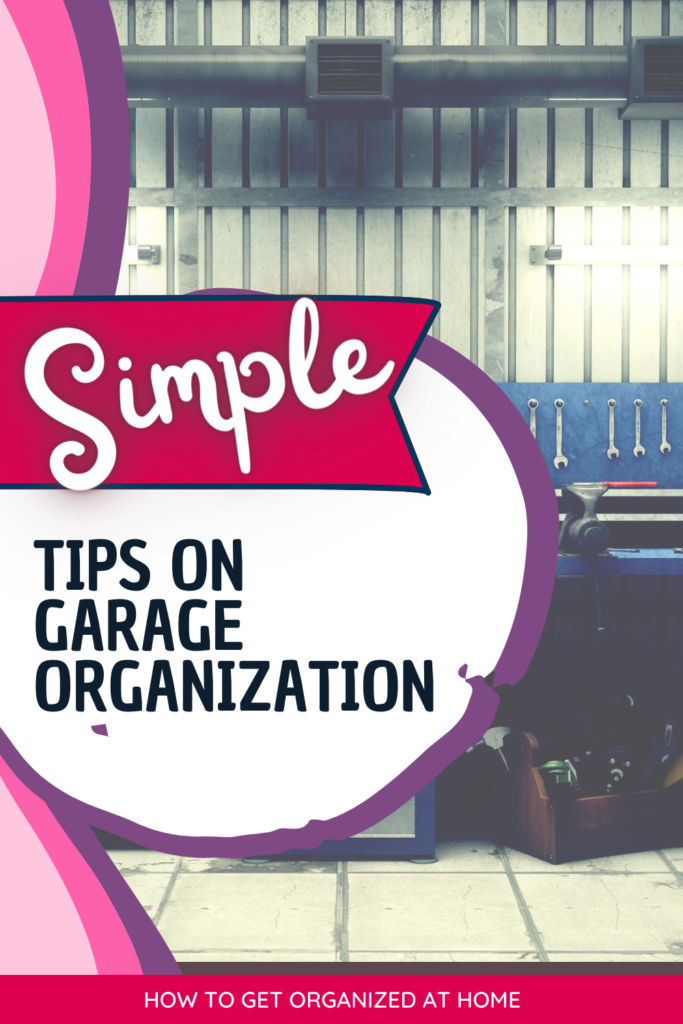 Garage Organization Tips
It is not easy when it comes to making those hard choices when you need to throw something away or donate it to a local charity shop.
But sometimes letting things go is not only good for your space and home but it's also good for the family that gets to love on it next.
But sometimes it's not even worth donating and making those recycling choices is important, it doesn't mean that you keep it forever with the intention of recycling it and never getting around to it.
Remember, that memories are held in your heart and not in material items, they might remind you of a certain time but they aren't the keeper of those memories.
Working Together To Organize Your Garage
Often, many people in the home store items in the garage, and whilst it might be easier to personally tackle all the areas, it is important to get input from the other people in your home as to what they want to keep and how to get the area organized.
It isn't an area that I would tackle on my own and I certainly wouldn't move my husband's tools without his knowledge and input as to how he wanted things to look and feel.
It is more difficult to organize a space that you don't love or haven't built that bond with. If you use it as a dumping ground it is going to cause you to stress at the thought of trying to get it straight.
However, the process of organizing will help to create that bond and it will make you want to keep your garage organized and tidy.
Hacks For Cleaning The Garage
When it comes to garages they too can be kept clean and looking nice, yes you have to add it to your task list but it's worth it.
A garage is a large space and keeping things off the floor helps when it comes to cleaning, sweeping out the debris is simple but effective for making the garage look clean and tidy.
Let's Recap…
Don't rush to try to organize without a plan.
You need the plan to tackle any organizing project and the garage is no exception.
Work out what you are keeping and what needs to go, then make a plan as to what to do including having a budget for any expenses you might incur.
Don't forget to keep it clean and tidy so you can continue to enjoy the space long-term.