Simple And Easy Garage Organization Ideas You Will Love
Is your garage driving you made? Are your struggling to work out what you want your garage to look like if you managed to get it organized?
Transform your garage into a useable space with these garage organization ideas.
I get it, having an organized garage might seem like a distant wish, but what if you had the best garage organization system and it worked for you? Wouldn't you want to find it sooner rather than later?
I know that not every garage is the same and you need ideas to make your own garage work for you and that's what I've done for you, I've gathered those ideas and presented them to you here.

But How Can You Organize Your Garage?
I know what you are thinking, no garage is ever going to look the same, we all have individual tastes and needs, and our garages don't always conform to a particular idea on how a garage looks.
The uses of a garage are as individual as the person it belongs to and this can make creating an organized garage difficult, there needs to be options for each individual taste, and this is tough.
This is why I wanted to give you options, so you can see and feel the ideas that are open to you to give you a garage that is organized and functional for you and your needs.
You don't have to live with a messy garage, there are things you can do to make your garage work but you do have to put in the effort to keep on top of the organization once it's complete.
Finding Your Garage Storage Solutions
Affiliate links are included for your convenience. (Which means if you make a purchase after clicking a link I will earn a small commission which won't cost you a penny more!) Click here to read my full disclosure and privacy policy.
There is something special about finding the right system that works for you and your family.
However, finding the right solution and on budget isn't always easy.
Which is why I wrote, 15 Of The Best Garage Organization Systems, you need to have a basic understanding of the options that you have when it comes to organizing your garage.
Without this basic knowledge of the type of products you can get and to feel inspired, as to what would work in your space is always going to be the starting point of any garage project.
Without knowing what you can do in regard to tool storage or just organization ideas it's going to be difficult to overhaul any system currently being used.
Tool Storage In Your Garage
You need to find the right storage solutions for your garage and your requirements as there are so many brilliant ways to organize your garage it's going to be tough narrowing down your choices.
However, the more you are aware of the different and clever garage storage solutions the easy it becomes.
You will be more aware of the systems that could possibly help you turn your garage from messy to organized bliss.
Planning Your Garage Makeover
The most important part of any organization project is the planning, you must have a plan of what you want to do and how you want the end result to look like.
With any organizational project there are a lot of moving parts and you need to be in control of these.
You have to have a budget
A plan on what you want to achieve
Time frame for how long it's going to take
Are you improving your garage security
Are you going to tackle it in one go or are you breaking it up over a few days or a few weekends?
Knowing the answer to these questions are important, not only will they help to form your plan, they will help you get it done too.
So don't skip this part.
Planning is so important with any major project and your garage is no exception. You need to know what you are going to do and when.
Don't forget to think about garage security, you want to make sure that everything in your garage is safe.
Why Planning Is Part Of The Process
If you are unsure as to why planning must be part of the process to organize your garage, think of it this way, if you don't know all the best clever garage storage solutions or how much you can afford how can you even start the project?
Take a look at Philip And Tiffany's article on planning to organize your garage at Saving Talents so you can get the bigger picture of what you need to consider before you even begin, it's a great article and I know you are going to love it.
Garage Organization Tips And Tricks
But what about organizing tips and tricks that can make the project easier?
As I've said you need a plan and a budget before you start, this will make the process a lot less stressful.
Assess what you have and what you want, this will help you make the right choices for you.
Look at doing these ideas before you start the process:
Check out the type of storage you want
Look at images of garages that inspire you, something that you want
Think about colour, yes you can have a garage that is functional and colourful
How are you going to label items so you know where things are
These ideas will make the process so much easier when you start.
Making A Garage Functional And Pretty
When it comes to looking pretty in my opinion no-one does it better than Abby from Just A Girl And Her Blog.
There is no doubt in my mind if Abby starts a project not only is it going to be functional and amazing it's also going to look pretty without being girly.
Abby is the only female in her home, and she has adapted well to not having a home full of pink and bows, yet her final results still look pretty and is totally functional as well.
Abby takes her garage space from a dumping ground to the most tidy garage you've ever seen.
She talks about garage storage ideas that will maximize your space and how getting things off the floor helps.
Her garage goes from cluttered to amazing, I know you are going to love it.
Tool Storage In Your Garage
But what if you want more practical storage? Your garage is more a tool storage space than just a jumble of household items that don't fit into your home?
If you are looking for more of a workshop organization system that takes into account, the tools that you own that you need access too.
You want to look at a garage makeover that focuses on tool storage rather than looking where to dump everything and everything you don't have room for in your home.
Check out Shannon from Home Made Lovely she did a makeover for her husband a few years ago and it's perfect.
Organization Ideas For A Garage
Make sure that you think of easy garage organization ideas as these will be easier to maintain. The harder you make it to put things away the less likely you will do it.
Looking at the space you have available and something many people forget is to decorate the garage, make it a light and bright space, somewhere you want to go.
When it comes to organizing your garage don't forget to think about the colour of your garage too. The more it feels like you and your style the more you are going to keep it looking good.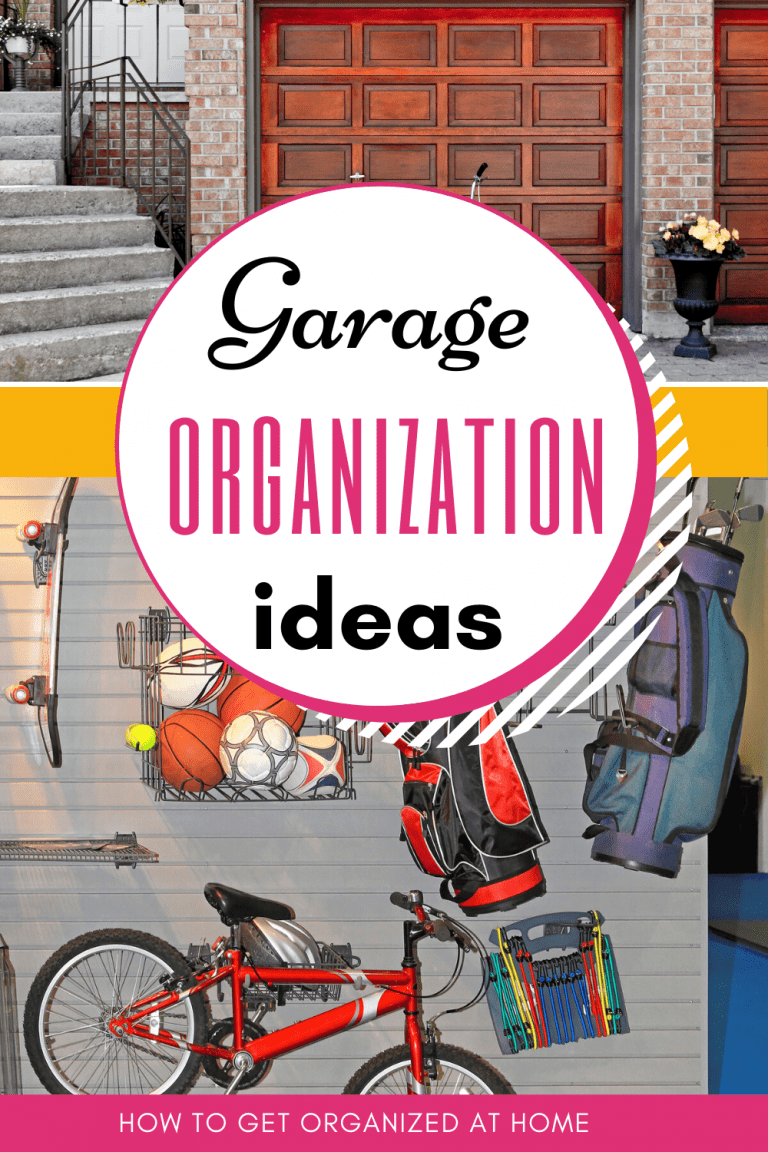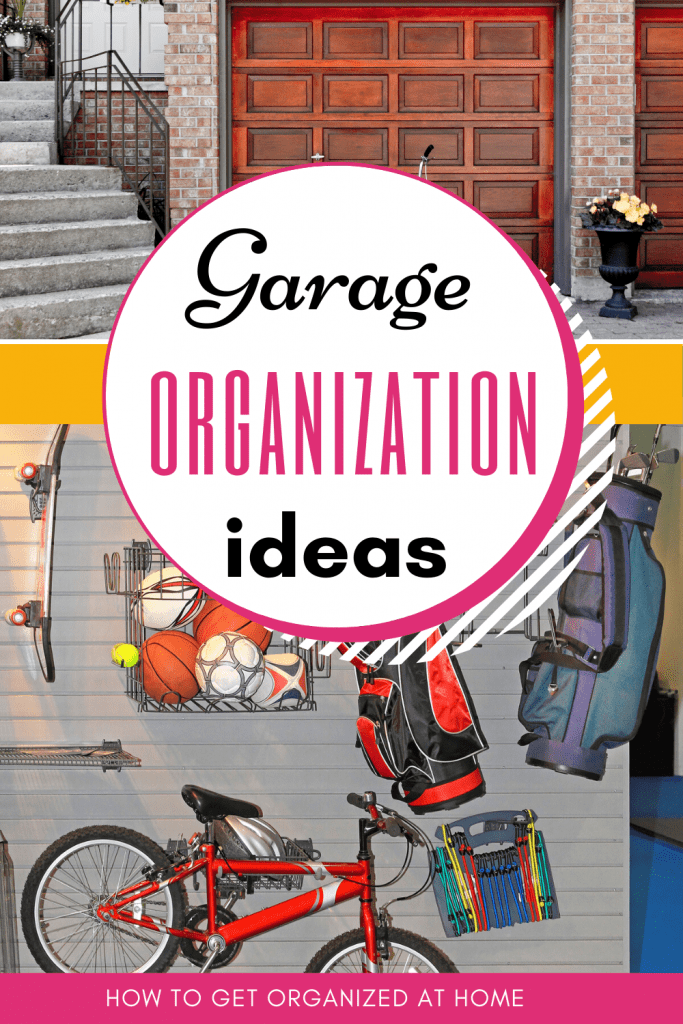 Getting Your Garage Organized Fast
But what if you haven't got lots of time, projects that are delayed are never finished?
If you are going to get your garage organized does it have to be done in a day?
I want you to read this article from Organized 31 Susan suggest pulling everything out of the garage and going through and decluttering it in one day.
This might work for some people but for me I would end up with more mess than I started with.
My attention span is really short and there is no way I could manage to organize the garage in just one day, it depends on what you know you can realistically achieve.
Could you do it in just one day?
Take Your Time For Garage Organization
If you are going to take your time in the process of organizing then consider dividing your garage into quarters, this is what Jennifer from Treking And Tasting recommends.
They suggest buying the storage options for each quarter before you start that section.
For me, I would want to see what I have before buying storage so I would sort first and then decide on the storage options depending on the items I have.
What About Garden Furniture And Tools?
If your garage is not for other stuff, except for the storage of garden furniture and equipment then I suggest you read this article from Krystal from Sunny Sweet Days.
Krystal takes you through the process they took when they wanted to have better garden tool storage in their garage.
Garden tool storage is difficult as the shapes and sizes are often awkward to store.
Making Your Own Storage Solutions
Sometimes it's difficult to find the perfect storage solution, garages don't always come in perfect shapes and sizes and sometimes building your own storage solution is the only real option.
I want you to read this article from Vineta from The Handyman's Daughter, here you will learn how to make a shelving unit that is the right size for the space and the tools and the instructions on getting this right the first time.
There is nothing better than taking the time to create something that will work for you and meet all your needs and it doesn't have to cost a fortune.
The great thing about building your own storage is adding to it when your budget allows.
Best Garage Organization Ideas
The most important aspect of getting your garage organized is finding the right storage solutions for your garage that match the budget you have available.
If you have to go for free or cheap options because your budget won't stretch then that's fine, don't feel you have to go expensive storage if that isn't in your budget.
Let's Recap…
If you are looking for inspiration as to what storage options, there are you need to consider the products that are available and in your budget.
But before you start planning you need to take into consideration the shape and the function of your garage. The design needs to meet with your family's requirements.
There is no point spending money on tool storage if you don't own any and have no intention of ever tackling any DIY project.
Know what you need before you start and make a plan of how long you have got and the budget.
If you are keen to create your own storage system, make sure you know what you are doing before you start.
These garage organization ideas are to inspire you and to take you on a journey to finally getting your garage organized.
You Will Love These