How To Get Your Carpet Clean Before The Holidays?
I know that feeling when you just get fed up with your carpet and how it looks, you know you can't afford a new one, but you want to make it feel fresher and nicer but don't know how?
This article is sponsored by Cleaning Company Dubai, leading house cleaning service provider, but the opinions are 100% my own!
There are a few ways to get your carpet smelling fresh and clean before the holidays.

Hiring Professional Carpet Cleaners
The easiest and best method for carpet cleaning is to hire in the professionals and get them to do the carpet cleaning for you.
It will mean a lot less stress but is going to be the most expensive option because not only are you paying for the machine but also the manpower of actually doing the job too.
It's important that if you are going down this route that you get a couple of quotes, it's a good idea to get a recommendation from someone who has used the company before.
Ensure they have the insurance and are going to do a proper job, there is nothing worse than a poor-quality carpet clean, it can make the carpet smell really bad.
Getting Your Carpet Clean
But what if you can't afford to hire out your carpet cleaning?
You need to start with the basics, getting the carpet clean with your vacuum.
It's possible all you need is just a really good vacuum.
Is your vacuum picking up the dirt and dust?
If it's not doing a good job maybe your vacuum needs a clean. Keeping your vacuum clean is a great piece of advice. If it's full or the filters are dirty this can affect the performance that you will see.
Check your manufacturers instructions on how to clean the make and model that you own.
Is Your Vacuum Working
If your vacuum is clean, no dirt in the filters then it might be time to look at a new vacuum, there are some really good value vacuums that don't cost the earth and actually do a great job of cleaning your carpet.
Affiliate links are included for your convenience. (This means if you make a purchase after clicking a link I will earn a small commission which won't cost you a penny more!) Click here to read my full disclosure and privacy policy.
Here are a selection of vacuums that I've used and love:
Carpet Cleaning With Pets
If you have pets and have pet hair everywhere then it's a good idea to ensure any vacuum that you get is able to pick up pet hair.
Most brands of vacuums have a selection of vacuums that have better suction when it comes to getting up pet hair around your home.
But what if the pet has an accident on the carpet?
Acting fast is the most important aspect in getting the stain out. Remove any debris from the surface, and blot as much liquid as you can. I use an old towel and jump up and down on a wet patch as I'm trying to draw as much of the wee out of the carpet.
When I've removed as much as possible of the wee with a towel, I will then use a carpet cleaner to ensure that there is little chance of a stain.
I use Dr. Beckmann carpet cleaner for any carpet accidents and to remove any lingering odour from the carpet.
How Do I Clean My Carpet With Just Vacuuming
When vacuuming your home before the holidays you might want to move things so you can get under furniture to get the dust bunnies from your carpet and edges of your room.
You will be surprised at how much dust settles under furniture and along the edges of walls.
Getting all of this dust and dirt out of your carpet will improve the air quality in your home and remove the lost items that always fall down the backs of furniture.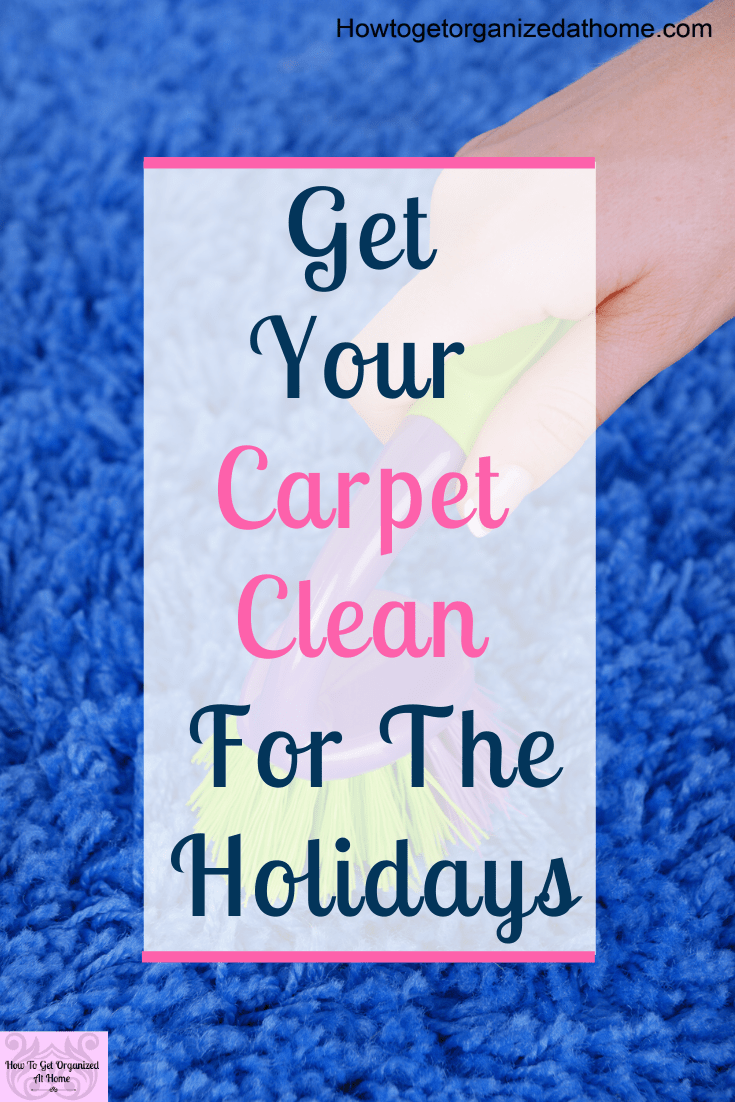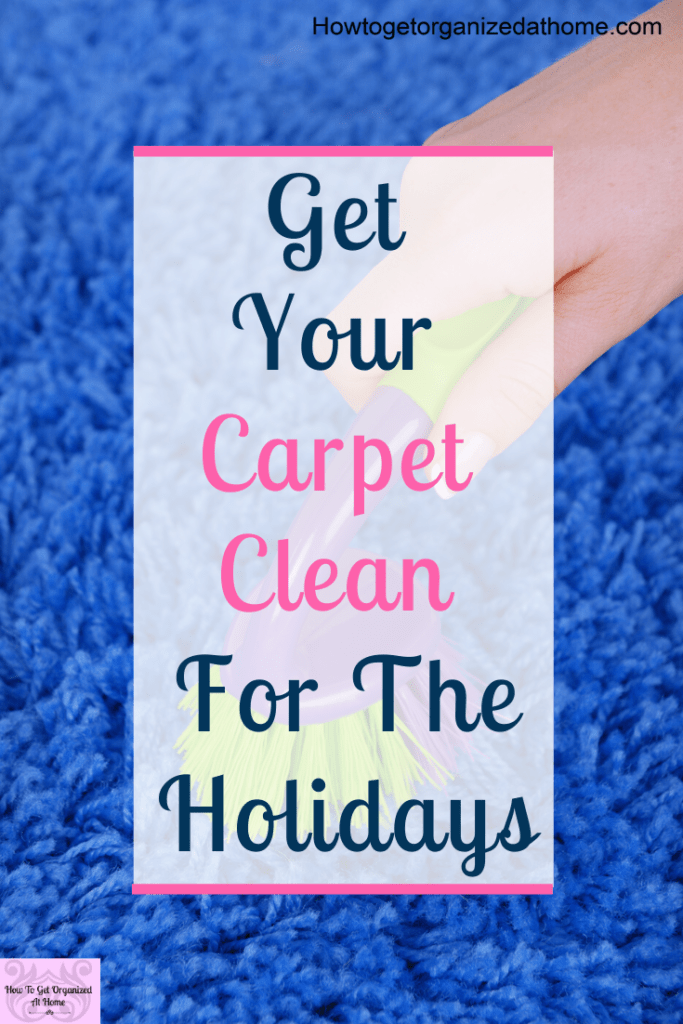 Tip For Removing Furniture Dents From Carpet
If you plan on moving furniture to accommodate a Christmas tree or other holiday decorations and you don't want the carpet to have any dents where furniture has been then I have a tip for you.
It's simple and easy to get rid of furniture marks and guests will never know that you've had a rearrange.
It's a great way to make space for all the holiday decorations too.
You will need:
Put ice on the dents in the carpet and use the hair dryer to melt the ice, keep the hair dryer moving as you don't want to burn the carpet and keep it on a low setting too.
Use a carpet brush to lift the flattened carpet and give it some new life.
You won't see the dents and your guests will never know that you've had a move about.
Carpet Freshening Products
Pets can also make our carpets smell.
There is no getting away from that odour that comes from our pets and transfers to the soft furnishings of our homes, and this includes carpets.
You can purchase sprays that can neutralize the scent from your pets on your carpets, and this is great to use in between cleans.
It allows you to feel that at least the smell isn't building up.
There are two products that come to mind when thinking about freshening up your carpet.
They are both foam sprays that you don't need to vacuum up, they dissolve and leave a scent behind.
Always make sure the foam has completley dried before allowing pets on to that area, you don't want to risk their health.
Spot Cleaning Your Carpet
It's possible to spot clean your carpets and this is a great way to get rid of small marks and stains that appear through general spills and accidents.
You can buy a machine that will tackle small scale marks, some work really well, others not so much so always research before you buy a new one.
There are also products that you can buy that tackle the odd accident or mark. I love the Dr. Beckmann's carpet cleaner. It's the best one I've found for getting up the odd mark or two.
The more you are checking your carpet for accidents and spills and keeping on top of these the less work you will have to do if you let a stain sit and dry into the carpet.
Unless of course it's mud. Mud is best left to sit and dry and then vacuum the dry dirt away. Adding water to mud makes it worse.
Removing Old Stains From Carpets
If you are looking at removing a lot of stains from a carpet and can't afford to hire in the professionals, it is possible to hire a carpet cleaning machine and to do the work yourself.
These will be a better option than trying to clean the whole carpet on your hands and knees.
Hiring a carpet cleaning machine is simple, but always make sure that the machine is well maintained. You don't want to use a carpet cleaner that is dirty as you might put more dirt in the carpet than you are taking out!
You have to also be able to pick them up and drop them off when you are finished, this is going to be a commitment when you are probably tired.
So, think hard before hiring a machine to clean your carpet.
Related article: How To Remove Pet Hair From Carpeted Stairs
Rugs Need Cleaning Too
But what if you have rugs? How do you get them smelling fresh?
First you need to clean the rug, if you can vacuum it you need to do this on the top and the underside, you will be surprised how much dirt comes out of the rug from underneath.
Remember to vacuum the floor before turning the rug back over and vacuum the top of the rug again.
This process should get the deep dirt out of the rug and then all you would need to do to make it smell fresh is to spray one of the carpet fresheners on it.
Sometimes it's possible to give a deeper clean to a rug but always check manufactures instructions first.
For example, some rugs are machine washable, or you can deep clean them with a carpet cleaner especially if there are stains on the rug, but always check with the manufacturer first.
It wasn't until I was reading Tasha's (from Kaleidoscope Living) article where she mentioned these washable rugs that I knew they even exsisted.
Let's Recap…
If you are looking to get your carpets clean and smelling fresh before the holidays you need to start planning now what you can do.
If you want to hire out the professionals check out a few companies and get a quote or two before agreeing with anyone.
If you can't afford to hire out your carpet cleaning, you might choose the option to hire the machine and tackle the carpet yourself.
This is a great option if you have the time and the strength (you might need to move furniture) to do the job yourself.
Check your vacuum is working efficiently and you have cleaned your filters, this can affect the performance.
Move furniture to give your carpets a deep clean. Spot clean any areas that are looking dirty.
Don't forget to freshen up your rugs too.