Paperwork in our homes is a big problem you have to face when it comes to organization. On top of that, you will have paperwork, which is important and some needs keeping for a certain amount of time and then you have the legal paperwork; this is the most important paperwork, which you will have and it is key that you know how to store it properly and in the most appropriate of places. Often legal paperwork is the most difficult and expensive items that, if lost or suffer damage from fire or water, need replacing.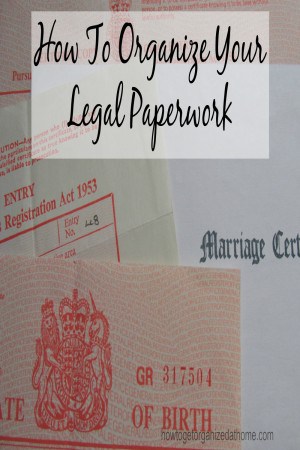 Where To Store Legal Paperwork
The most important part of legal paperwork is having the appropriate storage system for these valuable items. You have to do your best to protect them from damage, which is the result of fire or water damage in your home.
You must consider the safety aspect too, protecting these documents from theft is also important. The easiest way to do this is to purchase a fire and water-resistant safe. It is important to purchase the right one and whilst I am not one for spending money on items that are not going to change your life, and perhaps add to the clutter in your home, it is not the case at this point. I do think you need to make careful consideration as to the storage solution, which you use to store these documents. If that means researching the best option and the best price to give you peace of mind, then this expense is often worth the outlay.
Make sure that you have somewhere safe to put the storage solution that you choose, you don't want it just sitting out for all to see. Don't keep the key with the storage box, this defeats the object, keep these items separate. If you have chosen a keypad option remember the pass code, don't leave by the safe, as this makes the idea of having a safe pointless.
What Items Should You Be Storing
If you were to put everything of value into the safe then this could fill up quickly. You need to have a system where you keep only the most important legal documents; these include your birth certificates, marriage certificates, wills, passports, deeds to your home and any other legal document that you have.
Another item that you should store in this place along with your legal documents is a list or inventory of all the valuable items in your home. This will enable you to prove to your insurance that you had these items in your home if anything was to happen to the contents, like for instance a fire or theft.
Don't forget to include the details of your current insurance provider, this information could change each year and there is nothing worse than forgetting who your current insurance is with, if your actual policy gets destroyed in a fire.
Taking Action
It is important that you take action to ensure you are safeguarding those important documents in your home. Don't let them sit on the side or on a desk, put them away safely and securely, so that you know that you are doing your best to safeguard those documents which are not easy to replace or to find if something happens to your home.
The amount of paperwork that we have coming into ours homes is increasing and tackling the important documents, the legal paperwork, is important to ensure that it doesn't get lost among all the other important paperwork which we need to keep.
Therefore, taking action and sorting out just one aspect of the mountain of papers that come into our homes over the course of our lifetimes, will be invaluable at times of stress.
If you are looking for more articles on this topic head over to the landing page where you will find links to other posts on organizing.