How To Conquer The To-Do List
How many times do you write a to-do list only to find that you seemingly get nothing completed and you feel annoyed and frustrated at what you still need to do? There is an easier way, one that allows you to note down the tasks that need completing and actually complete those tasks; giving you the opportunity to feel good about yourself and that you were able to avoid that deflating feeling when you feel that you have let yourself down in some way.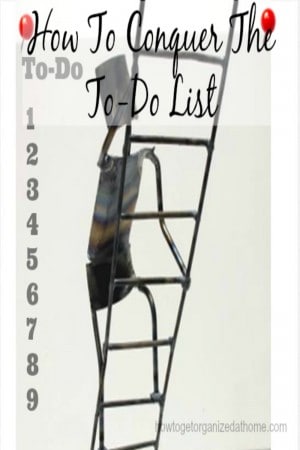 Affiliate links support How To Get Organized At Home
A to-do list isn't showing signs of weakness, you can't remember what you need to do; in fact, it is about working out and planning your time as productive as possible and being the best at what you need to do.
How To Conquer The To-Do List
You need to make sure that you are happy with the option you have chosen for your list. There are numerous different ways that you can write your list and it will depend on what you prefer. I'm addicted to writing things down and I get pleasure when I can cross off an item from my list too.
I use a mixture of different ways to control my to-do list, I have a little box next to the item that I need to complete and this is purely because I dislike not having a perfectly straight line and the idea of a strike through of the tasks seems untidy.
You must plan your time as well as the length of time that you expect a task to take. You can force the hand too and restrict the time spent on each activity and increasing the speed at which tasks get completed. For example, I love speed cleaning, it keeps me focused and on task, so I give myself a time limit for different activities, it means I keep my focus and tasks get ticked off my to-do list for the day.
If a task is going to take too long to complete in a relatively short time, try breaking it down further, this will allow you to see the progress you are making and will make you feel good about the task in hand.
Understanding Time
This might seem obvious but how often is your to-do list too long to possibly complete in one single day? You have to understand the time that a project is going to take to complete and you need to have this time available, otherwise, it is a waste of time having it on your to-do list; it will make you feel unhappy when at the end of the day you can't cross it off the list.
You must, therefore, break the project into smaller steps which you do have time for or you must plan this time into your diary on a different day when you do have the time free.
A Detailed List
If your to-do list is too vague then you are going to stumble upon having a to-do list that is never completed. The more detail and the more you can break down a task, giving it a time limit, which is more realistic; you will accomplish the task in hand.
If your master list gets broken down into these smaller detailed tasks then you are going to find a task if you suddenly find yourself with a spare half an hour; you know how long you have and you can pick tasks that fill this time already planned.
Try to keep your tasks grouped together, business and home will have different tasks and by grouping them together you are identifying each area you are focusing on and making progress to conquering your to-do list.
Therefore, if you are struggling with completing your to-do list then you need to re-think how you tackle one of the most important lists you create.
What is your best tip for conquering the to-do list?
If you are looking for more articles on this topic head over to the landing page where you will find links to other posts on organization.
I wrote another article that I think you will enjoy, The Ultimate Guide To Using Your Day Planner.