Before You Buy More Storage
Having the right amount of storage solutions in your home is important, it allows you to find the space that you need to put the items you own, away; they will have a home and a place where they belong. However, there is little point to continuing to buy more storage as you buy more products for your home; there's a limit to the items you can fit into your home. Thinking about other options for storage is a great idea, and it can save you money too.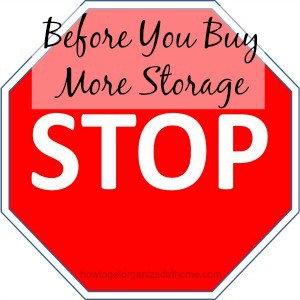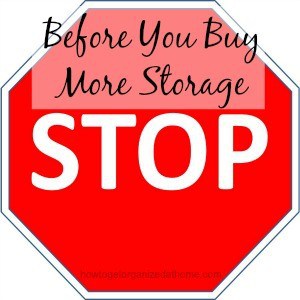 Options For Not Buying More Storage
You might think it is odd for an organizer being against spending money for storage items, but I think there is a limit to the amount of items you need, the more you buy, the more storage you think you need and the more money you spend.
There are alternatives, don't buy more storage until you consider the financial implication the storage items are going to have on your budget, have you planned this spending into your monthly workings? If you can't afford the storage options then it might be time to consider the possibility that you don't need so many items.
Organizing and going through items, you already own, working out which things you want to keep and the items that you could either donate or sell, will free up some space, allowing you no need to spend extra money on storage options.
Often, it is easy to think that you need more storage when in fact, you need less stuff, and for this reason it is important to go through the things which you own and find ways in which you can free up space, you might even make some money in the process too.
Re-use Or Repurpose
It might seem cheap to reuse an item, or repurpose it for another job, but it is saving you money and it prevents items being thrown away and filling up landfill sites when they are still able to offer a purpose. It might not fit the original requirements, but using something, which will work for what you want and you already own the item, is going to save you money.
It is possible that you can buy an item second-hand if you feel that you do need some extra storage, you will find this option is cheaper, but you might have to wait to find the perfect item that will meet your needs and fit your budget.
Money And Storage
The most important aspect before you consider buying new items for storage, is that you can actually afford the item and that there is no way that you can either de-clutter the items you own to create more space or to find something that fits the purpose without the expense of buying something new.
I really dislike spending money on storage; if you just have too many items that are cluttering up your home and making it more difficult for you to bring home new things, the easiest option is to de-clutter. Go through your current storage options and see if there aren't pieces there that you can sell or donate, making room for the new items.
Therefore, it is important to not rush out and buy more storage, but to see what you have already and see if you can't get rid of some items or re-purpose another item, to become the storage option that you need. It should never be about buying for the sake of buying; you must have a need for the item and not just a desire because it is popular.