12 Simple And Easy Habits For A Clean Home
Are you fed up with your home? Do you wish there was an easier way to a clean home?
Did you know that building habits can help get your home clean without thinking about cleaning and when you need to do it?
Use these 12 simple and easy habits to change the way you clean your home.

Building Habits Into Your Life
When it comes to building habits, it doesn't have to be difficult, these 12 habits will transform your cleaning of your home simply and easily.
1) Keep It Simple
Complicated systems will make you fail before you've even begun. It's best to keep things as simple as possible when it comes to cleaning your home.
Don't spend money on systems that you don't know if they will work for you. Try out the process first and see if the concept is something you and your family can use.
2) Be Happy
Sometimes we punish ourselves for not cleaning more and that isn't right.
Be happy with what you can achieve and what you can get done.
It's not a competition who has the cleanest home.
It's about doing what you can in the time you have available and being happy with the result.
3) Give Everything A Home
Affiliate links are included for your convenience. (This means if you make a purchase after clicking a link I will earn a small commission which won't cost you a penny more!) Click here to read my full disclosure and privacy policy.
If your home is untidy with things laying around it's difficult to keep clean. Give everything a home and try putting things away when you have finished using them.
It might sound simple, but this one is often the most difficult tip of them all, giving everything in your home, a home is daunting and scary.
But it will help you to have less and you will find that cleaning is so much easier when everything has a place.
I mean everything from your shoes to your keys and the ornament that you brought back from holiday.
4) Plan Ahead
If you never take the time to plan ahead you don't get to see the bigger picture of what you are trying to accomplish.
Not only that, it also helps with prioritizing what you need to do and when.
Getting into the habit of planning allows you to see what time you have available. It is a great way to see what you have planned and not to double book yourself. I'm currently using the Planner Pad system and I love it.
This is key when it comes to fitting in a few smaller cleaning sessions.
5) Create Routines
Creating a morning and evening routine will help you immensely.
It allows you to follow a plan and this plan will help you keep your home looking clean and picked up.
It's like a plan that you follow every morning and night to get your home that little bit cleaner without spending hours tackling the task.
It could be as simply wiping over the sink after doing your teeth in the morning and again at night.
Don't put too much into your routine at the beginning, you want to build up what you do gradually, this helps the process stick.
Maybe add one new item to your routine every couple of weeks.
If you are struggling with this Crystal Paine from Money Saving Mom has a Free 5 day course to a better morning that can really help with getting you more organized.
6) Clean regularly
It's important that you are doing regular cleaning sessions to keep on top of the cleaning.
Sometimes you might think that something doesn't look dirty but don't skip cleaning it as it will be in a worse state the next time it comes to cleaning that area.
You are building everyday habits for a clean home and by tackling these regularly will make a difference in how you stay focused and on task.
I always do little and often, I really don't have an attention span of more than 20 minutes, so I clean a few times a day.
This works great for me as it means I never get sucked into a cleaning project that's going to take hours, because I know I'll never finish them.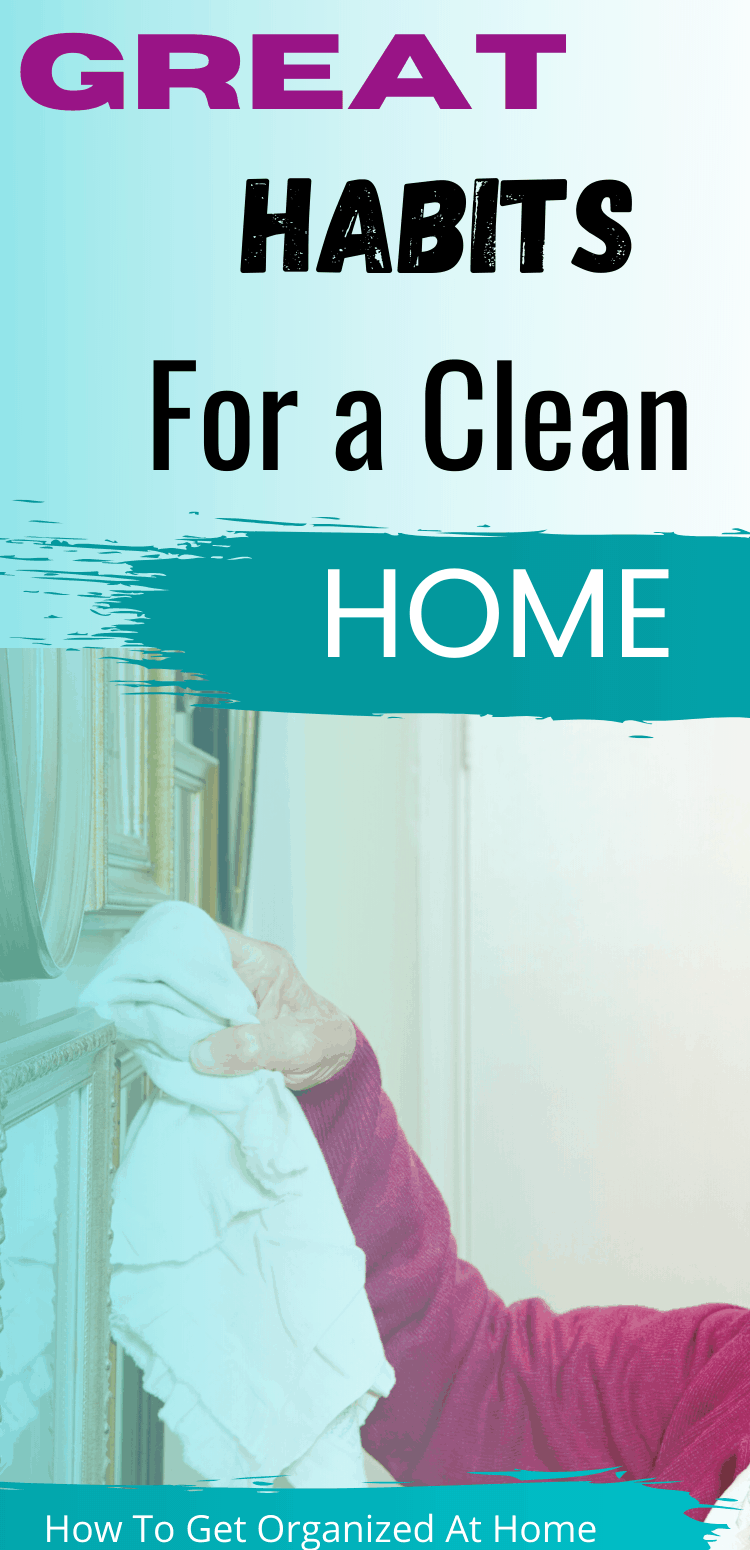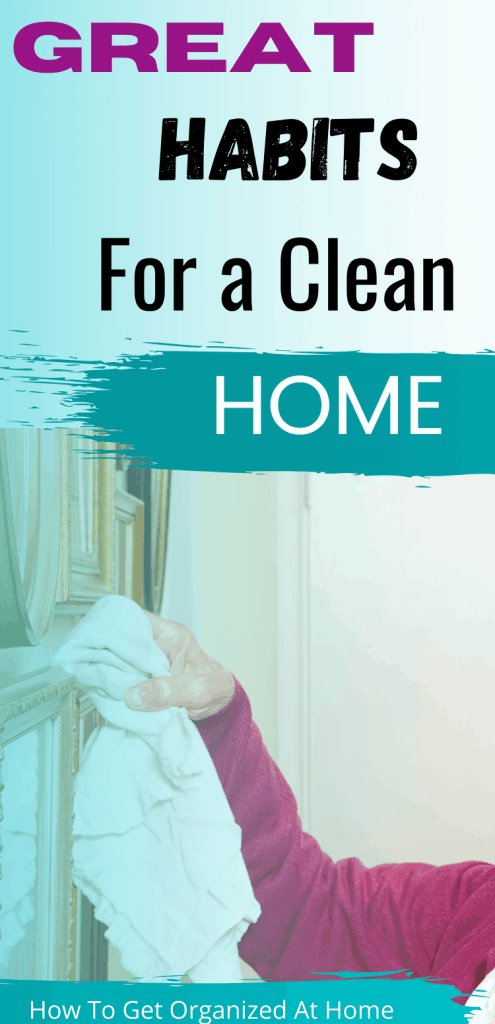 7) Tackle Certain Jobs Without Fail
There are some things that it's important to do every single day no matter what. I think there are 3 main categories they fall into, making the bed, doing laundry and doing the dishes.
There is nothing worse than trying to do dishes that are a week old, yes, I've been there, not only is it a health risk it also takes a lot longer.
So, keeping on top of the dishes is one of the priorities that you need to do daily, even multiple times a day.
Make your bed, this is simple but can have a major impact on how a room looks. If the bed is made this can make the whole room seem less cluttered or in need of a dust.
Laundry is one of those tasks I hate, it never ends which is why I force myself to do laundry daily. It keeps it from piling up and it keeps my home from looking like a laundrette if I have to do too many loads in one day.
These are like your daily habits for a clean home that you do regardless of the time or the day.
8) Clean As You Go
If you get into the habit of cleaning as you are doing things it becomes a natural process and you won't notice you are doing it.
For example, whilst you are cooking clean as you go. Wash up the dishes as you use them or stack them in the dishwasher. It will mean kitchen clean up is a breeze.
As you get up to leave a room pick up your cup and wash it up or put in the dishwasher.
It's those simple acts of cleaning that will make the world of difference to the amount of cleaning that you are doing.
9) High Traffic Areas
Focusing more on the high traffic areas in your home will help with your cleaning. If you are keeping these areas clean, then the dirt isn't going into the less frequent rooms in your home.
It will also make you feel good seeing that the high traffic areas are cleaned as these tend to be areas that guests see.
I hate dirty floors and that's one area I will pay a lot of attention to, I use my Swan Powerplush cordless vacuum (get 20% off with code Howto20) a lot in these areas
Take those spare rooms you don't need to focus on those if the high traffic areas need attention.
10) Put Things Away
If you make a point of putting things away and decluttering the excess, there is less to clean and it makes cleaning quicker.
There is no getting away from it, the less stuff you have the less you have to clean.
It really is that simple, so by getting rid of the clutter you are saving yourself time cleaning those items.
11) Ask For Help
If you have other family members living with you then you must ask them to help with the cleaning.
They live there too; they need to pitch in and do some of the cleaning.
I never did this when my children where little, I did it all and now as adults they all struggle with cleaning because they never had to do any as they were growing up.
12) Create A Cleaning Schedule / Routine
Getting your family onto a schedule or a routine when it comes to cleaning is important. It must work for your family and fit your family's needs.
It doesn't matter if it isn't the same as your mums or your best friends, what does matter is that it works for you and your family.
It's about building habits for keeping a clean house and then keeping up with those habits.
List the tasks that you need to do and divide them up fairly and age appropriate to ensure that everyone is helping and pitching in at home.
Calling them something other than chores is a good idea, because 'chores' has such a negative vibe that it doesn't seem to make it fun to do.
Build habits to keep a clean home slowly, it will start to take shape. Don't expect it to work the first day you will need to take it slow. Add a new habit every couple of weeks so you don't overwhelm yourself.
Take cleaning in smaller chunks, if you tackle it often it won't take so long to do.
Use the tips for a clean home as a way to assess what you are doing and how you can improve your cleaning in your home.
Finally, be happy with what you achieve. Be proud of those accomplishments you deserve it.