Depression And Your Eating Habits Can Make You Ill
If you have ever been through depression you must realize that the food you are putting into your body can and will have an effect on how you feel. Just eating the right amount of calories isn't good enough to improve your mental health, you need the right sort of calories to make you feel good on the inside. Poor food choices can trap you in a cycle of depression, it makes you feel worse and you don't have the right fuel for your body to make your body want to move.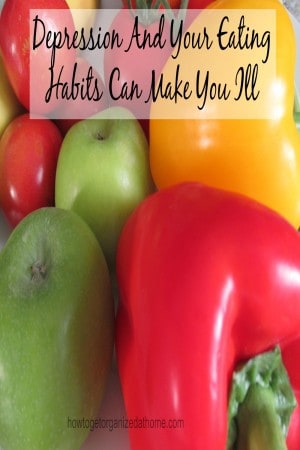 Food Choices And Depression
When you are feeling low and depressed the last thing you want to think about is food, it often has no appeal and it is just there, you eat out of habit and the quick food is often high processed and high in fats and sugars.
The problem is then, that you are not fuelling your body to work; it isn't receiving the proper nutrients to adequately work the body correctly. This has a negative impact on how you feel and reduces any desire to get up and do things. This movement and doing things is often on the road to recovery for any person trying to take back their life from depression.
I know first-hand the problems that get associated with food and depression, I'm addicted to sugary foods, the more unhealthy, the more they seem to appeal. Did they help my depression? No, what they did was increase my weight; because they made me feel tired and sleepy, this led me down the path of not wanting to move, not exercise and this makes my depression worse.
What I am trying is to stop eating these foods; it is no good saying that it is OK to have these in moderation because I don't do moderation: it is all or nothing. Therefore, I am trying the nothing approach because the idea where you don't ban anything, approach just wasn't working.
What I have noticed since my reduction in the intake in sugary foods:
I had a migraine for two days
I am less tired and this means I can move more
I have lost some weight and this makes me feel good
I have more energy than before
I have had to deal with my emotions as they happen
Before, if I was feeling like I was having a bad day then I would hit the sugary sweets or chocolate. These items would then send me into a lazy mood and sleepy and in fact it just hid those emotions, I just wasn't dealing with the thoughts and the feelings that were going through my mind. Without the option for eating these foods, it means in these last few weeks that I have had to face those demons head on; I had to work through my feelings and get through the day. Therefore, instead of suppressing these feelings, I have had to deal with them and that has been hard, but in the long-term, I know it will be worth it.
Empty Calories
What is important to learn is that food and calories aren't equal, if you are eating the right number of calories for your body size is one thing, but the food quality that you are consuming is important too. You have to consider the vitamins and minerals you are putting into your body. They have to contain the right ingredients otherwise you just aren't fuelling your body in the right way. I have learnt this the hard way and I am now finding that I have more energy, I don't need to sleep during the day and I am getting so much more completed.
Depression is a serious illness, but sometimes by eating the wrong types of food, we inadvertently continue the destructive cycle of depression.
Therefore, by looking at what we are eating and ensure that we are getting a balanced diet can have a positive effect on how you feel emotionally. You are able to deal with your depression more easily, because you have more energy, you are able to do more and the more you exercise you do, the better you will feel.
If you are looking for more articles on this topic head over to the landing page where you will find links to other posts on depression.