If you are considering changing the look and feel of your kitchen here are some tips that can help you make the most of any decoration change, making it an easier task to manage.
No matter if you are just going for a change in the colour of your walls or a full-blown kitchen change some of the steps are still the same.
Organise Your Kitchen Before You Decorate
You might think that organizing is a waste of time if you need to empty out your kitchen before you decorate. However, if you can get rid of any clutter or items that you no longer need, it can save time when you are storing items. If you are having a complete kitchen overhaul, there will be less to store.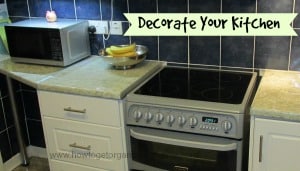 It is a great time to sell any item that you no-longer love, or you might choose to donate; if the item isn't going to help anyone it might be better in the trash, this is a personal choice and will depend on the item in question.
Look at how you use your kitchen. There might be a better way to use the cupboards or the space available. One way is to get a professional to look at the space available and offer up some great suggestions as what will fit the space. You don't have to go with the designs, just make sure that it is a free service they are offering.
Choosing You Colour
Giving thought to the colour you paint your kitchen will depend on how bold you are feeling. Remember that lighter colours are going to make a small space look bigger.
The items you have on your counters will also play an important part in the look and the feel; there are many different colours available for most items, if you have a small kitchen objects that reflect the light will make the room feel lighter and bigger.
It is even possible to install a mirror in your kitchen as a way to reflect the light and this will make the room feel bigger too.
Magnets on fridges mightn't be your idea, but sometimes they fill a need. However, you no longer need to keep them on display. If you attach a metal backing to an inside cupboard door all magnets can hide behind a closed-door.
Shopping lists are a requirement if you are looking after your budget. If you are after a touch of something different, you could paint the inside of a cupboard door with chalk board paint and use this as your family's shopping list. Instead of then re-writing when you go shopping just take a picture of the door with your phone and you will have your shopping list with you when you are shopping.
Choosing Lighting
When you decorate a kitchen it is sometimes difficult to get the lighting right, choose LED bulbs for any new fixtures, they might be more expensive but they give off great light, reduced energy consumption and unlike halogen light they don't get hot.
Try to consider the different areas that you use in your kitchen and consider some of the great ways to get light there. Under cabinet lighting is a great way to introduce light into a difficult room, to get just right.
Decorate Using Accessories
I love to decorate a room – from the furniture to the objects to the books.
It is possible to change the look and feel of your kitchen by using different linens and accessories at different times of the year. It can change the complete feel of a room by just changing the accessories that you use. Storing seasonal items out of the kitchen means they will take up less valuable space in another area, I keep these in my china cabinet.
Therefore, if you are considering to decorate your kitchen, there are great ideas which can make a kitchen seem bigger by changing some of the design features, like adding mirrors to reflect the light.