Keeping your kitchen clean is important, it is a breeding ground for germs and unless you keep your kitchen clean, you have the potential to harm family member's health. It is surprising how quickly dirt and germs can build up in different areas of your kitchen and how easy it is to keep it clean and germ free. The best advice is to keep on top of your cleaning and it won't take long, the longer you leave it between cleaning, the greater the build-up of dirt and the longer it is going to take you to get it clean.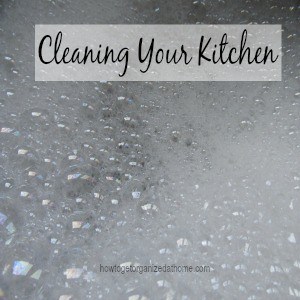 The Easiest Way To Clean
You don't need to cover your kitchen in chemicals to keep it clean, hot soapy water, a damp cloth and a drying cloth is really all you need. If you do like to use manufactured cleaners then ensure they are safe to use in the kitchen and carefully follow the instructions, you don't want to poison your family, and certainly don't mix products, as you can create toxic fumes, which can harm your health.
The less stuff you have out on the counter tops, the less you have to move to clean. I like to wipe all counter tops down when I wash up, so the less items there are out the less I have to move, saving me time.
Cleaning The Kitchen Cupboards
I'm tempted to empty out every single cupboard and clean my kitchen that way, but I know from experience this isn't the best option. One at a time is easier to manage because something happens in the middle of a cleaning session and only having one cupboard's worth of items on the side is a lot easier to put away rather than having the whole kitchen cupboard's contents lying everywhere.
With wall cupboards I always use a step-ladder, I can't reach to clean the top of the cupboard door properly, there is no way I can reach to the back of the top shelves to clean them either; this is often where I find my family like to hide things because they are all a lot taller than me.
I empty out the cupboard, take my damp cloth and wipe the cupboard out, I then rinse out my cloth before tackling the cupboard door. I always start at the top of the door and work my way down to ensure that the dust and sticky residue you often find in kitchens is completely off the door. I then dry the cupboard before returning the contents of my cupboard back into its home. I always check any dates, if anything is missing or if I need to add an item to my shopping list.
I am easily distracted in any cleaning process, I often think of something else I need to do, this is one reason I don't have all the cupboards empty, because if something does come up I can finish my task relatively easily and move on to the item that is distracting me. I have learned the hard way that multi-tasking doesn't work, it just ends the day with loads of half-finished projects and nothing much to show for your time. So, for me one clean cupboard is all that I aim for at a time and this enables me to complete the cleaning task with relative ease.
Therefore, cleaning your kitchen is important; it reduces the sticky residue, which can harbour the dust and germs in our kitchen. If you have distractions, don't aim big, don't set mammoth tasks that you haven't the time to complete, break these down into manageable tasks you can do, this makes you feel better about keeping your kitchen clean.