8 Fantastic Decorations For Your Home
Do you change your decorations depending on the season? It isn't something that I have done in the past, we moved a lot when the children were little and it would mean more to pack and move, so changing decorations wasn't something I had considered until now. I don't want to move home, but I am feeling that I do need different things in the home to make it feel different but homely at the same time. It might be more work, but I am up for the challenge if it makes me feel good.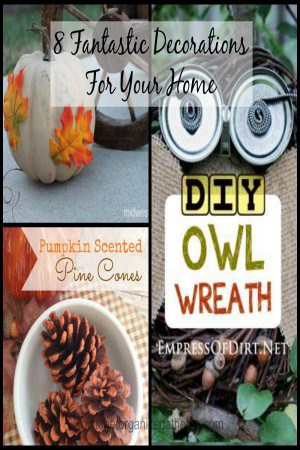 8 Decorations For Fall
I have thought about the different things that I can create and some which I have found look good and they don't cost a lot to create. This is my list of things that I am thinking about creating, I will share the ones I make but I haven't made up my mind completely yet.
Here are the eight decorations that I have chosen that I really like
I am still undecided as to what I want to do, I love them all but for the sake of time I know that it isn't possible to make them all, I just need to decide on one or two fall decorating projects to give that new feeling to a room without a high price tag!
If you are looking for more articles on this topic head over to the landing page where you will find links to other posts on household.