It is so easy to use an appliance and not think to clean it too, when was the last time you cleaned your dishwasher? It is really easy to clean your dishwasher!
Often, the only time we notice it needs a clean is when it stops working. However, if you took the time to clean it regularly this maintenance becomes easier to manage.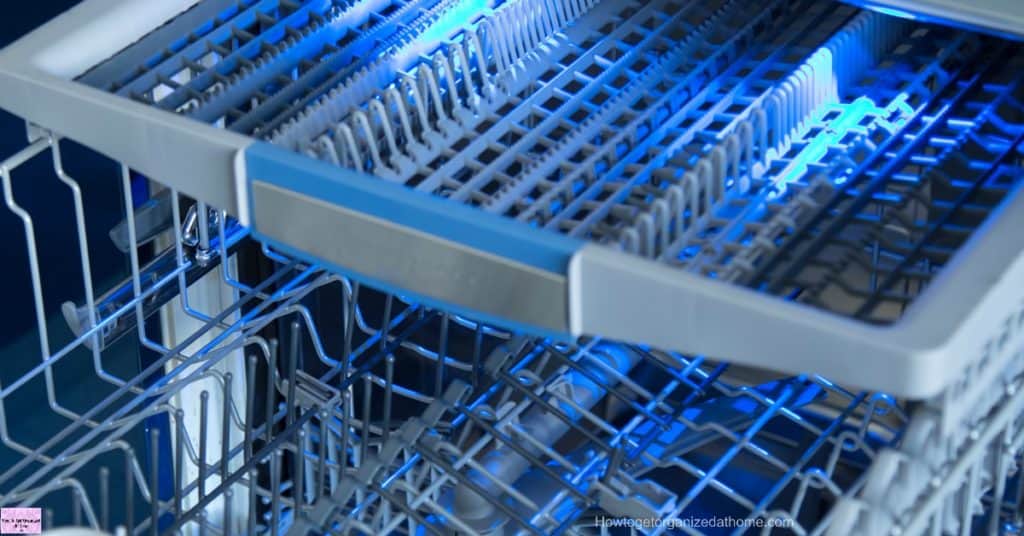 Why A Dishwasher Gets Smelly
A dishwasher starts to smell because there is a build-up of bacteria that is causing the unpleasant smell.
This is just food debris that has built up and is causing the odour! It is time to clean your dishwasher! The best way to clean a dishwasher is simple, follow the instructions in your manufacturer's handbook!
It really isn't difficult, the more frequently you clean the less chance of bacteria growing and covering your plates and dishes instead of making them clean!
How To Clean Your Dishwasher
The first thing you must do is read your manufacturer's instructions on how to clean your dishwasher, if you ignore these you might damage your appliance and then it is not going to clean any dishes!
I like to remove the trays so I can get access to the bottom of the dishwasher.
Wipe down the bottom of the dishwasher with a damp cloth and remove any particles of food. I repeat this process until all food and grease is removed.
Following manufacturer's instructions remove the filter and clean. Mine I empty any waste particles and wash thoroughly to ensure that there are no particles trapped in the filter.
I then put the appliance back together and put the dishwasher through a cleaning cycle with a commercially purchased dishwasher cleaner! This must be on a hot cycle to kill all the bacteria in the machine. Why I don't make a cleaner is purely convenience!
Affiliate links are included for your convenience. (Which means if you make a purchase after clicking a link I will earn a small commission which helps keep my blog up and running but won't cost you a penny more!) Click here to read my full disclosure and privacy policy.
Recommended Cleaning Supplies For How To Clean A Dishwasher: 
Dishwasher cleaner, commercially produced
Bicarbonate of soda
Cleaning cloths or disposable wipes
Other Cleaning Options
There are some alternatives to using a purchased machine cleaner. Some people recommend a dishwasher safe container full of white vinegar. However, this might damage some interiors so always check with the manufacturer first.
A bicarbonate paste mixed with water and a dash of washing up liquid will help to remove stubborn stains on the inside of your dishwasher!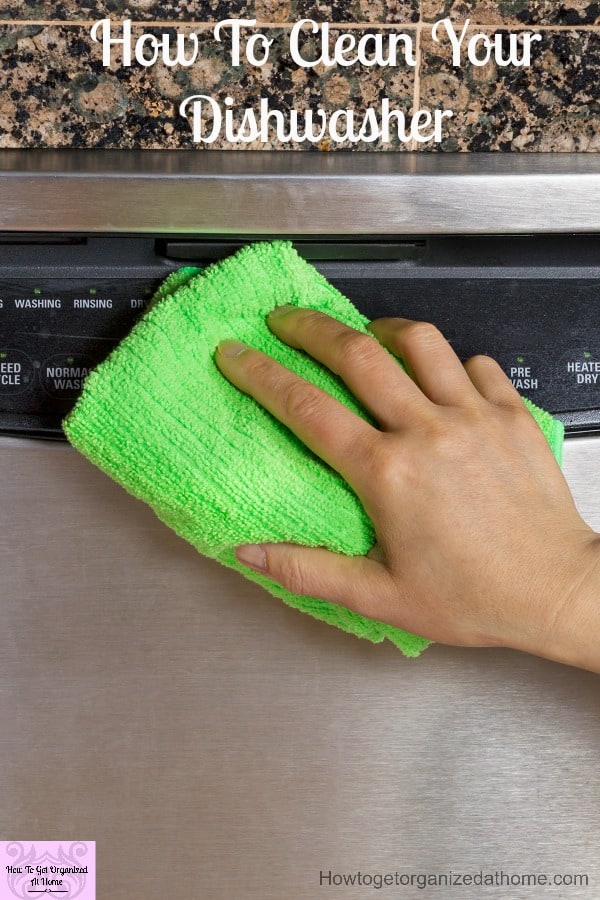 Don't Forget To Clean
There is one area that is so often forgotten when cleaning a dishwasher and that is the door. This is often splashed with food and liquid and keeping this clean will ensure that the appliance looks clean when you open the door!
I like to clean the outside of the dishwasher about once a week, I will give it a rub down to remove any dust or dirt from the outside to make it look clean and presentable!
I don't pull out the dishwasher more than every three months to give the top and the sides a clean. It is amazing how much dust gets on top of these appliances!
If yours is a built-in machine you won't need to pull it out to clean!
Blockages In Pipes
Because of the design of dishwashers, there is the potential to get a blockage or a build-up of particles in the waste removing outlet pipe.
If you have some technical skills flushing this out isn't difficult, following your manufacturer's guidelines of course.
However, if you have an appliance care package this might be covered in the care of the product!
If you have standing water in the bottom of your dishwasher, this waste pipe is one of the first things you need to clean. This pooling of water will make your dishwasher smell, so dealing with it as soon as possible is so important!
Why Clean Your Dishwasher
I have been asked why clean it, after all, it is cleaning the dishes isn't this enough? The simple answer is no.
Unfortunately, you need to clean the inside of your dishwasher regularly for it to perform at its best and to ensure that it is working correctly.
Therefore, if you have a dishwasher you must consider cleaning it frequently to ensure that it is working to its best and not just covering your plates in dirty and bacteria ridden water. A clean dishwasher will perform better than a dirty one!