Budgeting For The Holiday Season
There are other areas of the holiday season that you need to budget for, there is more to this time of the year than just buying gifts. You have to consider the cost of the extra food you will eat and the extra utilities that you will use and the extra fuel you will use doing the shopping. You need to account for these categories in your budget to ensure you have enough money for the holiday season.
Holiday Season Preparation
With the holiday season starting, and preparation must start, it can become a manic period especially if you haven't put money aside for all the different expenses.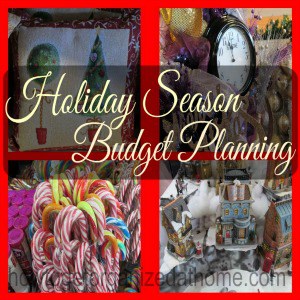 It is easier to start budgeting for the holiday season in advance, I start mine in January, this ensures that I have enough money come the holiday season, and it is a lot less that I have to find each month compared to if I started saving in November. It also means that I probably have more money put aside than I would if I started later.
I add a few pounds on to the money that I put aside for the utilities for the course of the year, this ensures that I have enough money put aside for any increases in these areas. I also don't drop the amount I put aside for my gas and electric in the summer months, this ensures I have enough saved and it keeps the monthly costs down.
Budget For Holiday Season Food
This part of the budget buys the extra food, I still have my normal food money for the week and the holiday season budget is the food that I wouldn't normally buy, including the turkey.
We don't drink alcohol so we don't include this anywhere in the budget and I think that saves a ton of money.
Budgeting For The Unexpected
I like to be prepared for the unexpected in my budget, I don't like to think that I need to pay for an item and not have any spare cash and this is where my miscellaneous part of my budget works. It is for the items that you either have forgotten or didn't expect to have to pay for.
There is nothing worse than having no wriggle room and this is so important at this time of the year, the unexpected gift that you need to buy or some extra food because more guests turn up.
It can reduce the stress and the need for an emergency use of a credit card or some other form of credit.
Budgeting For The Holiday Season
It is a difficult time of the year with so much to do, from parties to attend and host, to school plays and shopping all in a small space of time, don't forget the extra fuel you will need to get you to the extra shopping trips.
Preparing for the spending can save you so much stress; you know what you can afford to do and what you might need to pass on this season. You might need new clothes, costumes for school plays. These items all add up and if you are aware of how much money you have for this, then it is easier to work out the important items that you must purchase; then you can work out what you might have to miss.
Therefore, budgeting for the holiday season is not just about paying for gifts but all the other expense too; it can quickly add up if you haven't set out any form of a budget and you might be tempted to turn to credit to pay for the items, which is not beneficial for January's budget.