Are You Helping Your Kids To Save
Are you encouraging and helping your kids to save money and to understand the principle in saving up for something they really want? Teaching children about money and the principles they will need to understand is important, often children are left to find their own way in the financial world and this can result in them owing loads of money and very little to show for it. They do need to make their own mistakes, but if they have an understanding of what money means, they are more likely to make wise decisions when it comes to their own financial situation.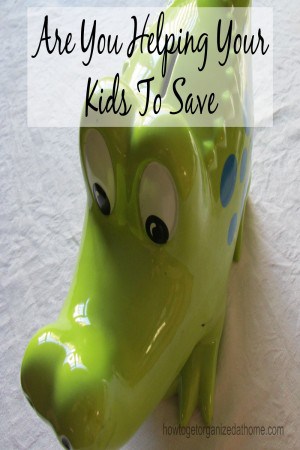 Setting The Tone To Save
The best lessons a child can learn when it comes to money is seeing a good example being set. They're bombarded with the promise of easy money and getting access to all sorts of credit; if you understand what this credit means and the dangers of getting trapped in pay-day loans and fast credit applications, you are in a better position to explain the problems which this type of money causes.
It is important that we set good standards; the best lessons are those taught through doing and seeing their parents making the right financial choices in life.
This is why it is important to talk to your children about money, don't let them think that you have an endless supply and if they want something the cash machine or your debit card will be more than happy to oblige.
It is your responsibility as a parent to teach them the right way to use money, explain saving tips, ensure you are doing all that you can to budget your money so it will cover all the expenses you need to pay out.
Teach Children To Save
Saving is a skill and many adults have themselves problems in learning to save, we live in a time and place where credit is readily available and saving for something you want isn't necessary when a company will fight to give you the money.
However, this is teaching yet another generation poor money habits and the potential to make even greater financial difficulties as they mature and need credit to take on a mortgage.
What you can do to teach better money habits:
Set good examples.
Play money games that discusses financial concepts in a fun way.
Provide a way for your child to save; a bank account is necessary, along with a system that allows them money to save and money to spend.
Teach them about budgets from a young age.
Don't be afraid to talk about money in front of your children.
Teach Your Children To Understand Good Deals
Understanding money is the key that will allow your child to have a good relationship with money. They need to understand the sign of a good deal, how this differs from something that is a complete waste of money.
How are they to judge something if they aren't taught what the financial terms mean? Without this information, you are letting your child out in the world poorly prepared for the financial situations they will face on a daily basis.
A bargain is only a bargain if you can afford it and want that item too, it is not a bargain if you have to use your credit card to pay for the deal and after all, you will end up paying interest on the investment unless you pay off your debt every month.
Therefore, it is important that we raise children who are able to save and understand the true meaning of wanting something and being able to afford the item, and not look at the current interest rate they would pay if the bought the item on credit.