A Scary Problem In My Chest Of Drawers
Something strange took over my chest of drawers, it wasn't normal and it was driving me nuts! It was in chaos, I couldn't find anything I owned and because I was placing tops on top of the tops already in there, I was just wearing the same things; this doesn't make you feel good, you start feeling the same and not in any way special. It had a negative impact on my mood and when you feel uninspired by your wardrobe choices, it brushes off on your mood. I knew I needed to take action fast!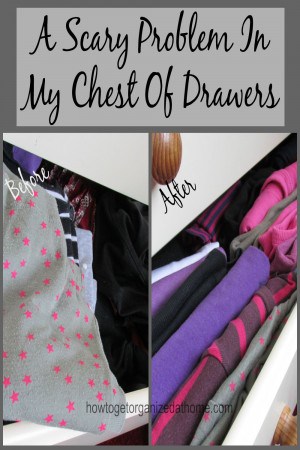 Don't Settle When Your Chest Of Drawers Are A Mess
I was in this state of frustration, I needed to sort out my chest of drawers and take back control, the top had become cluttered with lots of different bottles and cans that I do use regularly, I just knew I could put them away but the drawers were full.
I had too much stuff and a limited space to put items so I needed to take action! I emptied the whole lot out and started sorting what I still wanted and what I was going to let go or find a new home for, it was a long process.
I needed a new folding system that would allow me to stand up the items on their ends, so I could choose the item that I wanted and could vary my choices. It is a very simple fold, it is just one extra fold in half and this is currently working.
This reduced my drawer requirements leaving the top 2 smaller drawers free. I used my recent project for my desk drawers as inspiration and cut up some old boxes to act as dividers, for the current time. I haven't covered them this time, it is a temporary fix to make sure it meets my needs and for when I eventually get round to making some solid dividers that will look pretty.
The Next Steps
The current chest of drawers is a hand-me down from my sons when they left home and we moved our bedroom, this means it isn't my favourite item of furniture and because of this I think in the future they will have a makeover and perhaps a colour change too.
I think that because it is a hand-me down I felt that before, it didn't need to look good and as I have low self-esteem, I didn't feel that I deserved to have nice things. I can't afford to go out and replace these items but I can make them pretty so they make me feel good and it might help to make me feel better about myself too.
I would like to get drawer dividers at some point in the future, I want to use off-cuts of wood, sand them and paint them white, but that is a future project.
What is important is how I realized that the situation was quickly turning into something, which could have long-term consequences, something that I didn't want to deal with. Instead, I realized I had an issue that needed addressing and I took action before it got too far out of hand.
Therefore, I wanted to share this with you to show you that I am not perfect, I don't have the perfect home and I have areas that I need to push and focus on too.
If you looking for more articles on this topic head over to the landing page where you will find links to other posts on the home.