Getting Your Garden Straight
With the holiday season behind us it is important to look forward and while many of you will be in the midst of winter, it is still important that you get to those jobs that you put off because of being busy with the holiday season. The more that you are able to do in your garden now, the easier it will be when the weeds start to take hold and the weather begins to warm up. It is not possible to do the multiple jobs that require warm weather, even dry weather, but there are some chores on those few fine days where getting outside is important to your garden as well as making you feel that you have achieved something worthwhile.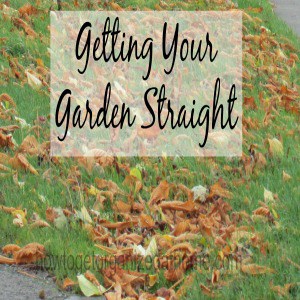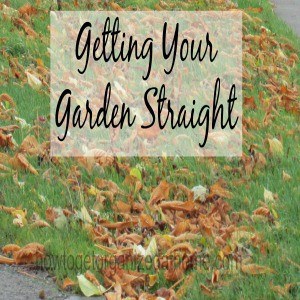 Leaves In Your Garden
I love leaves but I prefer them on the trees and not cluttering up my garden. It is important to rake these up, especially off grass as they can cut out the light and destroy the grass. Leaves are great for making leaf mould so don't just throw it out in the bin, recycle it or see if your council has a recycling scheme. Adding to a landfill site is not an option when it comes to garden waste.
Leaves block drainpipes and it is important to remove them. I am not suggesting you should do this alone, it is a two-person job; if you don't feel confident see about hiring a handy man to clean them out for you. Removing this debris will allow the water to flow correctly; blocked guttering can lead to damp patches on the inside and this isn't good news.
I like to sort my water-butt in the winter, now all the leave are mostly off the surrounding trees it means that I can remove any debris from the bottom of my water-butt. I start by emptying the butt into garden containers with the aim of cleaning out the debris and putting most of it back. I don't want to miss the coming rain and I need them full to keep my plants alive when summer gets here.
Use The Rain To Contemplate Garden Design
When you design a garden you have to consider different factors before you start to plant a single plant. You need to know were the sun comes from and direction of travel across your garden, the type of soil you have, but also you need to consider the rain. Some areas of your garden might be more likely to flood when rain happens.
This is a great sign as to jobs that you can do before more rain heads in, you need to help the ground absorb the water, and this is through proper drainage solutions. They can be simple as aerating your lawn or digging over your border. I have a spot in my garden that no matter what I have done in the past, it still fills with water. Therefore, with this area I am considering adding more grit. It is in the lawn so it is a big job, I intend to lift the grass, dig over the ground adding in the grit to help increase the drainage, before replacing the lawn.
Therefore, if you want to take back your garden and get it on the road to being straight then start to think about the jobs you need to do and the ones that you can do, alternatively consider hiring in help for those more difficult jobs you can't do yourself.