Having a perfect Valentine's Day is important and what you give your loved one is just as important as the costs involved. If you give artificial flowers on Valentine's Day as a gift, it is a great option for many people!
If you are looking to make this year special, then consider switching your flowers from real to artificial.
Artificial flowers have improved over the years, the quality and the style of flowers you can get is amazing! Don't think because they aren't real they won't have the same impact on your loved ones!
Those people with allergies will thank you for the gesture!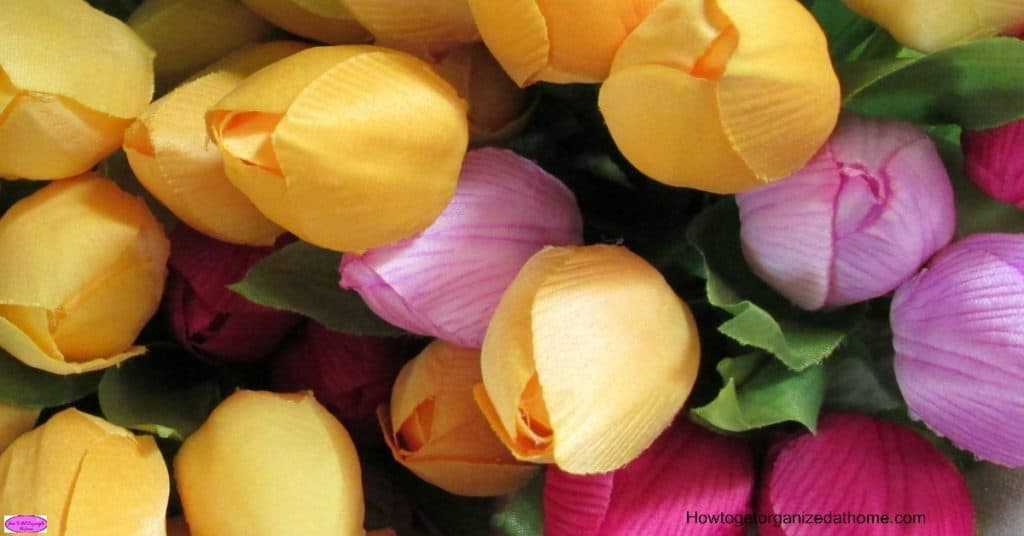 Affiliate links support How To Get Organized At Home
6 Reasons To Give Artificial Flowers
Allergies can cause discomfort and make a person feel ill; giving real flowers to an allergy sufferer is not your best choice, because of the effect they can have on a person. Artificial flowers won't cause an allergy sufferer to have any ill effects and they can enjoy the beauty of the display without worry.
Artistic detail is fantastic with artificial flowers. These flowers are flawless and transformed into intricate designs, or a classic bunch, the choice is yours and you'll not be disappointed. The ability to create some spectacular results using artificial flowers is amazing, they have progressed and developed and sometimes you can't tell if they are real or fake unless you touch them.
These flowers can last for years if there cared for properly; this gives more meaning to your gift than you can imagine. It will add to the romantic gesture of the giving of a gift, which will last a lifetime.
The choice of flowers that you have is immense, you are not restricted to the current trends or the flowers that are in season. You can have the flowers that you want and each one will be perfect and flawless. You can have them look like the original or you can have them any colour that you like, the options are only limited by your imagination and budget!
With Valentine's Day, the options for roses as the preferred flower increases and so to do the prices. This is true for the artificial roses but in comparison to the price of real roses, the artificial roses will always come in cheaper and in a style that you like.
Real flowers need watering on a regular basis to keep them living longer and looking great. However, there is a limit to the life of a real flower, it depends on how well you take care of it as to the length of time that it lives. You don't have these concerns with artificial flowers, they look great all the time; yes you have to clean them but this is a minimal effort in comparison to the length of time they will look great in your home.
Health Benefits For Giving Artificial Flowers
If you have health problems like hay fever, getting a bunch of flowers isn't the best choice.
Just having flowers in your home is a nightmare for hay fever sufferers and not something that they will love.
Pet Health
Some flowers pose further risk to the pets which we have and it is important that whilst you might like certain flowers, ensure they are safe to have inside your home.
The last thing you need is an emergency trip to the vets, due to fresh-cut flowers in your home!
Valentine's Day Budget
If you are looking for the best option for Valentine's Day, it is a great idea to know how much your budget is before going shopping. You don't want to overspend!
Therefore, while buying flowers for Valentine's Day is important don't limit your options to the expensive real flowers, look at the beauty and the designs available in artificial flowers before you make up your mind.
Not only will they save you money, they will last longer and cause fewer problems with people who suffer from allergies, too.
I have picked some gorgeous artificial flowers for you to see how beautiful they are!
What is your favourite gift on Valentine's Day? Comment below!
If you are looking for more Valentine's Day articles? Why You Must Create A Valentine's Day Budget is a great place to start!