How To Care For Artificial Flowers
There are many delicate ornaments in our homes, such as artificial flowers, commonly referred to as silk flowers, but keeping them clean is not always as easy as we may think. A quick dust or gentle shaking is usually all they get.
History Of The Artificial Flower
For centuries people saved their favourite flowers, possibly given as a gift from a loved one, by putting them between the pages of a book. The flowers then remained fresh, looking as the day they were given. But, were extremely delicate and subject to disintegrating if removed.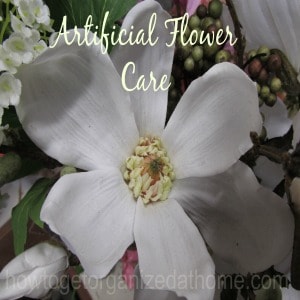 It then became fashionable for people to display their treasured flowers. It was not so long ago, that you made artificial flowers from crepe paper. These were often crude looking and offered limited scope for presentation. Then, in the 1960's, when the world was recovering from the horrors of the second world war, new materials which proved more durable, became available and making artificial flowers from polymer type materials. This was not necessarily the best result due to the limitations of the thin foam sheet used. This resulted in colour and style being limited.
As the world progressed, new materials for this process where discovered. The result, injection moulding, this process developing many other products, and the full potential is still being discovered. More realistic looking flowers could be produced, and in vast numbers, which is more economical in production terms.
Reconstruction
Each flower has been gently dismantled to ensure each part of the flower is faithfully recreated; each little fold or curl of petal, the leaves with their vein markings, the stem, calyx and pollen are all reproduced. Even putting on dew drops on the petals to give a more lifelike appearance. Artificial flowers are not just used in homes and as displays in offices or similar buildings but in household and commercial fish tanks, too.
Eventually, cotton and polyester blended fabrics were found to produce the most realistic looking silk flowers. Flowers made from silk are beautiful creations but time-consuming; the cotton/polyester fabrics are more adaptable to retaining colour and texture.
How To Keep Your Artificial Flowers Clean
Knowing how to clean silk flowers and keep them looking as fresh, is not as difficult as you might think. A quick and simple way to revitalise your beautiful, but delicate, silk flowers is to:
Use a feather duster and gently stroke the flowers, whilst still in your display vase.
Remove the flowers from your display vase and give them a very gentle shaking.
Use a clean soft brush, such as you may use on your face.
Use a damp cloth or cotton bud but be aware some flowers are not suitable for this method, and it could be very time-consuming, too!
If it is the case where the flowers still retain dust after trying one or more of the above suggestions, try out the method below:-
Use a cotton bag and pour in up to 500 grams of dry salt.
Gently immerse, either as a bunch or individually depending on your own preference, the heads and a small section of stem of the flowers, no further than the middle depth of the bag, but ensuring stems protrude from the top.
Firmly grasp the neck of the bag with the stems of the flowers protruding; gently shake for a short time, possibly for as long as two – three minutes.
When you consider the flower heads is clean, gently blow or brush off any salt which may have remained on the petals.
Do you have any other tried and tested methods of cleaning artificial flowers that you would like to share?