The Cost Of Property Price Rises
The cost of property price rises can have a negative impact on society. Whilst it might seem like a great deal in the beginning, that the value of your home has risen and this money is yours for the taking if you were to sell. However, it also means any property that you want to buy will also have a price rise and in the end, you haven't really made any money.
Property Price Rise And Value
If you take the plunge and opt to move then you need to look at the value of the property price rise in comparison to the costs you will incur. There will be an increase in the cost of fees associated with any move, the higher the property value the more the bills will cost.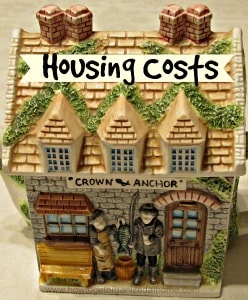 Once you have taken into account the rise in the cost, you must consider the monthly costs associated with owning a potentially bigger home with a higher mortgage. This will add pressure to your monthly budget and you need to consider these costs before you make any decision.
Understanding The Areas Prices Can Increase
There are areas in your budget that will change with a move and you must consider these before you even put your house on the market. Asking yourself if you can afford the rising costs is just one area that can make you think about moving.
Will you need access to transport? You might manage with public transport or walk, if you have a car will you need to use it more in a new location; this will increase the running costs.
Will fuel bills increase? Further distance to travel is one consideration, but also if the home is bigger it is going to cost more to heat in the winter months and you must take this into consideration.
How far away from current activities and schools? This could increase budgeting costs.
Insurance costs: different locations means different prices to consider, these can increase and you will need to find this increase in your budget too.
A stagnant economy and housing market isn't great for anyone, but if moving means added cost you must consider the state of the economy and the security in the job market. Increases in costs can make your budget tighter and this mightn't be the ideal option.
The Hidden Cost Of Property Price Rises
If you do decide to take the opportunity to maximise the amount of the current value of your home, how will this reflect in your new home? You must seriously consider this area; you will have seen the cost in your original home rise but also in the home that you are planning to purchase. You must consider if you are getting value in the property you are purchasing, whilst you might have made money on your last home what is the prospect of the new property, will there be an opportunity to increase the value there or has it reached the ceiling price?
Whilst your mortgage provider might have previously hinted at a higher amount they would lend you, it is important to discuss this with your provider before you look into selling your property. Details about affordability have changed and it is getting more difficult to get a mortgage deal, which will allow for an increase in property size and afford all the selling costs, if you are relying on the sale to pay the fees.
Therefore, if you are looking to sell your home because of recent property price increases, it is important to look at the bigger picture and see if the rise in house prices will cause a significant rise in your current household bills. If this is the case you must seriously consider the impact it will have and the amount of your budget each month before you make the jump to selling your home.