Simple Tips To Save Money Grocery Shopping
I know how difficult it is to budget your money and have enough left over for the basics including food. Follow these tips and ideas to help you cut the cost of your grocery shopping without resorting to eating junk food!
It's important to feed ourselves and our families with good food, not only is it important for their health, it's good for the environment too!
Often, you find better food has less packaging meaning less waste too!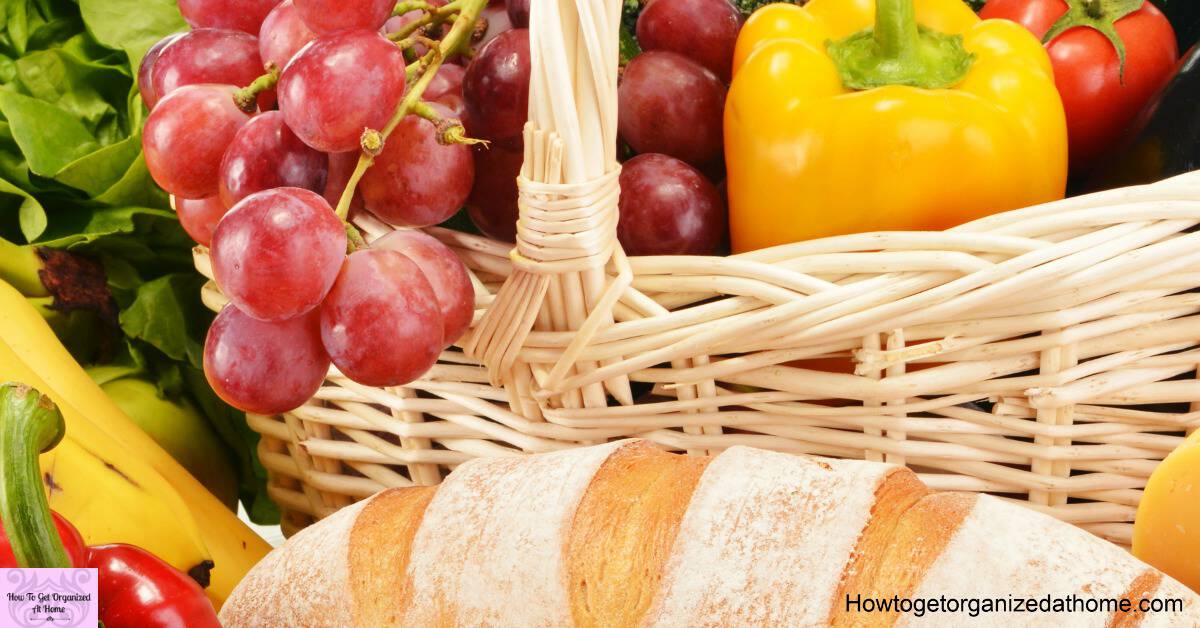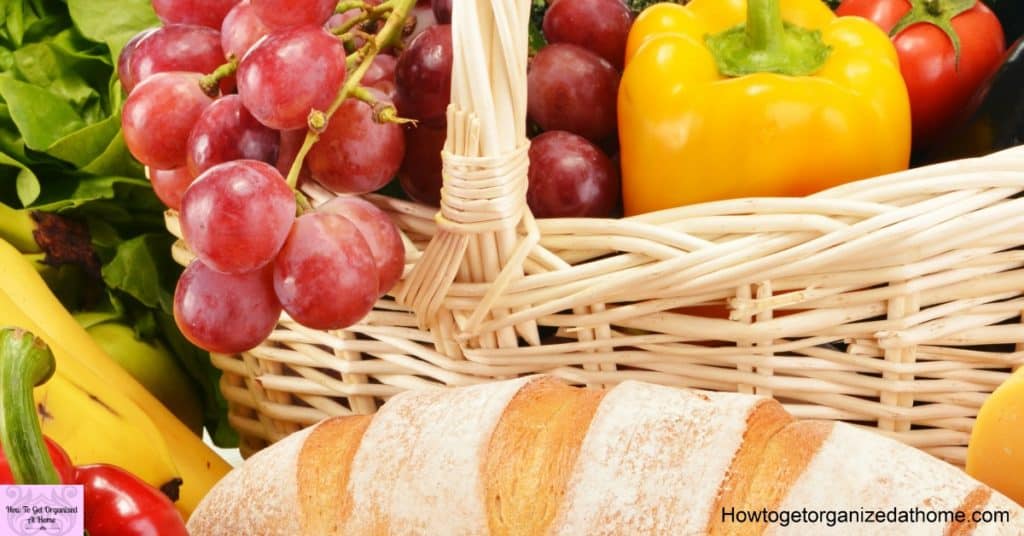 Save Money Grocery Shopping
I like to find ways to save money when it comes to shopping, I don't want to live on processed food. I know that's not good for me, but I also want to feel able to have the odd treat too!
So, how do you save money when it comes to your grocery budget?
The normal tips that you will hear are?
Look out for sale items
Start a price book
Shop for different things in different stores
While in general, this is great advice, it doesn't really tell you how to cut back on your spending, it doesn't give you a clear path on how to move forward and cut your grocery budget spending without reducing the items that you are buying!
I recently changed how we were shopping as a family, we had gotten into a routine of shopping online and sticking to a budget, however, I felt like we weren't doing the best that we could for the money we were spending!
Money Saving Tips For Grocery Shopping
I cut the budget to £50 which is about $60 US, I wanted to make it challenging, but to also prove to myself that we could live healthily on this budget!
I know there are only 3 adults at home, but I include all toiletries and washing products in this amount!
What I've noticed is that it's totally possible to shop within this budget, often times I have money left over!
Know how much you spend on groceries each week is important, are you spending too much? Check out this chart below and see if you are working within the right price frame for your size family?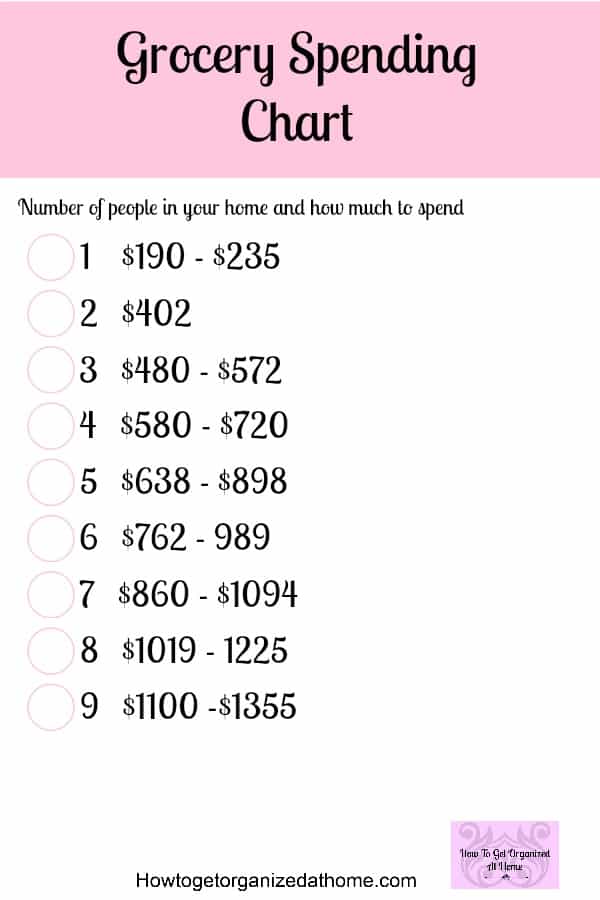 Tips To Saving Money
I don't have access to a car during the week, we are a one car family and the other half has this to go to work, so all the shopping I need to do must come locally!
We live in a small local market town and there are no massive supermarkets, but I'm still able to buy the food that we need.
How to save money grocery shopping:
Look for items that are offered with a great discount, often shops have loss-leaders to draw in customers and these are great deals!
Plan your meals, this is so important, it helps you work out what you will need and it's a great way to adjust your spending if you have to buy large bulk purchases, like washing powder you can adjust the other costs during the week!
Buy what you need, it might sound like a great deal to buy more than one, but unless you are going to use all the products just buy what you need! If you are prepared to ensure that you use the extra, then it can be a great way to save money over a few weeks, but only if you are using the extra items!
Learn to cook from scratch, it's cheaper and better for you as you know what goes into each meal!
Don't drive to different shops to get the best deals, plan out your shopping so that if you need to go to different shops that you use and it's not local always try and tie in another errand or save up to bulk buy an item so that you don't have to make a special journey each week for one item!
How To Save Money Grocery Shopping
If you know what you are going to eat, not only does it save you money on your shopping, but it also saves time in the kitchen too!
When the kids where younger it meant that I didn't spend an hour before I needed to get food on the table wondering what we would eat!
I knew what was on the menu and so did the kids! This still works now and it's the best way to ensure that you aren't spending loads of money on items that aren't eaten or just buying food that is thrown in the oven!
Often, this is over processed food that is full of ingredients that you can't even work out what they are! Surely, this isn't healthy!
Grocery Shopping With A Plan
If you ever go shopping without knowing what you want and need it quickly turns into a frenzy of just dumping anything and everything in your trolley just to get out of the store as fast as you can!
You really need to have a plan as to what you need, and what you are going to make. Without this, you are shopping for whatever takes your fancy and this really isn't going to do your budget any good!
To shop with a plan you need a shopping list, something that you can take with you and work out what you need!
Also, don't go shopping when you are hungry, this will make purchase those impulse buys, the ones that aren't part of your list but you still brought!
If you are looking for ways to save money on your grocery budget, look at what you are spending and find ways in which you can cut back slowly. Changing everything too quickly isn't a great idea, often family's rebel and get upset!
If you tackle the problem slowly, often they don't even notice the change!
I tend to make one or two adjustments a week and no-one has even noticed!
Affiliate links are included for your convenience. (Which means if you make a purchase after clicking a link I will earn a small commission which won't cost you a penny more!) Click here to read my full disclosure and privacy policy.
Resources:
I use Trello for my shopping list, I share the board with my other half and he is able to add things to the list when he remembers things! You can sign up for Trello here and it's FREE!
If you are looking with help for creating a budget I always recommend looking at Dave Ramsey, he is a straight-talking guy when he talks about money!
I wrote an article on budgeting, It's Easy To Make A Budget! This is a great introduction to budgeting!
Shopping With A Price Book
I know the concept behind the price book is great, you have at your fingertips and list of the most common products you buy and the best price you paid!
So many people recommend a price book, I haven't found a system that works for me, I'm open to suggestions!
I just can't seem to keep a price book up to date! Without the information there at your fingertips as to the best pricing and the dates, the idea of a price book becomes outdated quickly!
I am looking at alternatives and if I come up with something I will let you know!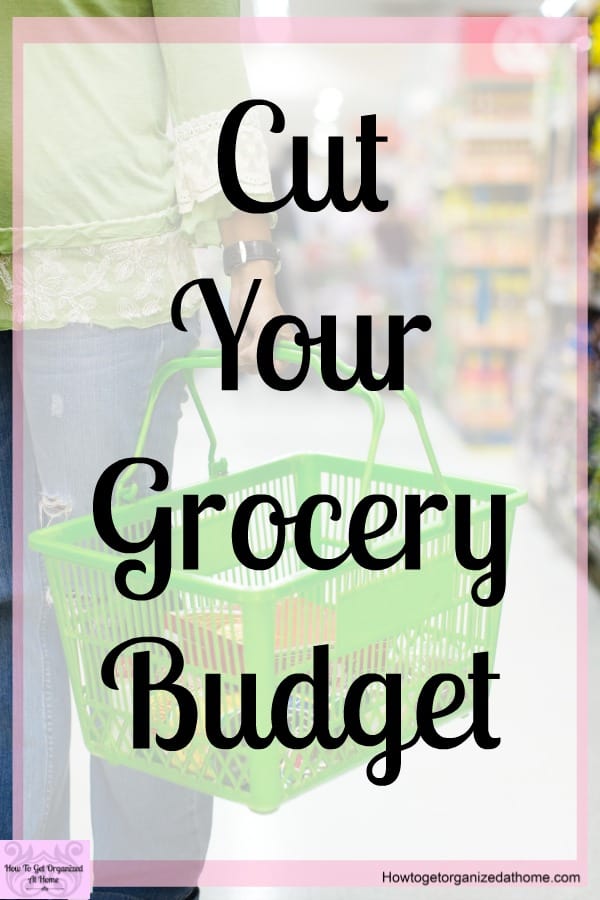 Tips To Save Money
I use these tips all the time when I'm shopping!
Use cash it makes it so much more difficult to go over your budget. When you have your debit card and you see a deal, it's easier to put the expense on the card and then wonder later in the month where your grocery budget has gone! I know we live in a society where cash seems to quickly be going out of fashion and it's something that I worry about as paying for things using your debit card or even using your phone or watch to pay takes away the actual value of the money involved!
Working out the price of an item is important, what I mean is looking at the lowest weight and working out how much it is per gram this gives you a baseline to see what the best value is, it's not always the bigger the better value!
Plan Your Grocery Budget
I think this is a great place to recap…
Knowing how much money you have to spend each week on your groceries is important, working out your weekly budget is simple.
The amount you have allocated for the whole month for your groceries
Divide this by the number of weeks!
This is your weekly amount you have for grocery shopping!
You can read: It's Easy To Make A Budget, to get more tips on budgeting!
Easy Ways To Save Money On Groceries
Plan what meals you are going to make each day, remember to include snack foods and any other food that you intend to have available for your family, like fruit and drinks.
Having a shopping list is key and sticking to it!
Buy only what you need, don't be tempted to buy loads of things that you don't want or need!
It's simple to make cakes and snacks at home and often they are cheaper and better for you too, as they aren't full of preservative to keep them edible for longer!
Using cash is a great way to ensure that you are sticking to your budget!
Save Money Now!
Saving money is important, we all are feeling the pressure of a difficult economy and spending money on groceries is tough!
Making the most of your money and making it go further is so important when it comes to cutting back and making it work harder for you!
Don't assume that budgeting is easy, take these simple tips to save money and start applying them to your grocery budget and you will quickly notice a difference in the amount you are spending on your food shopping each week!