Being in debt and struggling to manage your money is not fun, it is difficult and depressing. However, debt doesn't have to be forever, you do have options to help your budget stretch further and ways to reduce the debt that you are currently facing. Debt sometimes happens because you haven't planned for the unexpected and this can cause chaos in your life, quickly turning into a whirlwind of owing money and paying high amounts of your income on interest payments, cutting into the money that you do have coming into your home.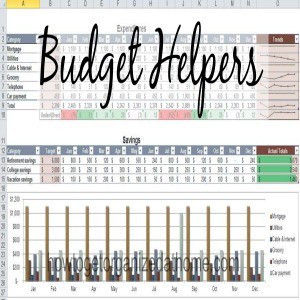 Creating A Budget
The first step that you must consider is making a budget, only then will you know what money you have to spend on food and groceries and how much you need to pay your bills.
Having a budget is a great way to see the money you have coming into your home and the money that goes out. You can physically see the money you have to use and the amount of money which you need to pay your debts and other living expenses.
More To A Budget
There is more to a budget than writing down a list of numbers; if you have no understanding on how not to spend the money you haven't got and how to budget the money that you do have available, to spend on the incidentals of life. You need to give yourself an amount of money that you can spend on food and groceries for the week or the month. Sometimes this can seem low but there are ways in which you can make the money spread further by looking for options that get reduced or are going to fill your family up with good healthy food for lower prices.
Knowing the pricing structure at your supermarkets that are local to you is key. It is about getting the items you need at the lowest prices. I love Aldi, they keep their costs down and provide a great variety of fresh food that is reasonably priced.
Taking a shopping list with you when you shop is a great idea, because it teaches you to only buy the things you need and not to purchase items you might already have or that you don't need.
It is possible to track the prices of some of the more expensive items that you buy, typically, supermarkets cut prices on items in different categories in a particular pattern, your task is to work out this pattern to get the products you need at the lowest price possible.
Tackling Your Debt
Knowing just how much you owe is important; it allows you to face the debt you owe, often this is a very difficult concept. Once you have accepted the position you are in, it is easier to move forward and to find ways in which you can take back control of your money and work your way out of debt.
There are different options open to you and finding one that suits your needs is important, it will depend on the amount of debt that you owe and the amount of money that you have coming into your home each month.
One popular method for debt repayment is the snowball method, this method picks one debt upon which you focus any spare money you have after paying the minimum amount, to clear the debt as quickly as possible. Some debts don't allow for over payment and it is therefore important that if you are intending to pay this debt off quicker, you check the terms of the agreement; some allow a percentage per year overpayments and some you need the full amount to pay off the debt completely. If you need the full amount, then save this money in a savings account until you have the full amount and then pay off the debt.
Therefore, it is important that you realise that debt is not something you have to live with; it is possible to live a debt free life, it just takes hard work and commitment to ensure that the money you have coming into your home works as hard as possible for you and not a credit company.