How To Clean The Bathroom Without Chemicals
Are you fed up with cleaning your bathroom with expensive cleaning products that are full of chemicals?
Is someone in your family getting unexplained headaches and you are wondering if it's a chemical you are using to clean the bathroom?
There are many reasons why you want to use fewer chemicals, but how to clean the bathroom without chemicals is not something that many people are discussing.
So, how to deep clean bathrooms without using chemicals is possible and something that might actually save you money.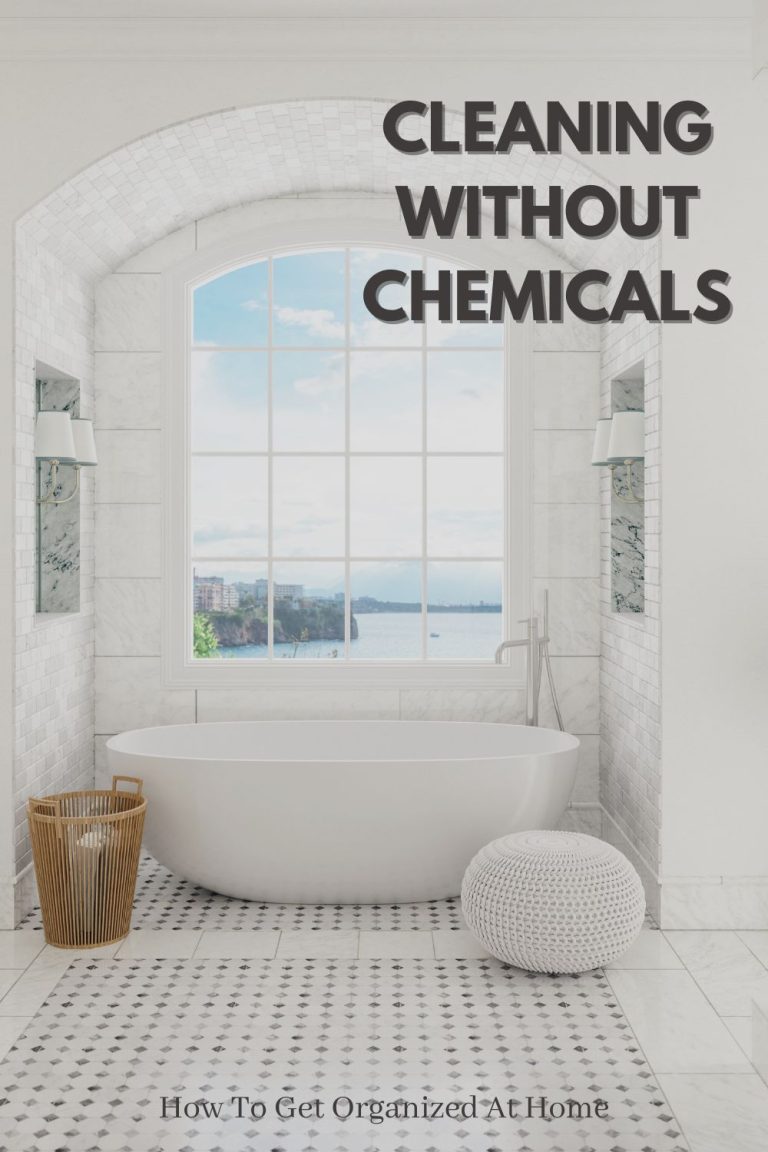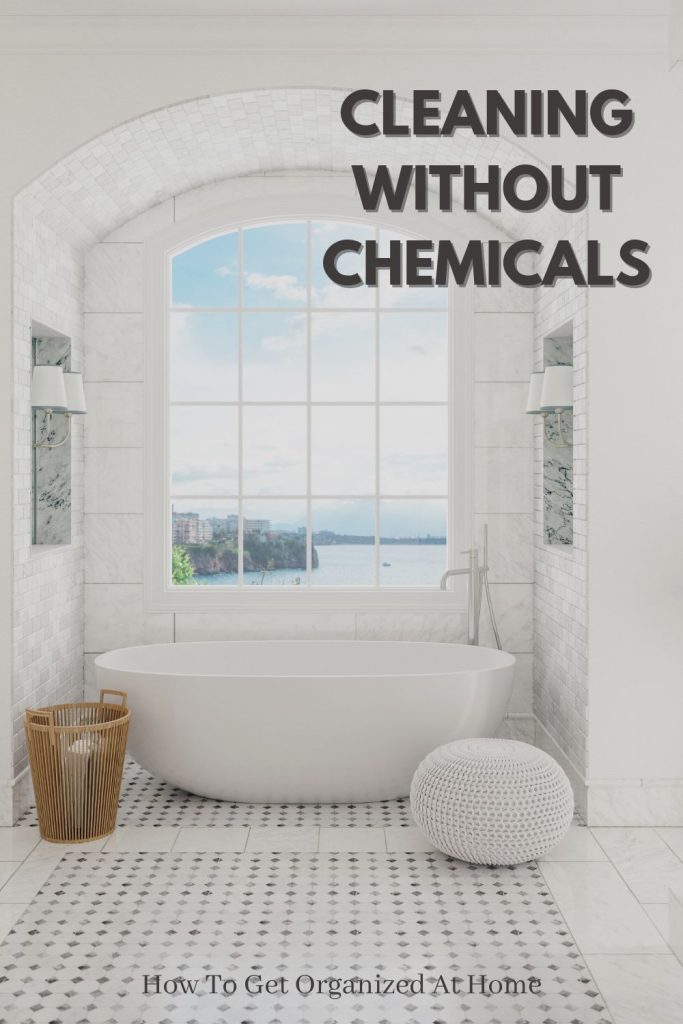 Let's look at why we should clean without chemicals and the products we could be using to save money and still have a clean bathroom.
Affiliate links are included for your convenience. (This means if you make a purchase after clicking a link I will earn a small commission which won't cost you a penny more!) Click here to read my full disclosure and privacy policy.
Why Clean The Bathroom Without Chemicals
There are real reasons why you might choose to clean your bathroom without chemicals. The point is you can do this and you can have a hygienically clean bathroom and you don't need to use any chemicals at all.
We have gotten used to cleaning our homes with products that are made for a particular purpose and often these are made with chemicals.
They aren't always harmful chemicals, but we don't know what long-term use of these chemicals will do, they haven't been around long enough to test.
Exposure to chemicals isn't a good thing, they can affect a person's breathing, and mixing chemicals is even worse as you can kill yourself.
How To Go Chemical Free
You might have lots of products in your cupboard all ready for your next cleaning session.
So, what do you do with these? You can use them up, so you don't waste any money and when you need more cleaning supplies you go chemical-free.
Perhaps you can donate them to friends and family who don't want to go chemical-free and are happy to use the chemicals in their homes.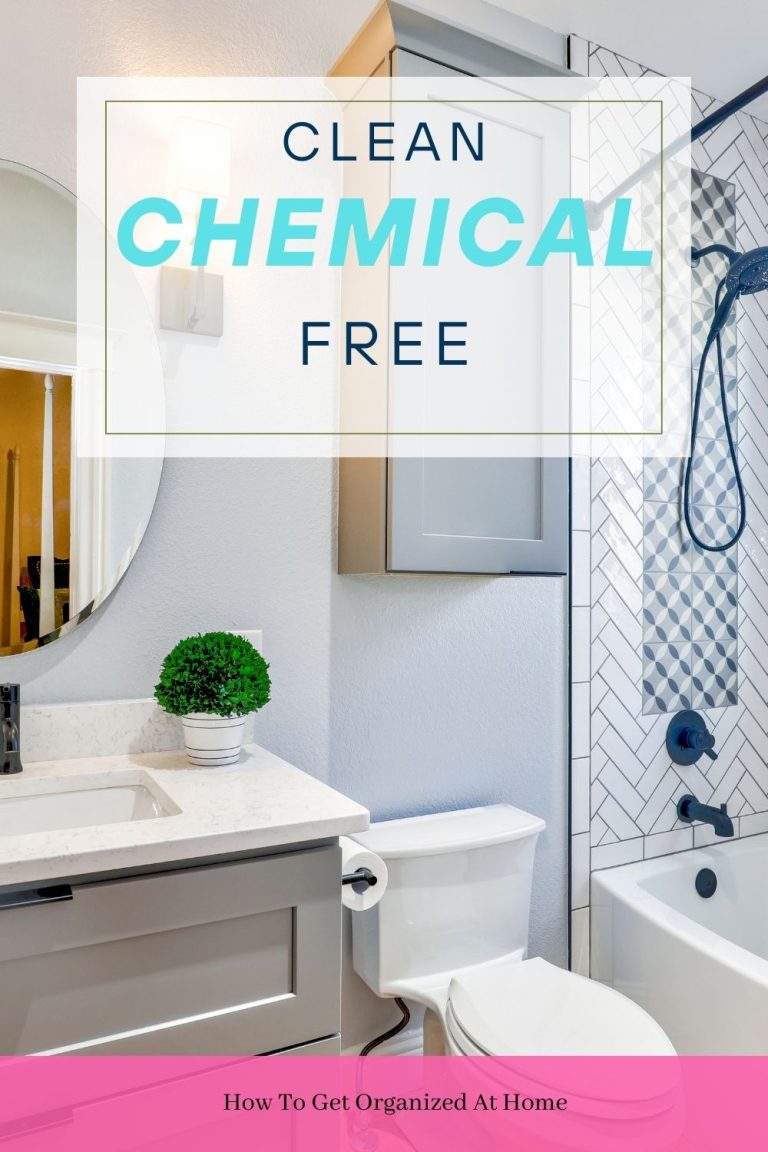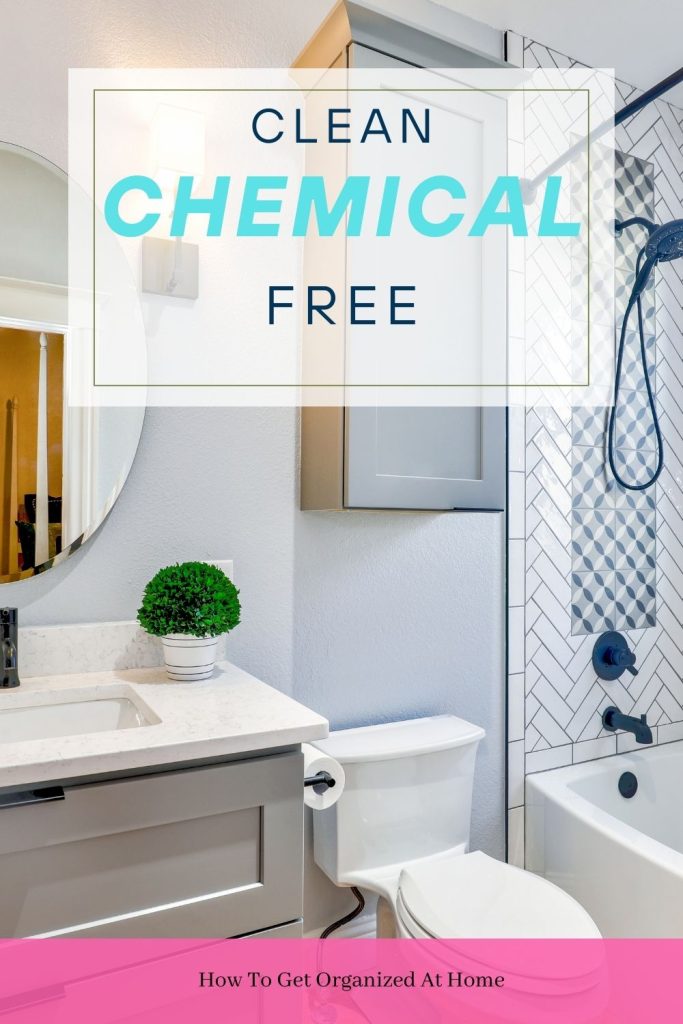 If you have not opened them, you might be able to sell them on a local selling site. Or, if you still have the receipts perhaps you could take them back to the shop you purchased them from.
How you start your chemical-free cleaning journey is going to be a choice you have to make.
What To Use To Clean The Bathroom Instead
There are products that you can use that aren't chemicals and will clean and disinfect your bathroom.
We have access to products like:
Microfiber cloths can pick up 99.9% of germs and bacteria with just water
White vinegar is a cleaner and disinfectant
Bicarbonate of soda is also another cleaning product that can be used
Diluted tea tree oil is a great cleaner because it has anti-fungal and anti-viral properties, but some people are allergic so be careful
Steam cleaners are just water and can sanitize too
You might be able to find some manufactured cleaning products that are natural and contain no chemicals too.
How To Use These Different Non-Chemical Cleaning Products
The most simple item to use is the microfiber cloths as they can clean with just water and no other chemicals are required. Wet the cloth and clean.
Clean your bathroom with just steam from a steamer, this is a great way for cleaning without using anything but hot steamy water.
Tea tree oil is so good at killing fungal spores that it's perfect for cleaning the bathroom, especially if there is mold there already.
White vinegar is something that's been used for a long time for cleaning, however, some people do have an aversion to the smell of it.
Bicarbonate of soda and white vinegar have been around for a while and using them separately is the best.
What Other Options Do We Have For Chemical-Free Cleaning?
It might surprise you that there are quite a few different natural ways of cleaning that we have forgotten or didn't realize the benefits until now.
Infusing cloths, towels, and other fabrics with silver is a great way to prevent germs and bacteria from growing. So, using this product in the towels to dry our hands and bodies reduces the possibility of any germs growing and reduces the need for frequent washing.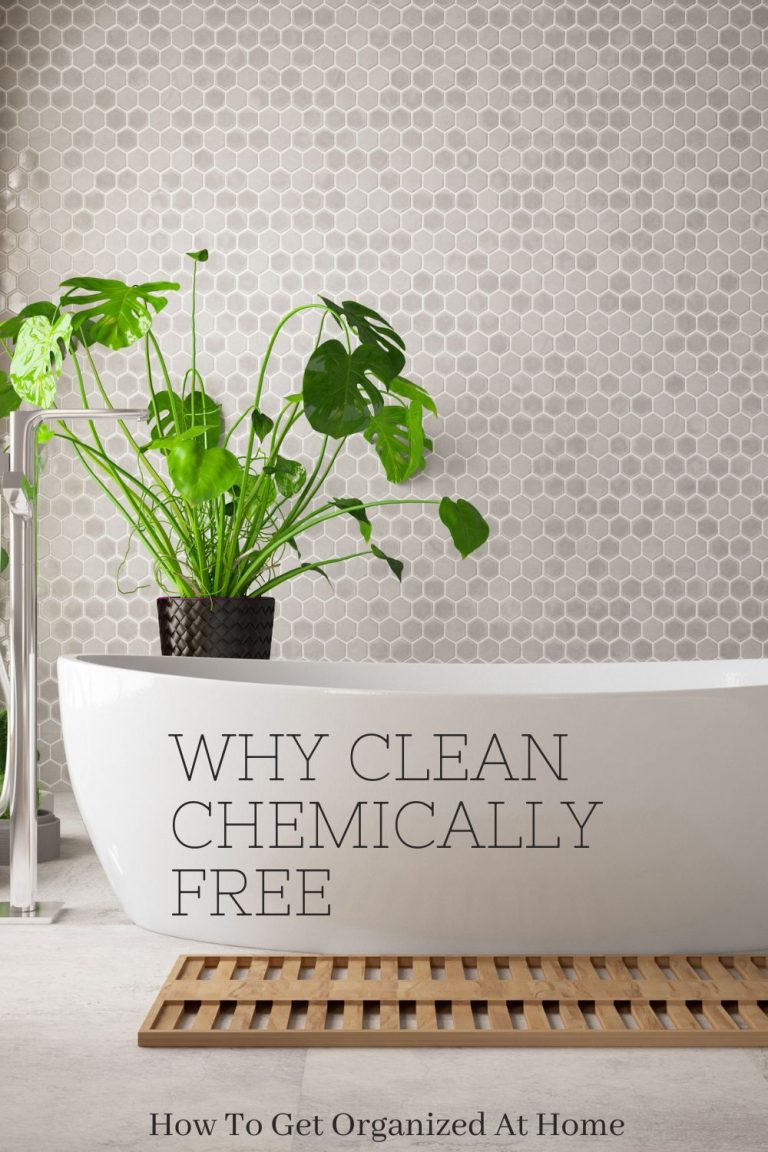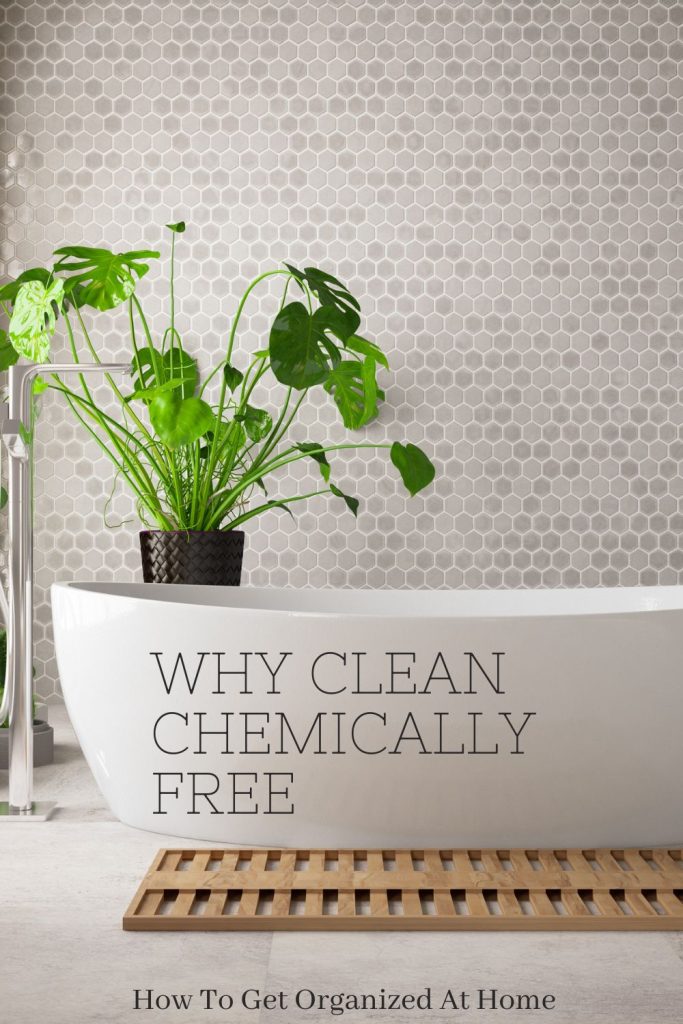 Soap has been around for a long-time and this is a good cleaning product. Soap can be used to clean a bathroom. Hot water and soap are just as good as anything for cleaning.
As a dinner lady many years ago, hot soapy water is all the tables were cleaned with. You didn't want to use chemicals because the potential of a child being allergic is high.
What Are The Benefits Of Cleaning Without Chemicals
The benefits of cleaning without chemicals are amazing when you think about it.
We truly don't know what the long-term effects are of using chemicals. The cleaning industry is still relatively new.
But the benefits of using chemical-free products are really great. We aren't exposing our family to these chemicals.
Often, chemical-free cleaning products are cheaper. They don't need things added to them and this makes the process cheaper and is past on to the consumer.
Your bathroom can be clean without chemicals, which if mixed, even by accident can actually cause death.
These products have been tested for many years they have been used to clean bathrooms for generations.
More Bathroom Cleaning Resources To Help You
Keeping your bathroom clean is challenging and this is one of the reasons why I always like to share other resources to help you.