The role of the housekeeper has changed, and will keep changing to fit current needs. Yet, most housekeeping around the home still falls into the hands of the women. It is important to know these housekeeping skills; they will help take care of your home. You don't need to spend hours each day cleaning or doing housekeeping tasks. They are simple enough for everyone to follow and easy to put into practice no matter how busy your schedule. They aren't difficult to follow or even that complicated. However, without them, you might end up doing more housekeeping than you need too.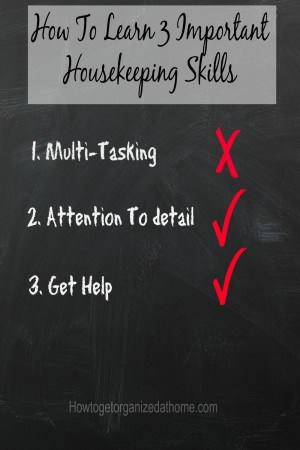 Affiliate links support How To Get Organized At Home
3 Important Housekeeping Skills
You have to make these tasks easy. If you make them too hard to complete, you prolong the task and reduce any time that you have for you.
You have all heard the saying 'you are a woman, so you can multi-task'; well this advice is so wrong. Multi-tasking leads to many unfinished tasks and adds to your frustration and anger. If you want to make progress, complete tasks around your home, and not spend hours cleaning, then you must stop multi-tasking. This is where I struggle, I don't mean to multi-task I just get distracted when the next item I need to do pops into my head. I have forgotten to turn on the washing machine or the oven on and this affects the rest of my day! I'm determined to see through to the end, one job at a time!
Attention to detail – I am not talking about everything being perfect. If you have something that annoys you, get that item done first; maybe you won't notice the rest!For me it is the floors, if they are dirty then the whole house can feel like a total mess even if it isn't that bad! Therefore, if I keep the floors clean the rest of the house doesn't feel as bad. Therefore, I do my cleaning in the wrong order, I like to start with the vacuuming and floor cleaning and then I feel better and less fussy when I do the rest of the cleaning.
Get help, if others live with you then get them to help. Share tasks with your partner; get your children cleaning too. It is easier to start the children off when they are young to help you clean, rather than trying to get a teenager to move! You don't have to do it all yourself, you can and should ask for help. I work from home and this makes it easier for me to do some of the housekeeping tasks between my work, during the day. However, my other half knows that he needs to do somethings, too. We have worked as a team for years and have fallen into a pattern of the things he does and what I do and it works well.
It is difficult to fit in all those tasks that you need to do, it is a juggling act that somehow you have to find the right balance for you. You will find your balance, don't expect perfect but in fairness that doesn't matter, as long as you are happy with the result.
Therefore, if you are looking for some housekeeping tips that will help you have more free time, start with your pet peeve and finally get help from those you live with and stop multi-tasking. The perfect house doesn't exist. It's about balancing the time that you have with the tasks you want to complete and being happy.
If you are looking for more articles on this topic head over to the landing page where you will find links to other posts on the housekeeping skills.
What are your top housekeeping skills that you think are important?
An article I wrote recently about 20 Things People With Clean Homes Do Daily, that can help you focus on the important areas to clean.