3 Reasons Why You Should Deep Clean Your Oven
Your oven is often the most forgotten about large appliance when it comes to cleaning, you remember, or notice it needs a clean when you are using it, but unfortunately, you have to let the appliance cool before the cleaning can begin and this means that it is the last item that you remember to clean on a regular basis. I am not just meaning a quick wipe down after use but a thorough clean, one that gets all the dirt and grime off.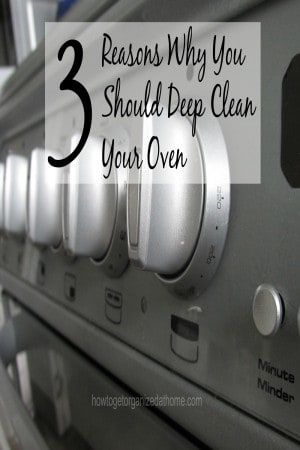 3 Reasons Why You Must Deep Cleaning Your Oven Regularly
Cleaning your oven regularly means you are checking it over, you are looking for any damage, a door seal that might need replacing or a crack that needs a professional opinion. All these areas need regular check-ups and you can't do this properly if the oven's covered in grease and burnt-on food particles.
An oven that has grease and food debris covering the surfaces and in the bottom of the oven is more likely to have a fire than a clean oven. The grease can cause an oven to smoke and smell. This can and will set off your fire alarms even if there isn't a fire. A grill that is dirty will spark and sometimes it is possible for flames to come out from the grill, yes this can happen when cooking with a clean grill; however, it is more likely to occur when there is a build-up of grease. This can make cooking very dangerous, you don't want to get burnt or even worse, have this catch your kitchen on fire.
While the heat from your oven should kill the germs, cooking in an unclean oven is not good for your health. You run the risk of exposing your food and your family to potentially harmful germs and bacteria that could make your family and you ill. Keeping your oven clean and germ free is an important part of keeping a clean home.
Why Maintenance Is Important
Maintenance of any product helps to ensure that it is going to last as long as possible, with this in mind the only way you are going to ensure that all maintenance gets carried out, it is important to see the inside and the outside of the oven to inspect for wear and tear. If you are hoping to then claim, if the appliance is still under warranty it is not going to make the job easy for a repair man or woman to assess any of the damage if it's covered in grease and grime. It could affect the guarantee, it might state in the instructions that you have to abide by certain guidelines or you may violate the terms and conditions. If one of these expresses an indication that cleaning and general maintenance, if not completed will violate the guarantee offered, a poor cleaning schedule could mean a hefty bill if anything does go wrong.
It is important to check certain aspects of your oven to ensure that it is working correctly and if anything is missing, broken or damaged; you could be using a dangerous appliance, without cleaning an examination is not easy.
Fire Safety
Fire prevention must come at the top of the list for every home, you must have a smoke alarm installed. However, knowing that you haven't cleaned your oven and you are leaving grease and food particles in your oven, you could be at risk of starting a fire.
Cleaning your own can help to prevent fires that start in and around the oven because of a lack of cleaning.
Health And Oven Cleaning
If you reduce exposing your family to germs, you are reducing the risk of harming your family by causing serious illnesses. Keeping your oven clean and germ free is an easy preventative measure that you can do to help protect your family.
Therefore, if you are struggling for motivation to help you keep your oven clean and germ free, then knowing the risks for leaving your oven dirty is putting your family's health and where they live on the line. Keeping your oven clean can increase the chances to prevent a serious illness break-out in your home.