Sometimes it isn't easy to get motivated to clean your home, we all know that it is important to clean and to keep our homes clean, but sometimes it isn't easy. I get that, yes, I love to clean but there are times when I think, no, I just don't want to do that anymore. Unfortunately, there isn't another option, I am the person who will have to clean most of the time and while I am fine with that, I do get overwhelmed by cleaning and just want to run away and hide and hope that whilst I am there someone will clean and tidy for me. If you are looking for inspiration use these 6 tips to help motivate you to clean!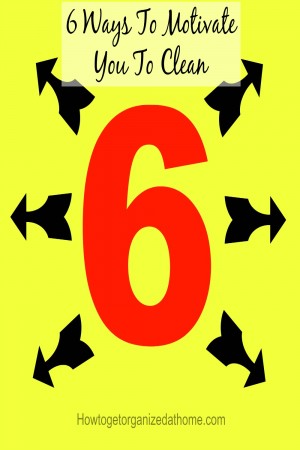 Affiliate links support How To Get Organized At Home
Ways To Motivate You To Clean
When you hit that barrier, when you truly have no motivation to clean, you would rather do anything than clean, I know that feeling, I have stumbled upon it in many different circumstances during the course of my adulthood and the one thing that always happens, eventually, I give in and I go back to cleaning.
However, it is that bit in the middle when you have lost all interest in keeping your home clean, it is difficult to bring yourself out of this despair and back into the normal adult life where you know that part of being an adult is accepting that you will need to do some cleaning.
However, motivating yourself to get moving and cleaning isn't always as easy as it might sound, you might need to use some tips to help motivate you to clean.
So, if you are looking for inspiration to get you moving then these six tips might help, I know they help me a lot!
If the house has gotten too messy, I find it overwhelming, I just don't know where to start, and this means I don't start anywhere! My solution for this is to just plan on doing one task, I don't have to do anything else; I might start in the kitchen with the plan just to wash up, I have no expectation of doing another task, but completing one helps me move on to the next one until I feel like stopping.
The timer is your friend, not only will it help you to stay focused, it can help you to stop before you do too much. I use the timer when I need to help me feel motivated, even I can do something for a few minutes at a time, but it also reminds me that having a break and thinking about me is important too.
I say I am not one for rewards, I don't like to think about spending money on me, but a reward doesn't have to involve something you purchase, it is as simple as having a few minutes doing something that you want to do.
Routines are great as they form part of your day and in truth, you might not realize that you have done your cleaning routine, it becomes an automatic habit and one that you don't think about. I know these are difficult to start; you have to take it one item at a time, however, they can quickly disappear if you stop doing them for whatever reason and you have to go back to the beginning.
Don't clean for anyone else but you, this one I have found very motivating, I have cleaned because I am a woman and a mother, it was only when I clean for myself that I truly enjoy cleaning. I am not picking up the duster to impress anyone, to clean for my children or even my husband, but if I clean because I think it is good for me to live in a clean home I do clean more because I am pleasing myself.
If you struggle with feeling motivated to clean, then teach yourself and your family to put things away when they have finished with them, there will be less to clean in the long-run.
If you are lacking the motivation to clean, don't think that you are the only person who struggles to find that motivation. I think it is there in all of us at some point and it is important to remember you are not alone; there are ways to help you to restart that desire to live in a clean home and taking the responsibility as an adult to keep your house clean. Finding ways that help motivate you to clean is important to help keep your home clean.
What is your best tip to motivate you to clean your home?
If you are looking for more articles on this topic head over to the landing page where you will find links to other posts on cleaning.
I wrote another article that I think you will like, 18 Reasons Why You Need To Clean.