How To Clean Hard To Reach Places
We all have those hard to reach places in our homes and they still need attention to keep them sparkly clean. Doing so safely and easily is the key to cleaning any hard to reach spots. Not all hard to reach spots will require a step-ladder and sometimes they are within your reach but are too difficult to really know the best way to keep them clean.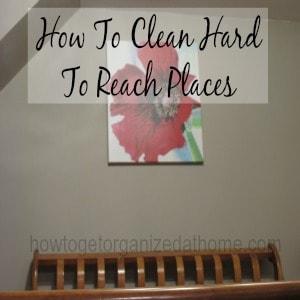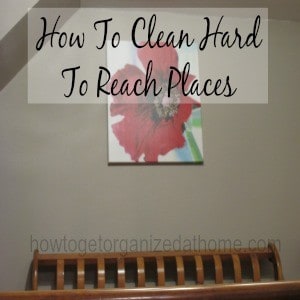 Soft Furnishing Cleaning
As with all soft furnishings, it is impossible to keep all the dirt that can accumulate in the edges of the chairs at bay, but keeping this area clean is important as it can hide all sorts of nasty things that you just wouldn't want near you. The best method for cleaning soft furnishings is to remove removable parts like cushions; if they come off then remove and take them outside for a bashing, this releases some of the dust and it can make cleaning them even easier. Depending on the material and what you need removing will depend if you opt for a hair removing brush or a light vacuum.
Use the crevice tool to get into those hard to reach places and get out all the dust and debris that collects in there. For me this is the worst cleaning job and it can even make me gag at just the thought of doing it, so I like to keep on top of this one doing it at least once a week.
Cleaning Hard To Reach Blinds
The horizontal blinds and shutters attract dust really quickly and it is not the easiest area to clean, this is why I use an old sock. I can put it on my hand, apply the cleaning solution and get to work, using a step-ladder because I can't reach very high on the blinds. When the sock is dirty I just twiddle it around and carry on. It is quick to do if you keep on top of it, depending on where the blind or shutters are will depend on if the dirt is greasy and more difficult to remove. This isn't a job that I do often, about once a month, purely for the fact of fitting it into my schedule.
The Hard To Reach Spots In The Room
The corners of the rooms can become a place where cobwebs seem to appear as if from nowhere and I am not one for using the vacuum in these areas. I just seem to be too clumsy, I also don't buy any special tools for the job either, I just use a brush and a cloth to get into the corners of the rooms and remove the cobwebs and dust.
I do use my vacuum to clean the curtains, but this is only when I am unable to get them outside in the fresh air, it is surprising how much dust can gather on the crevices of a curtain.
For the more delicate objects that are still hard to reach, like picture frames and surround sound speakers, I like to clean these by hand and for this I use my steps to reach these areas safely.
Therefore, it is possible to add some of the hard to reach areas to your cleaning schedule without adding on too much time and stress of yet another cleaning task.