The Simple But Impressive Blue Light Desk Lamp By Ocushield Review
Do you ever feel that your eyes are tired? Have you heard about protecting your eyes from the glare of your phones, tablets and even your computer, but don't know where to start?
I've been testing out the blue light desk lamp by Ocushield and I've got to say that I am impressed. Not only by the product, but how it makes my eyes feel if I use that lamp compared to a normal LED lamp that I use on my desk or even on my bedside table.
I was gifted a blue light desk lamp by Ocushield, but all opinions are 100% my own.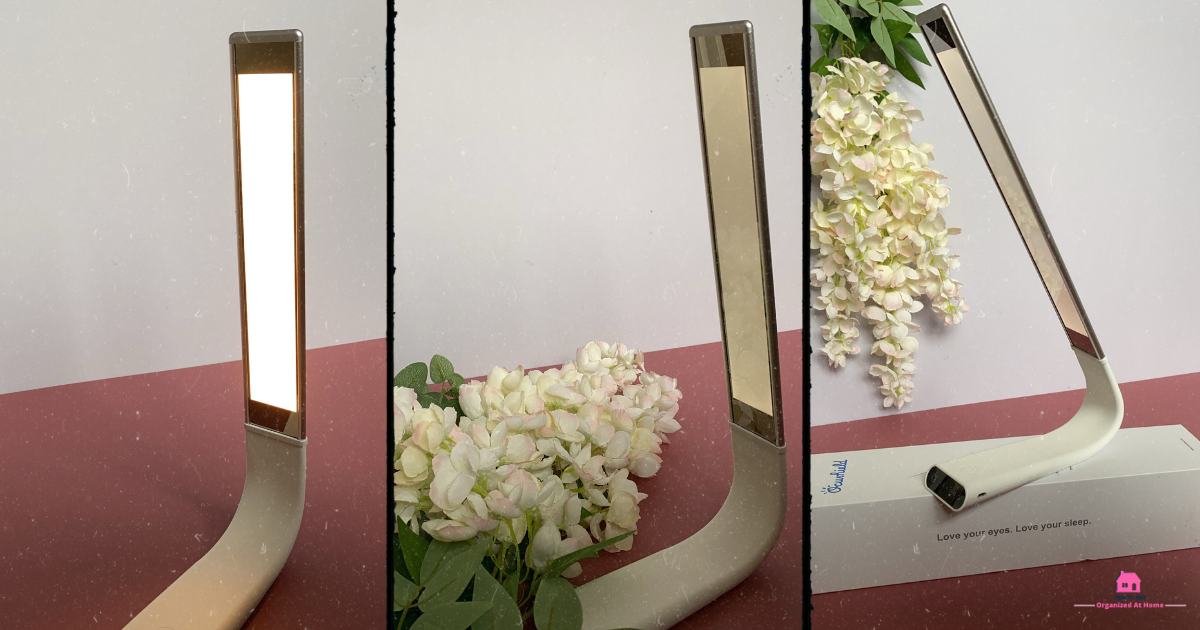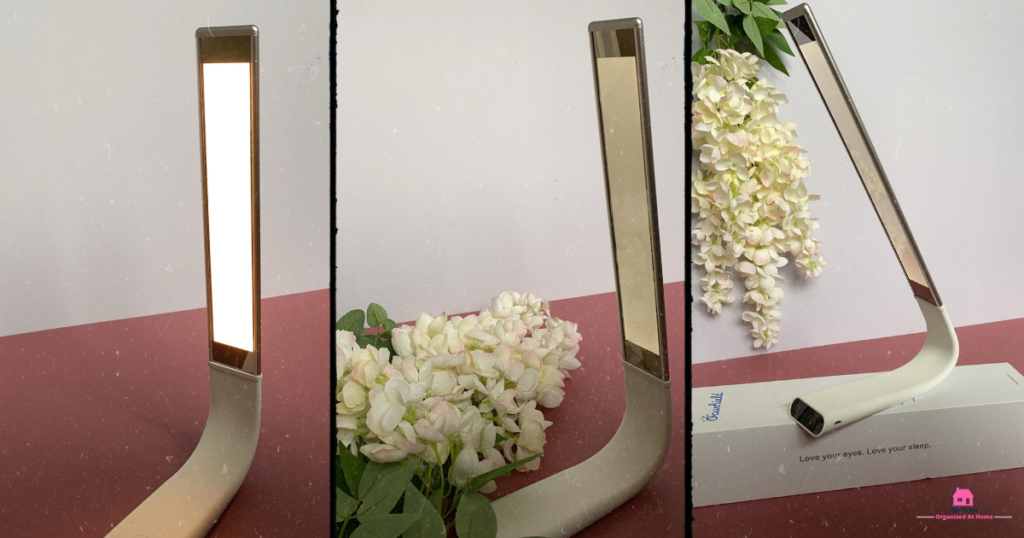 Ocushield Portable Desk Lamp
Ocushield is a company that is concerned about the eyes and the strain and damage modern technology is having on them.
So, when I was contacted to try their products I was more than happy to see if they lived up to the hype.
Affiliate links are included for your convenience. (Which means if you make a purchase after clicking a link I will earn a small commission which won't cost you a penny more!) Click here to read my full disclosure and privacy policy.
I've been reviewing the Ocushield desk lamp, it's rechargeable and lasts up to 30 hours. (I've not put that to the test!)
So the good news is that I can recharge it rather than having more cables on my desk. I tend to use the lamp in the evenings or when the days draw in, rather than my normal LED desk lamp.
I've noticed some positive things with using this lamp. It's not glaring but bright enough to see what I am looking at.
As it's portable, if I move I can take my light with me, rather than trying to struggle to see in another part of my office.
I can also take this light to bed and use this instead of a strong bedside light as I often work in bed and it's soft enough not to disturb my husband, but bright enough for me to see.
Why Use A Blue Light Lamp?
The idea behind the blue light lamp is to try and protect your eyes from the effects of the blue light from computers, phones and other electronic devices.
Even though the light is bright it's less harsh than my LED lights and this makes it a more comfortable light for my eyes.
It's better for my eyes and as I've got older I need to take care of the different aspects of my health and my eyes are an important part that I want to take care of.
What Features Does The Blue Light Blocking Lamp Have?
I've got to admit when I was first contacted I didn't think that I was going to be impressed but I have to say that not only does it work it also looks good too.
There are three different light colours that you can choose from and for each of those light tones you can adjust them for six different shades of that light from quite bright to dull.
You charge the light by USB which for me is great, I have USB plugs throughout my home. So, for me charging is no problem.
If however, you don't have USB ports in sockets in your home you will need some way of charging as it doesn't come with a plug. So, it might mean charging through your computer or getting an adaptor plug so it's easier to charge.
The stand is flexible to a degree and that means you can position the light in different angles so you get the best light for the situation you are currently in.
As with any product it's important to consider all the pros and cons and to see if the product is worth your money.
Cons
For this lamp, I do think you get great value for your money, but it is on the more expensive side.
The stand is a rubbery type material and this is why it's able to bend, however I don't know how to keep it clean long -term as there are no cleaning instructions with it. The material will attract the dirt, but the on/off button is positioned in this material along with the charging port so you won't want to get it wet.
The texture is smooth but I have noticed that just 'dusting' isn't going to be effective long term. I need to contact the company for more detailed cleaning instructions.
The on/off button is very sensitive and sometimes I reach past the light and actually turn it off by accident.
Pin This: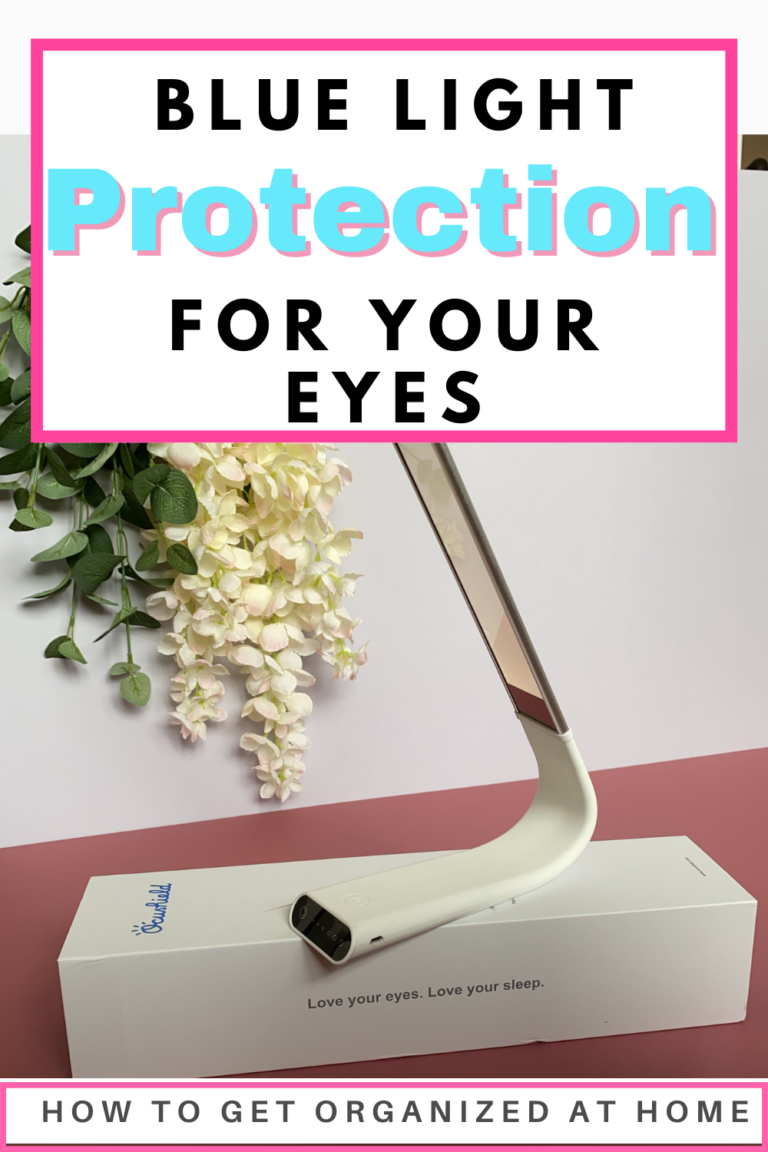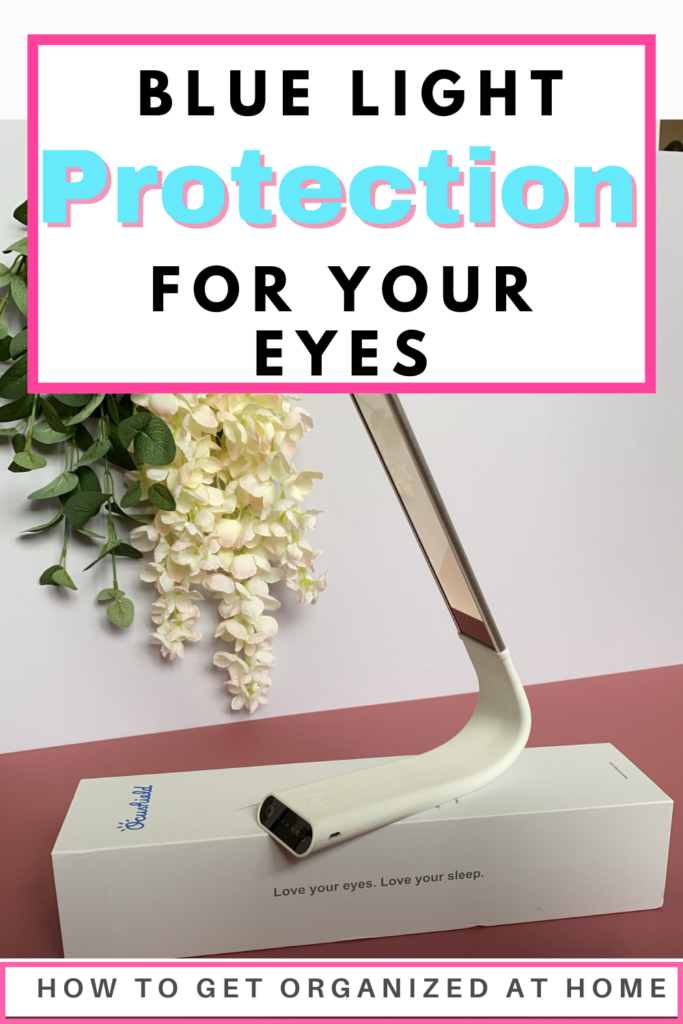 Pros
It's lightweight and as it's a chargeable light it's easy to carry from desk to bedside table. This means you don't need multiple lights for one person. However, if you have multiple people in your home you might need more than one.
The flexibility of the light is amazing, it means that no matter what position I need it's able to adapt very easily.
The different light colours are great because it means when I'm on the computer during the day I can have a different colour of light than if I want to read a book in bed.
I love the simplicity of the light and the ease of changing the brightness and the colour.
My Impression Of Ocushield Blue Desk Lamp
I think with any products I try what I think is important, my opinion counts.
My impression is very positive and I know that this light is going to help protect my eyes.
I love how it's flexible, chargeable, easy to turn on/off, but I am concerned about the price. I know that this is a premium product but it's not going to be something that is going to be affordable to a lot of people.
However, their other products that you put on your phone, tablet and monitor are more affordable.
So, that eye protection for these other appliances are going to be available to all who need them. From my understanding of the products, this is something we all need to consider, our health is important and that includes our eyes too.
Other Products To Protect Your Eyes
When it comes to eye protection, often this isn't taken seriously enough and Ocushield is looking to make that right when it comes to the blue light from our electronic devices that we rely on more and more.
Some options to consider when protecting your eyes whilst doing everyday tasks and activities.
Anti-blue screen for tablet

Blue light screen protector for your phone

Glasses b

lue light blocking
These products are going to reduce the eye strain that is associated with working on screens for long periods. Also, potentially reducing associated issues including headaches, fatigue and dry eyes.
Let's Recap…
Ocushield is a brand created by optometrists who wanted to create a product that actually works to prevent as much of the blue light from screens and mobile devices moving through the product.
Their desk lamp was gifted for me to try and I'm impressed by the quality of the product but also the effect it has had on my own eyes when working on computers, tablets and mobile devices.
Eye health is important and finding products that reduce blue light and are medically rated and produced by optometrists for me shouts out a company that I want to buy from.