How I Made The Perfect White Board For My Home
I dislike throwing things away and I had a magnetic board, which was in the kitchen. However, I disliked it; I found it too small and it annoyed me more than it was useful. I wanted to keep it but I just didn't know what to do with it, I just couldn't think of a use. Then I wanted to keep a calendar with the details for the family upstairs, so we could keep everyone on track and a glance at the calendar makes it easier to see what everyone is doing.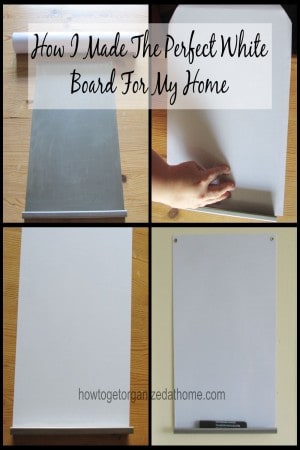 Transformation Of Magnetic Board
I suddenly had the idea that if this magnetic board was also a white board allowing messages to pass on to others, this makes the whole process easier when you want to write a quick note to a family member.
The most important step for me was sourcing some whiteboard paper. This paper transforms anything into a white board and this makes it easy to take notes, it is a sticky back paper, which you put onto the surface, this turns the item into a white board.
The most important thing to do is to clean the item properly; you need to get all the grease and dirt off the item so that the contact paper will adhere.
I had to clean the magnetic board with soap and water and I used a scrubbing pad to make sure that as the item was in the kitchen that no grease residue was left on the magnetic board.
I wanted to make sure that it was completely dry, I didn't want the contact paper to fall off because the metal wasn't dry.
On the back of the contact paper there is a grid line, which you can use to make sure that you are cutting the paper straight.
I carefully rolled the contact paper onto the magnetic board and made sure there were no bubbles.
I wanted to place this onto the wall in-between two of the bedrooms so that it was in an open position and everyone could easily see any schedules or messages that crop up.
To attach it to the wall I had to put some holes in the wall. My husband drilled these for me before attaching the board to the wall.
The Result
I love the board, because it was a magnetic board before I started, it means that I can still use magnets on the board to hold different items and it can still be used as a white board, too.
Therefore, I have re-purposed my magnetic board into a white board where I can write messages on, as well as attaching items too, with magnets. It fits the current needs of my family perfectly and it means that I haven't had to purchase something new but adapted something that I already had to meet my current needs. It is important to protect the environment as much as possible and to throw away items only when necessary, to prevent sending too much to landfills when there are alternative options.
If you are looking for more articles on this topic head over to the landing page where you will find links to other posts on the home.