How To Clean And Polish A Car
A cleaned and polished car is a happy car. If you know how to clean and polish a car, having your car shiny makes you feel better and happier; it's also good for your car, as it helps protect the bodywork from road dirt, especially protecting it from the salt gritting in the winter months.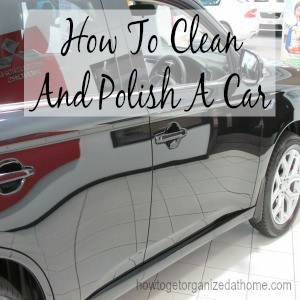 Washing A Car
To start you will need to rinse off your car of any loose dirt and grime. You can use a hose pipe, watering can, bucket or jet wash if you have one.
Next you will need a bucket, sponge and car shampoo. Warm water is best and you will find a slightly more expensive car shampoo will do a better job. Place the required amount of shampoo into the bucket and fill up with water. You need to start at one end of your car and work your way around using the sponge and shampoo, making sure that you wash it all. If you have alloy wheels, an old tooth-brush is good for cleaning these. Dunk the tooth-brush into the bucket of water and then just brush the dirt off the alloys.
Once your car's covered in bubbles, you need to rinse them all off with clean water.
Now it's time to dry your car. A shammy leather is best for this. Start at one end and work your way around drying all over. It's best to pay attention when doing this as its easier to polish a dry car than a wet one. When you car is dry, it's time to polish.
How To Polish A Car
With a dry car, it is now time to polish. A good quality polish will give a better shine than some cheap polishes that are on the market. Use a soft sponge or micro-fibre cloth for applying the polish and a soft cloth or micro-fibre for polishing off.
Lightly dampen your sponge or cloth with water, you don't need it soaked. Place a small quantity of polish onto your sponge or cloth and work it into the body work of your car in small circular motions. Continue to do this until you have covered your entire car. Allow the polish to dry for about half an hour before removing. Using the other cloth start to rub the polish off in gentle circular motions; you don't need to use much force, just take your time. Keep checking and re-folding your cloth and shaking off any polish dust that accumulates. When you have finished, take a walk around your car and take off any polish that's been missed. Take a step back and see how good your car looks.
Cleaning Car Windows.
Now the body work is clean, the windows need a polish. A good window polish does a good job, but a cheap one will be just as good.
Put a small amount of polish onto a cloth and work it onto you window, making sure you get the whole window. Continue around your car polishing all your windows. You can also use window polish on your lights and chrome as well. Allow the polish to dry and when dry polish off with a clean cloth.
You now have a car that is clean and shiny and looks good. Something to be proud of.