How Often Should I Clean My Bathroom?
When it comes to cleaning the bathroom, there are two schools of thought. Some people believe that the bathroom should be cleaned every day, while others believe that once a week is sufficient.
If you're like most moms, you're probably wondering how often you should clean your bathroom. After all, it's one of the most important rooms in your house. Here are some guidelines to help you deep clean your bathrooms.
If you have young children or pets, it's important to clean the bathroom every day. This will help to prevent accidents and keep the room free of germs and bacteria.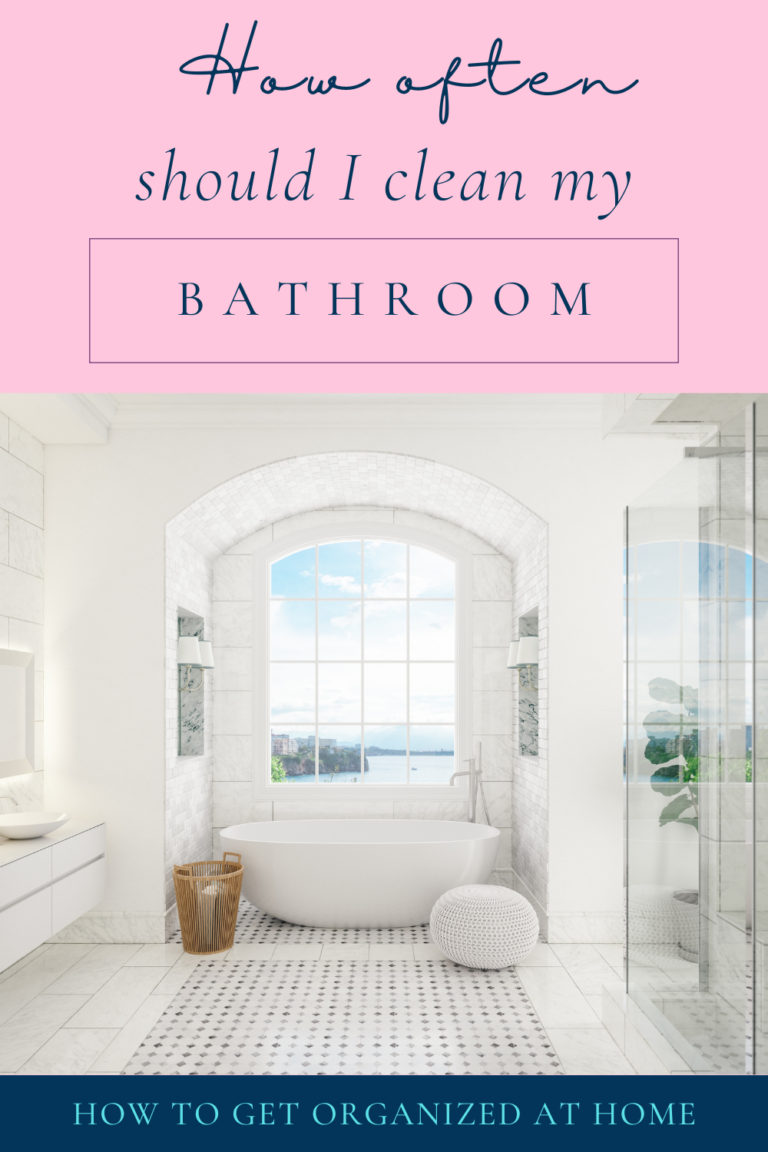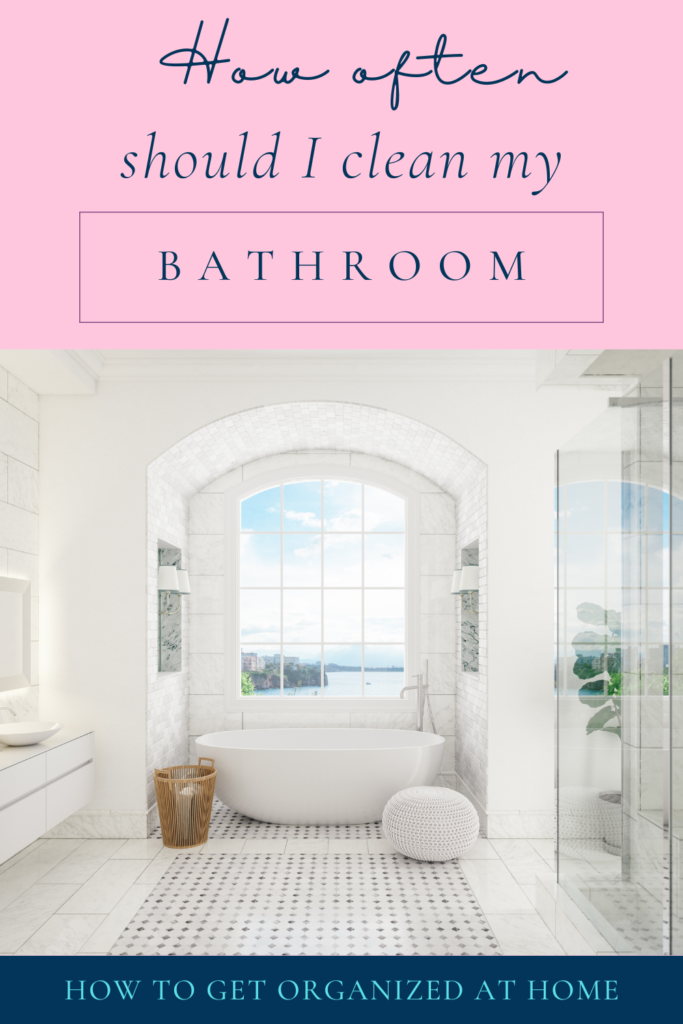 In addition, it's a good idea to clean up any spills or messes immediately. For families with older children or no pets, once a week may be sufficient. However, if you have guests over frequently, you may want to consider increasing the frequency of your cleaning.
How Often You Should Clean Your Bathroom
When it comes to cleaning the bathroom, there is no one-size-fits-all answer.
The frequency of cleaning will depend on a number of factors, including the size of the bathroom, the number of people using it, and the level of traffic.
For example, a small bathroom used by one person may only need to be cleaned once a week, while a larger bathroom used by multiple people may need to be cleaned several times a week.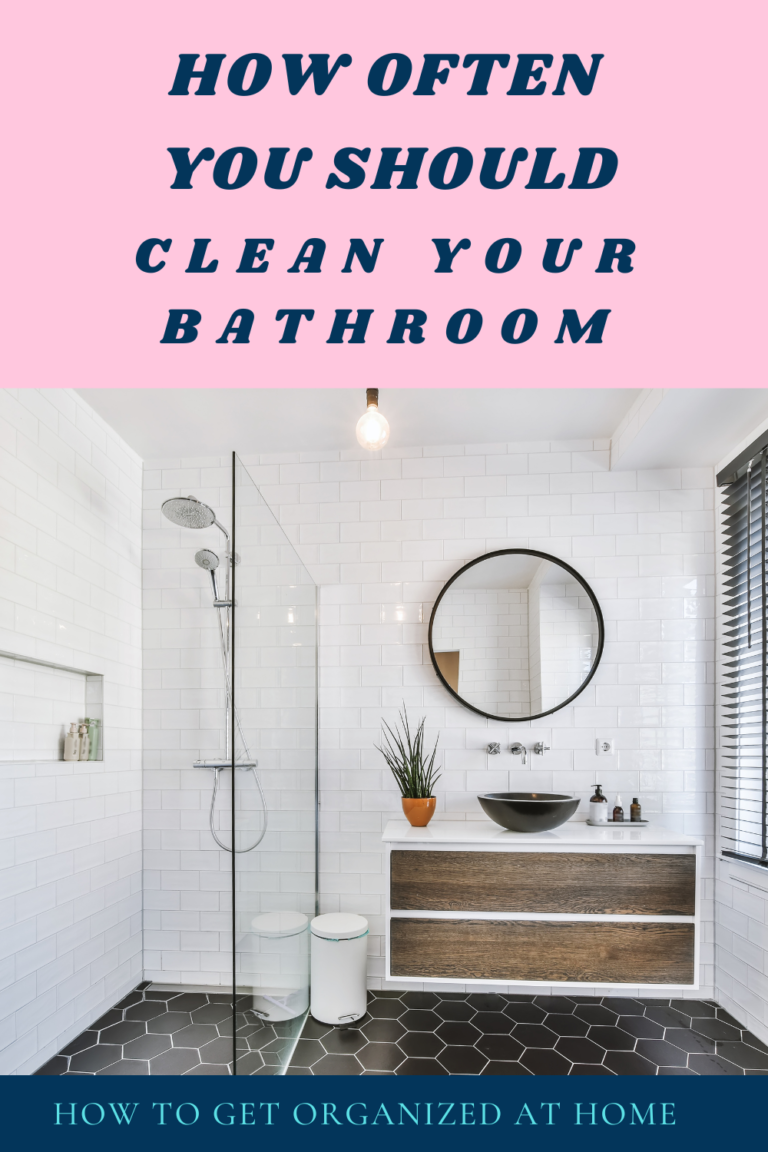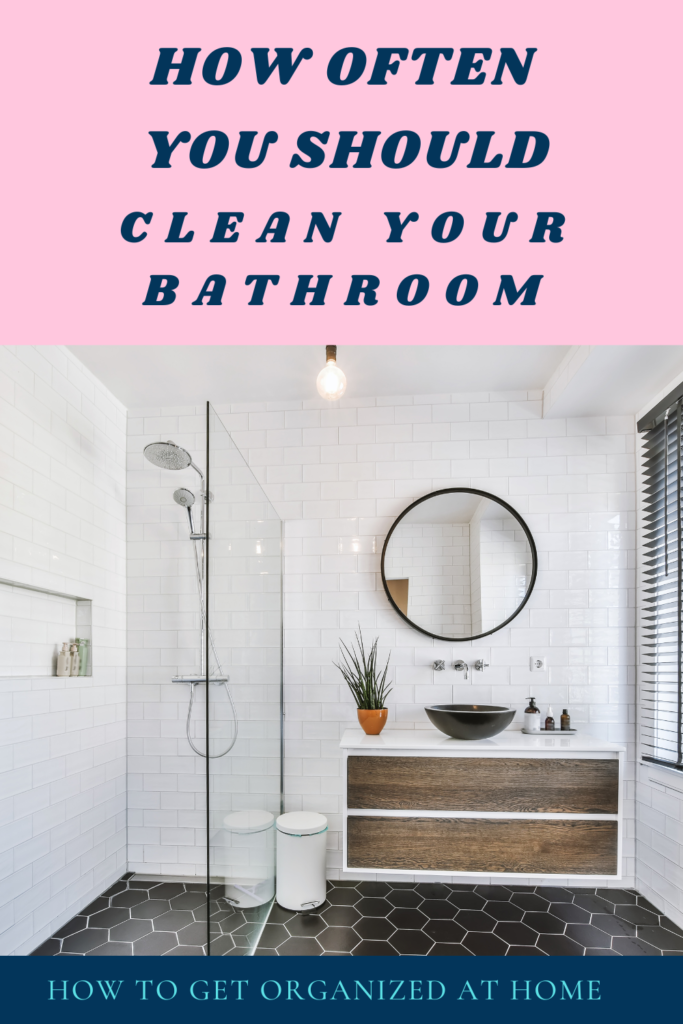 Affiliate links are included for your convenience. (This means if you make a purchase after clicking a link I will earn a small commission which won't cost you a penny more!) Click here to read my full disclosure and privacy policy.
In general, however, most experts recommend that the bathroom be given a thorough cleaning at least once a week. This will help to remove dirt and grime build-up and keep surfaces sanitized.
Take the hard work out of bathroom cleaning with a powered scrubbing system
Furthermore, regular cleaning will also help to prevent mold and mildew from taking hold.
Related article: Mold Removal Tips
Special Attention Areas In Your Bathroom
No matter how often you clean your bathroom, there are certain areas that should be given special attention.
The toilet and sink are two of the most important areas to keep clean, as they are both hotspots for germs and bacteria.
If you get in the habit of wiping these over daily it can prevent germs and bacteria from growing and potentially creating a harmful environment.
In addition, it's important to make sure that the floors and tub are free of dirt and grime. By following these simple tips, you can help keep your bathroom clean and fresh.
What To Clean In Your Bathroom
There's nothing worst than a dirty bathroom.
But what exactly should you be cleaning in your bathroom, and how often?
Here is a quick guide to help keep your bathroom sparkling clean.
The first area to focus on is the bathroom sink. Aim to clean your sink daily, using a combination of soap and water. Be sure to scrub under the faucet and around the drains.
Next, move on to the toilet. Give your toilet a good scrub at least once a week. Don't forget to clean under the rim!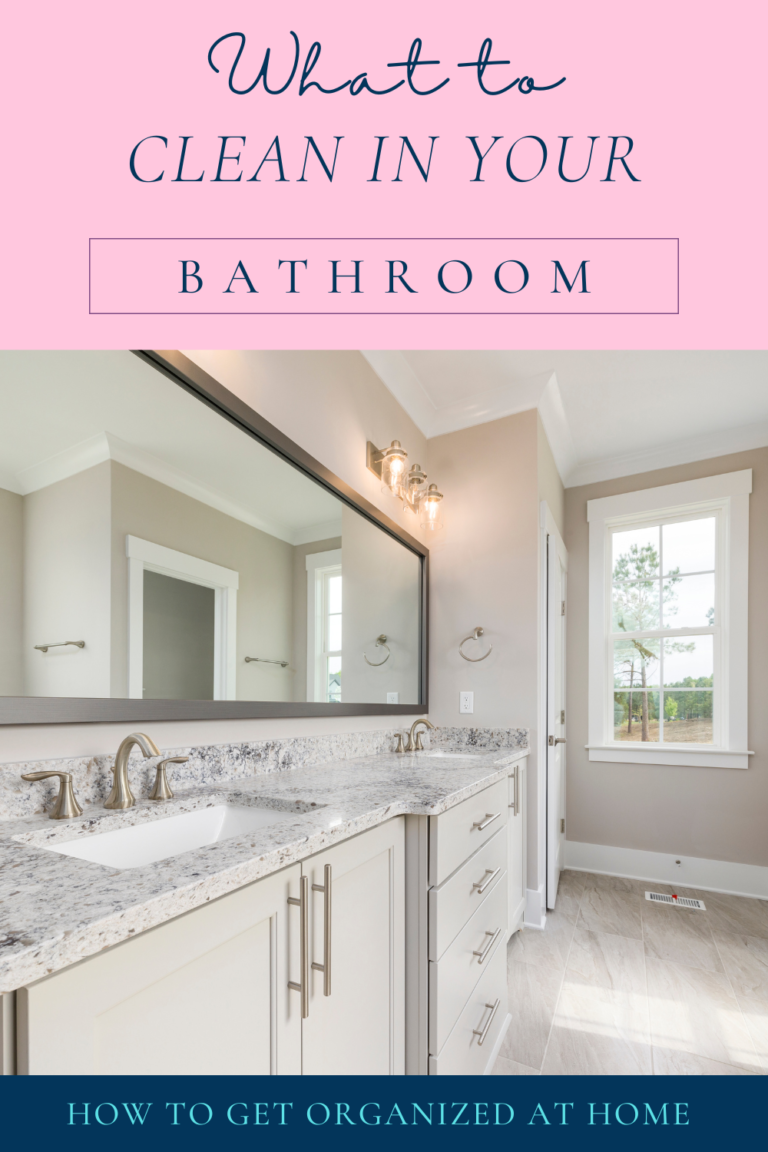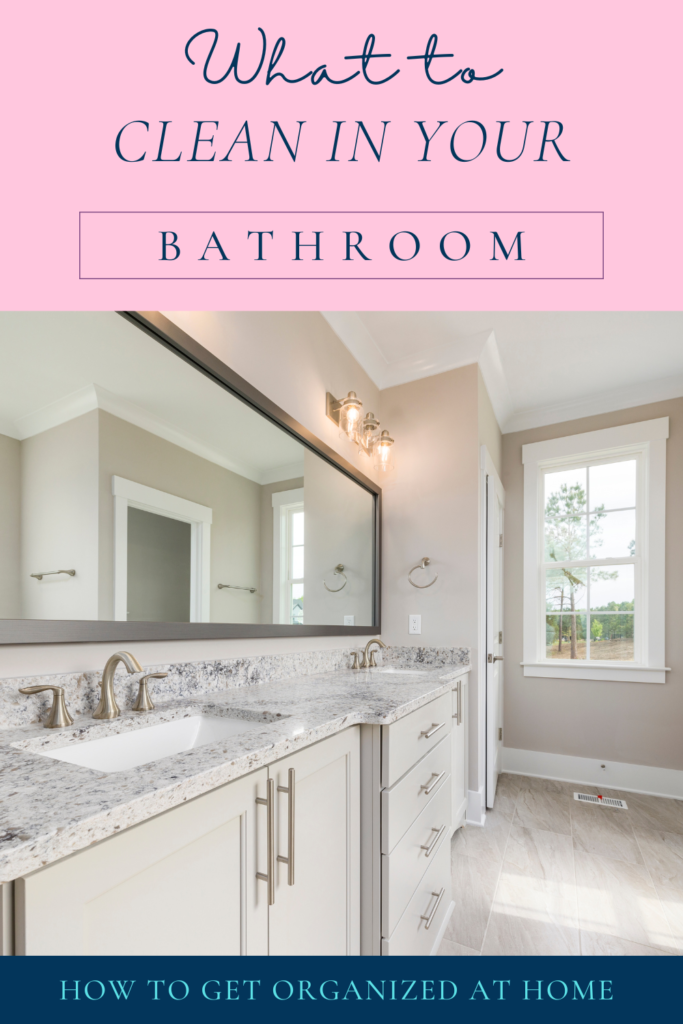 The next area to focus on is the shower or bathtub. Be sure to clean the tile, tub, and showerhead on a weekly basis.
And finally, don't forget about the floor! Sweep and mop your bathroom floor at least once a week. You could use the Bissell Crosswave to do this in one go. By following these simple tips, you can ensure that your bathroom stays clean and fresh all year round.
How To Clean Your Bathroom
If you're like most people, the bathroom is one of the last places you want to spend your time cleaning.
However, with a few simple tips, you can quickly and easily get your bathroom sparkling clean – without spending hours scrubbing! Here's how:
Start by decluttering the countertops and sinks – this will make it easier to clean surfaces and prevent the build-up of soap scum and other grime.
Next, wipe down all surfaces with a multi-purpose cleaner. Don't forget to clean the inside of the toilet bowl and under the rim!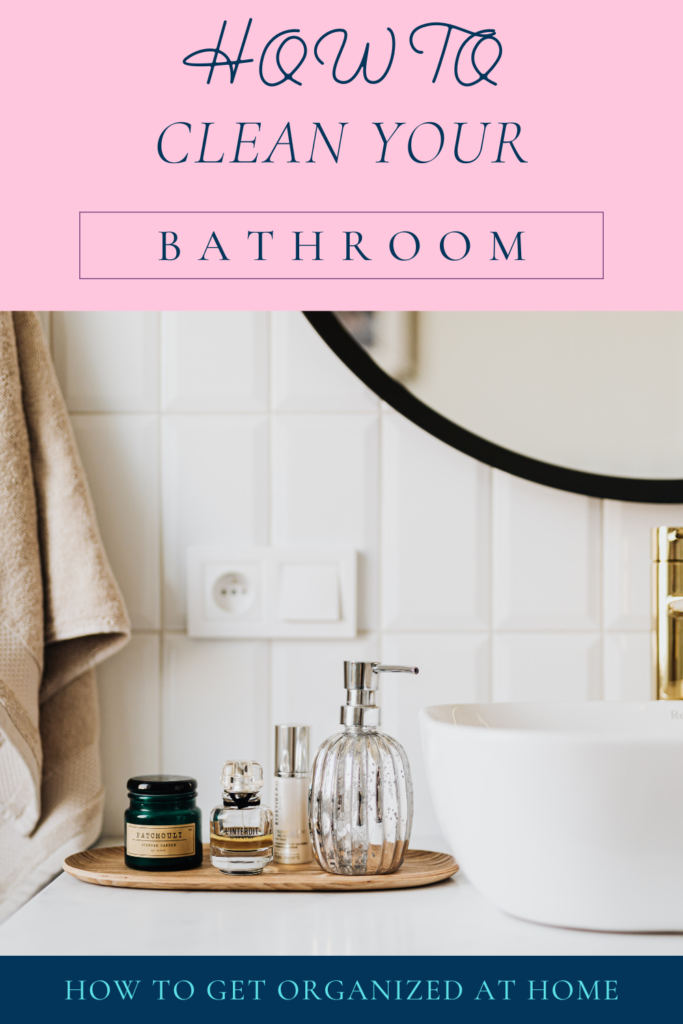 If you have tile floors, mop them with a disinfectant solution. Finally, give the bathroom a good airing out to prevent musty odors.
With just a little bit of effort, you can keep your bathroom looking and smelling fresh – no matter how often it's used!
The Best Way To Keep Your Bathroom Clean Long-Term
Keeping your bathroom clean can feel like a never-ending task, but there are some simple steps you can take to make the job easier.
For starters, it's important to create a cleaning schedule and stick to it.
Dedicate a few minutes every day to cleaning the sink, countertops, and toilet.
In addition, take a few minutes each week to deep-clean the shower, tub, and floors.
This may seem like a lot of work, but it's much easier to clean a little bit each day than it is to try to deep-clean the entire bathroom all at once.
Another important tip is to keep things organized. Check out this bathroom storage.
Make sure there's a place for everything and put things back in their rightful place after using them.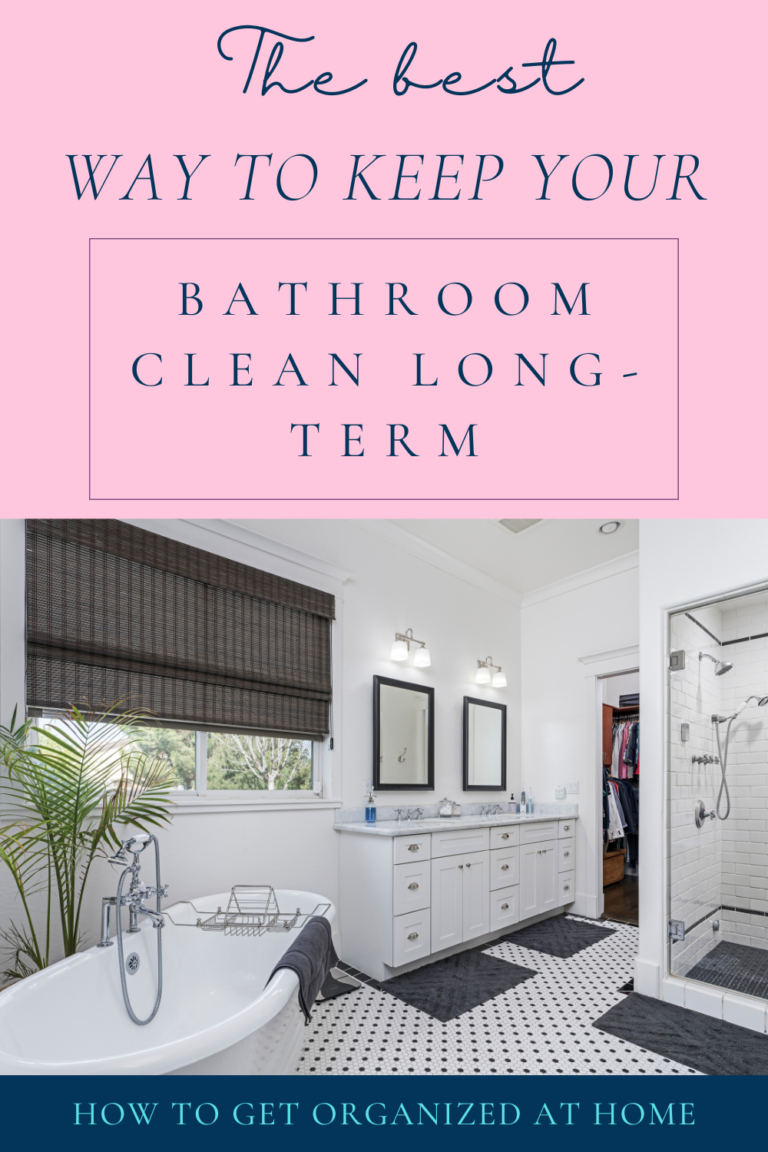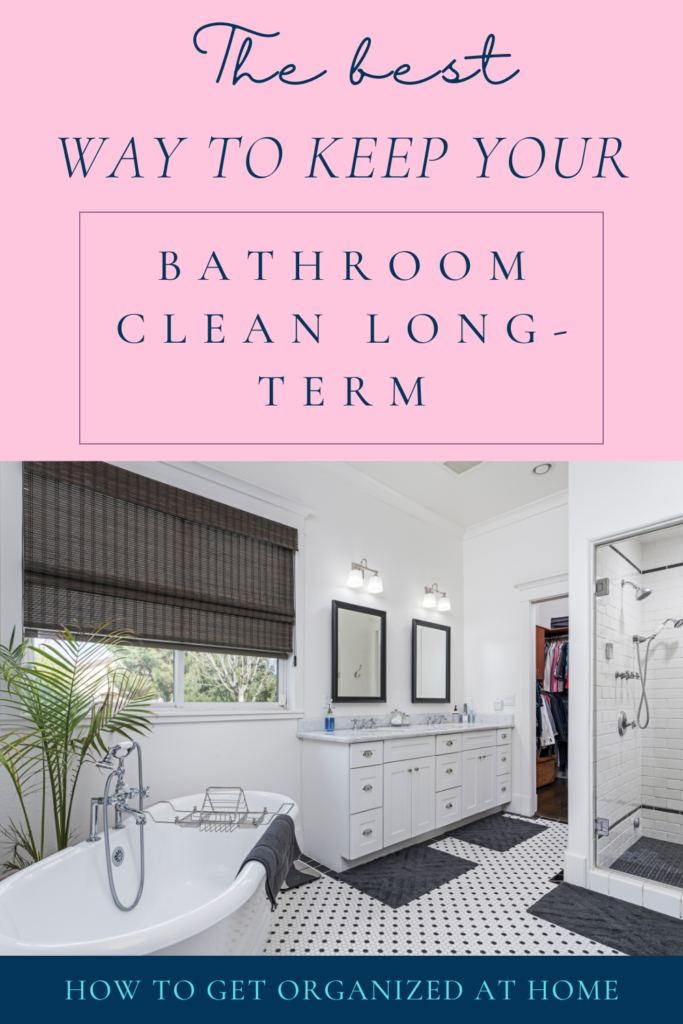 Clutter can quickly make any space feel dirty, so taking the time to keep things tidy will go a long way toward keeping your bathroom clean.
Finally, be sure to ventilate the room by opening the window or running the exhaust fan after every shower.
All of these steps may seem like small things, but they'll make a big difference in how long your bathroom stays clean.
So there you have it – a comprehensive guide on how to clean your bathroom.
As with any cleaning project, the best way to keep your bathroom clean long-term is by establishing a regular cleaning routine.
Be sure to join my newsletter so you can get notified when my next post goes live. If you have any questions or feedback about this post, please don't hesitate to leave me a comment below. I always love hearing from you!
Resources To Help You Clean Your Bathroom
Let's be real, keeping a house clean and organized isn't easy but there are things that can be done to make the process easier.
Check out these resources that help you keep that bathroom clean.