As the holidays are fast approaching, it is important to start finalizing the details of events you are attending or any that you are hosting. There is nothing worse than a miscommunication between visitors and being late or arriving too early. It can make a difficult situation for all concerned and can put unnecessary strain and anxiety on an already difficult time of the year.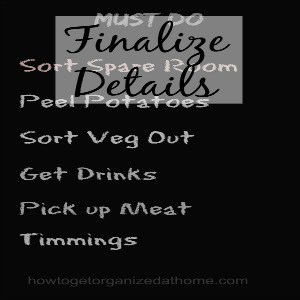 A True Saying 'Devils In The Details'
It might seem improbable but it is important that you are thinking about the little details, because the more that you can plan, the more time you will have to do the things you want to do over the holiday period and not the things that you don't want to do.
Spending time with your family and friends is important and to do this well and to appear in control, if you plan when you need to do certain tasks it can make the day go so much smoother.
If you don't want to be tied to the kitchen, doing a million jobs, then have things prepared, a time plan works great when you are cooking a big meal, it can allow you to work out just what you need to do and when. Meaning there is more time for you being with your family and not stuck in the kitchen.
If You Are Expecting Guests
If you are expecting guests to attend a party at your home it is important that you know when they're expected, if they are staying and when they are expecting to return home. The more information you have the easier it is to prepare things in advance, it is the details that make things come together.
If they arrive expecting to stay and you haven't arranged a space for them to sleep it can get embarrassing for all parties involved.
Check how they are arriving and if it is by car, ensure you know the best place for them to park. If you have visitors who are driving, make sure you have enough non-alcoholic drink in the house as it is important that while they are guests in your home you are not enticing them to drink and then drive home.
If you are planning a meal for shortly after they arrive make sure that you are fully aware of their expected arrival time, there is nothing worse than trying to keep a meal warm and rushing your guests to sit and eat before the meal is completely ruined.
If You Are Going To Be The Guest
If you are staying with a friend or relative over the holidays, then it is important that you check up on all the details to ensure that they are still expecting you. Ask if you need to bring any extra bedding like pillows or food and drink for the meal.
It makes the time you spend with these people even more special because you are thinking about their needs too.
If you are staying in a hotel, I always check the booking before the holiday because mistakes do happen and it could mean that you have nowhere to go if the room has been double booked.
Therefore, if you are looking to complete plans for the coming holiday season, it is important that you check the arrival times so that meals get timed to perfection, or as near as possible, giving you as much time as you want to spend the quality time with your friends and family. Checking the details can help iron out any little problem before it arises.