4 Easy Tricks To Keep You On Time
I am one of those annoying people who are never late for an appointment and always extremely early. I can't bear the thought of being late, but it hasn't been easy; it is a point of contention for my family because they just dislike getting to appointments 15 minutes early and then have to sit there and wait. It is just because the anxiety builds that it starts to worry me and I just can't bear the thought of being late. Because of this, I have developed many coping strategies to ensure that no matter what, I am on time. You can use these to keep you on time too!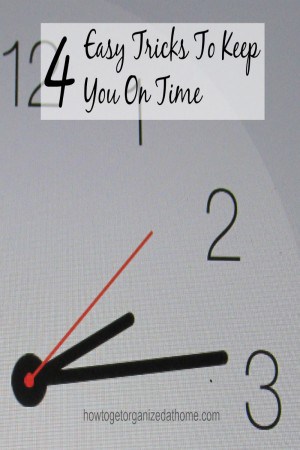 Affiliate links support How To Get Organized At Home
4 Tricks To Keep You On Time
These are my many ways I keep myself focused and on time for everything:
Planning is the most important tool that you need to use. When you plan for an appointment, you must include travel time and I always add 10 minutes on to my guess to account for any problems. If you plan properly, you will never be late for an appointment and this reduces the stress that you can feel if you are running late. Planning also ensures that you're prepared and ready for the event in advance, you know what you are going to wear, or if you need to buy something in advance, it keeps you accountable and ready for whatever life has in store.
Set alarms during the day, I set my alarm for 30 minutes before I need to leave, I then only snooze the alarm until I am about to walk out of the door; this prevents me from becoming distracted and forgetting my appointment. It also reassure's me that I won't get so distracted by the day's events that I forget about my appointment; just the idea of this makes me nervous!
I am not a morning person, it takes me a long time to wake up and get moving; because of this if I have an early morning appointment I get up early to give myself the time that I need to wake up before I need to leave. This is crucial for me, if I'm rushed, I will worry that I have forgotten something and this makes me anxious and it is not worth the stress on my family. They are brilliant at putting up with my little quirks and this ensures that the appointment goes as smoothly as possible.
Ensuring other people are aware of your family appointments or events, which they need to attend also. I keep a diary where I like to track everything that the whole family needs to do; I panic if I think I have forgotten to remind someone of an appointment or something is due. Therefore, a couple of days at a time I like to check ahead in my diary and to check if there is anything that I need to remind a family member about; then with this information, depending on the person will depend on how this information gets passed on, they get told of the item they need to attend, too. This keeps me organized and it means I worry less about things, which is important.
Therefore, if you are looking for ways to ensure that you are on time and never late for an appointment then planning is the key point to learn, if you use this with alarms on your phone to remind you then you will never be late again. It isn't difficult to keep you on time if you plan and work out your day fully.
If you are looking for more articles on this topic head over to the landing page where you will find links to other posts on time management.
What tips do you use to keep you on time?
I wrote another article that I think you will like, The Ultimate Guide To Using Your Day Planner, I think it will help you plan your day!