With spring around the corner, for many it is time to ensure that any debris that has collected in your gutter over the winter gets removed; if you leave it in there, it can block your gutter and can even cause damp inside your home. Cleaning out before the summer will allow for any summer rain to go right into your water-butt and provide your garden with the much-needed water during the summer months. It isn't an easy job You might need help clearing out your gutter.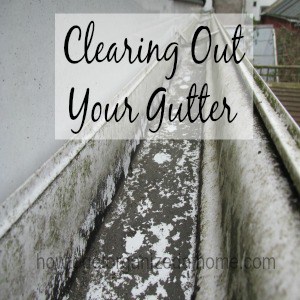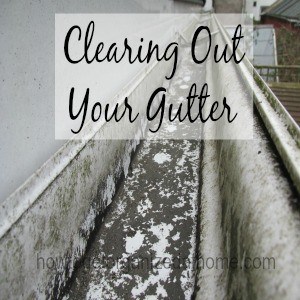 Affiliate links support How To Get Organized At Home
Cleaning your guttering is an essential spring job, it is important to remove any build-up of debris, which can cause problems if left to fester. It allows you to check the guttering and your roof, to make sure that it hasn't been damaged by the winter weather, giving you the opportunity to get any repairs done in the warmer drier months.
Clearing Out Your Gutter
It is important to choose the right day for this job, you don't want rain or to have a frost as this is a potential hazard for the person climbing the ladder. Ensure you have a ladder that is long enough to reach the gutter comfortably without stretching or hurting yourself.
Ensure that you have some strong and durable gloves, you just won't know what is in the gutter and you must ensure that you do everything possible to protect your hands from whatever is lurking inside the gutter and all the leaf mould.
Having another pair of hands is always important if you are working up a ladder, they are there to help you and to check that you are acting safely and not over stretching. Holding the ladder also adds that extra safety person to try to prevent any form of accident.
Having a bucket for the debris is key, be secure and not something that you are having to hold whilst juggling to get the debris out of the gutter and at the same time try to be safe up a ladder.
Don't forget to check the roof for any loose debris that will easily end up in the gutter blocking what you have just cleared, a quick sweep allows for any loose particles collected and removed.
It will depend on what items you pull out from the gutter as to where you can dispose of it if it is all leaf mould then the best place is the compost heap, anything that is not organic will need a bin. You might be surprised what you can find in a gutter, different objects get brought to your gutter through animals or the elements and these can and will be found whilst clearing out your gutter, thus making the wearing of protective gloves so important.
The Wash Down
After cleaning out your gutters it is the perfect time for a quick wash down, this ensures that the gutter is working properly and that there are no leaks and any loose bits get washed down into the drain.
If you are not confident to clean out your gutters then find someone who can do this for you, don't forget if you are employing a company that you get a few quotes, to ensure that you are not being overcharged for the service and that you get a competitive price.
What is your best tip for clearing out your gutter?
Therefore, it is important that you start thinking and planning your cleaning of your gutters, getting rid of all the leaf mould before it starts breaking down providing nutrients for seeds to germinate causing, even more, problems than you could image.