How To Arrange Your Living Room Furniture
The way you use your living room will dictate to some extent how you arrange your furniture. It is not easy to get the flow of a room right and changing a room around can give you a completely new feel about the room. It is not about decoration but how you choose to place the items of living room furniture, is the key to making the room work for you.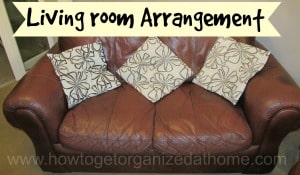 Focal Points In Your Living Room
There are areas in your living room where items will have no option but to go in a certain place, or add a feature in the room. For my living room, this is the fireplace and the TV. These items are not going to move but people gravitate around them and this is where you are considering furniture placement.
You need to think how you use the room and the amount of doors into the room, my living room has three doors and sometimes it can feel like a corridor and I hate this. You have to allow the traffic through the room without it feeling like an assault course too.
Making The Space Work
I don't enjoy living in a white box flooded with light. I like shadows, small spaces, old furniture.
I don't think I know a single person who is completely happy with the shape of their living room. For some people it is too small, too big and all different comments in between.

However, it is not about wishing you had more, that would mean more to clean too, but making the space work for you. For the items that you have in the room and the items you don't want.
Toys can be the biggest clutter of all, you just don't notice how many can creep into the living room. For some people this is fine, others just don't have the room. When my three were little, we had a couple of wooden toy boxes that stayed in the living room and only these could contain toys and the major stipulation I had, was the lids had to shut. Any more than this had to be stored in their bedrooms and this worked as a great compromise.
It is important to understand that some objects don't need to be shoved against the wall. If you can move items away from the wall, like chairs and sofas, it will protect your wall as well as soften the room.
If you have a large room you can use furniture as a divide in the room, I have seen this work well.
Storage Solutions For Your Living Room
If you are looking for storage solutions for your living room, it is important that you consider the items you are looking to store. Sometimes you might have enough space if you look at your current storage and maybe reduce the amount of items, to allow you to reduce the storage option you need.
It is important that you don't rush out and purchase a new item, make sure you consider all the options first and that includes looking at either repurposing an item of furniture you already have or looking to see if you can find a great piece second-hand. Sometimes this furniture is of better quality than some cheap living room furniture you can buy.
It is important that you set your budget firmly and know how much you have to spend and what you are looking for. Only when you are fully sure you can afford the item and it will fit with your current living room furniture should you consider purchasing something new.
Choosing Your Layout
Whilst it is a personal choice in how to arrange your living room furniture, it is important that you consider the flow of the traffic coming into the room. How you use the space is a key factor in the positioning of the furniture. If you want to use this space to watch TV, then arranging the furniture around this focus point is key to the usability for the room.
If you are looking for an area for children to play you will want to give them space to move and play.
Therefore, there are ways you can arrange your living room furniture to maximise space. Think of the function and the flow of the room, what your available furniture is and the size of the room before you start to arrange your living room furniture.