Budgeting Strategies For Retirement
It is one of those areas you're told to make provisions for and you never seem to get round to it. But retirement will eventually creep up on you and you will have to face facts; start saving for your retirement or end up working for your entire life. An option, which many people are choosing; originally, when the retirement age was first picked, people didn't live long and healthy lives. Now people are living longer and the idea of spending 30 years doing very little is not appealing to many, especially if they are looking to have some years of comfortable living.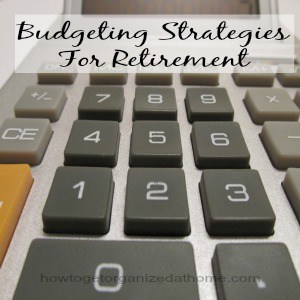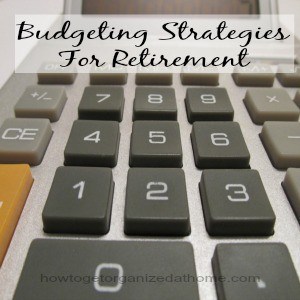 How To Budget For Retirement
Obviously, the ideal is not to have a mortgage still when you retire, as this can take a huge amount of any income that you do have coming in. At this point in your life you will see certain areas of expenditure will drop. If you were out at work and you used some form of transport to get there, for instance. However, don't forget that you're going to spend more time at home and this will increase the costs associated with the daily running of your home.
One solution is to save for years so when you do choose to retire you can do so knowing that you have put enough aside for your living expenses. It is important to remember though that the average person is living longer and if you retire at 70 you could easily live another 20 years, therefore you will need to ensure that you have enough money put aside or an income each month from which you can live off.
The earlier you start saving for your retirement the less you will have to save each month. The older you are, you will have to save more to make up for those lost years.
Choosing When to Retire
It is important that you are choosing the right time for you to give up work, there are restrictions now that should prevent you from a forced retirement; however, there might be some areas or jobs that still specify a retirement age.
Working out when you want to retire is an important step, some people are opting for a change in career paths when they reach retirement age and choose a less stressful part-time job. It guarantees an income and you are still able to have contact with people, but it is less stressful than working a full-time job.
Saving Money In Retirement
The advantages of being a senior citizen are the discounts offered by some retailers for using their stores at the less busy time of the week. Taking advantages of these savings can save you a lot of money at a time when watching the pennies is important.
There is also the option to move to a country where the cost of living is cheaper than where you are currently living. It is important to make these decisions carefully as it isn't always easy to sell a property overseas and to have adequate money to move back to your original destination.
Therefore, it is important that you take time to plan your retirement carefully now, make sure you have adequate income to cover your expenses for your retirement needs. Start saving now for the future so that you can enjoy those golden years in relative comfort.