A Simple Way To Clean Your Loft
If you keep the rest of your home organized and clean why is it so many lofts become the dumping ground for items we no longer need or want, why don't we tackle the problem before adding to an already un-organized mess? The answer is often simple, the loft has a door, which stays shut and it is quicker to throw something in there rather than decide as to what you really want to do with the item in question. Maybe some of the items in your loft are what you inherited from previous homeowners; you might be shocked to know that when my son moved into a rented flat he found underwear just lying around in his loft!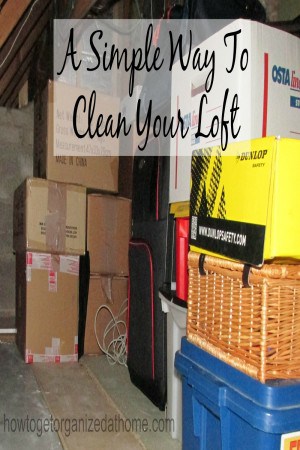 A Simple Way To Clean Your Loft
It is important that you cover up with old clothes because you won't want the dirt and dust ruining good clothing and it is important to use a face mask, breathing in a lot of dust just isn't good for your health.
How to clean out your attic in practice is simple the aim is for items in the loft is to have them boxed and labelled; everything in your loft should have a home too. It is a long process so making sure you have adequate time is key to the success of your loft clearing.
Be careful, if your loft isn't boarded out it does become a bit of a balancing act, if you are looking to continue to use it as storage, using old pieces of wood that you can lie across the joist will help. The last thing you want is a claim on your house insurance and a trip to the local A & E department.
I sort into piles of like items that I want boxed together and when I have a small pile they're boxed and labelled up, the rubbish gets removed, items I no longer want are also removed; they will either be sold, donated or sent to the recycling centre.
While a loft seems a good place to throw items you aren't using, it is important to remember that you can't just keep adding to the pile, keeping on top of the items is important. Keeping them clean and organized might seem over the top for a loft, but if you can instantly find what you are looking for then it will save you time when you need the item or need to empty it, if you are moving.
Don't Be Fooled Over Time
This is not a quick job, even if it's organized, moving things around to clean is still a process that takes time, it is not a task that you can do ten minutes at a time, and often it is going to need a couple of good sessions to make an impact.
If you need to enter your loft space via a step-ladder this isn't the easiest of tasks, and moving items up and down a ladder is not an easy process, you will also find you need time to clean up the room that has the loft access as that too will have an increase in the dust particles present.
Insulation and Storing
It is important that you have adequate insulation, but too much is a problem too, it can increase the humidity if you don't allow for air flow and this can cause damp and mildew to grow and spread.
Check with a specialist as to the recommended amount of insulation you need and if you have adequate ventilation. Even though you shut the loft it still needs air circulation to prevent mould growth.
Therefore, a simple way to clean your loft is to organize it into labelled boxes allowing quick cleaning of your loft space regularly. Don't forget to wear protection, not only for your skin but a face mask is good to prevent dust entering your lungs and causing illness.