6 Ways To Faster Cleaning
Sometimes life can get in the way of your cleaning schedule, it can be sickness, visitors, even taking on too much work can push your cleaning schedule to the bottom of your to do list, sometimes for more than just the odd day. It can become overwhelming on where to start to get your home back in order, I know, I have been there! It can seem like a mammoth task that just seems impossible, and something as simple as being overwhelmed can stop you from taking back control.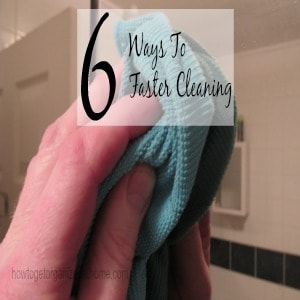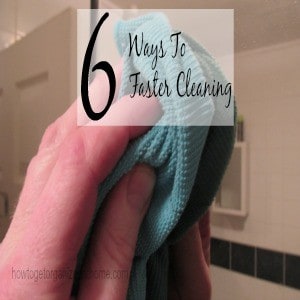 Cleaning Fast
If you are unsure what to do first because your cleaning list has gotten out of control then look at what you need to do and prioritize. Put the items at the top of the list that are the most important jobs and aim to get these done, often they are the most difficult but tackling them first can give you a sense of accomplishment and help you move forward with your to do list.
It is important that you have time to do the tasks, you must take control of your time management; if you are giving yourself too short a time frame to complete all the tasks, you're not going to get everything done, you need to consider realistic timings for jobs and tasks.
Set a timer. It is a great way to ensure that you're focused on the task in hand, it ensures that you are not distracted, you have a set time to do a particular task and focusing on that is important. Setting a timer gives an end to a task and this is just as important as the beginning. It gives an end goal, a challenge to complete a set ideal in that time-frame.
Reduce the number of tasks that you want to do in a day. If you have fewer tasks to complete, it is easier to see them quickly crossed off, you can add more from a master to do list but only if you actually have the time, maybe you could reward yourself first with a break before embarking on another job.
Delegation is a great way to get your home clean fast, asking others for help is important; it means that not all the tasks are falling on the shoulders of just one individual, sharing the chores is good character building and it makes the task of cleaning a lot easier to manage.
Don't procrastinate, the longer that you put off tackling a job the bigger the job can actually become, it is important to just get up and start your to do list. It is easy to think that as the tasks build up you haven't the time to do the work and you can put off making a start. Even just five minutes on a task, means you have started and are making some progress towards the conclusion. Try breaking the jobs down into smaller components, it will make the job seem easier and it can then be split over a larger time frame.
Therefore, while it might seem like a daunting task to get your home clean, it is possible to get your cleaning schedule back on track. It might take a few days but the quicker you start the easier it will be.