6 Reasons Why It is Difficult To Beat Depression
Depression is not an easy illness to admit to, or to treat, because it is different in each person. How they feel and what they are able to do or not do will vary depending on the person, also, how they are moving forward and combating this mental illness. Understanding why it is a difficult illness to beat and the ways that you can combat these issues, can help you fight an illness and head towards recovery.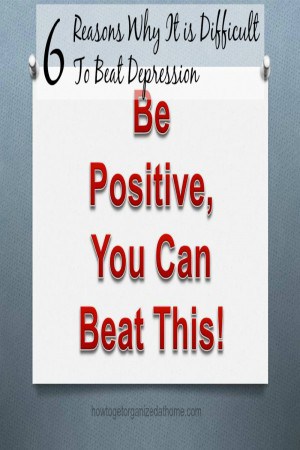 6 Reasons Why It Is Difficult To Beat Depression
The number one reason why it is difficult to beat is not identifying how you are feeling and taking action. Depression won't just go away, you will need help and treatment; feeling embarrassed and not talking about your feelings to someone who can and will help you. Admitting there is a problem is the first step on your road to recovery, without this acknowledgement it is difficult, almost impossible, to recover and beat depression for good.
Depression is difficult to break because it forms a cycle of negativity and it is breaking this cycle, which is the most difficult aspect of beating depression. You feel low, this makes you less likely to want to do anything and then the tasks can become overwhelming and you don't know what to do or where to start, so you continue to do less. Feeling low and not motivated can make you head for convenience foods instead of a healthy diet, which can make you gain weight and not want to move and the cycle starts again. You have to break this cycle, it is not easy and there are times that you can find yourself back trapped on this cycle without even realizing what has happened. You have to move, exercise is good for you and it can make you feel more energized, eating healthy food will make you feel better and you will break that cycle.
Negativity is normal with depression; you will see the negative side to a situation before you see the positive. This puts a low mood on everything if you can't see the good in a situation. Write in a journal every day, write down three positive things that happen each day, they might be as simple as washing the dishes or going for a walk; while some people will think that these are normal everyday activities, you will know the accomplishment that you feel at doing something positive and will help to fight your depression.
Being truthful as to how you feel, admitting that you are having a bad day and talk through ways that you can fight and make the next day a more positive experience. When you are fighting depression and someone asks how you feel it is easier to say 'you are fine' rather than feel that you are burdening someone with the actual truth of how you feel. I am not talking about telling everyone that you meet in the street that you don't feel great, but talking to your partner, a friend or even your doctor can help you feel better. You aren't bottling up those feelings and pushing them down into the depths only for them to add to the negative feelings that you are already experiencing.
Not putting yourself first and taking no interest in how you look or feel. I am not saying that you need to go out and buy a new wardrobe of clothes, because chances are it won't work. You have to address the thoughts in your head about yourself, how often you put yourself down, how taking care of your needs comes at the bottom of the pile. While many people do have other responsibilities, the most important person is you. Taking care of yourself is important, something as simple as taking a shower or fitting some 'me' time into your day, just 5 or 10 minutes for yourself is important, it makes you feel better.
Understanding that depression is not something that is going to go away overnight, it can stick around for many years, even a lifetime, but managing depression and knowing what to look out for is important in case you relapse back into depression.
Therefore, while there are many instances that will try to stop you beating depression, there are things that you can do to fight these and move forward with your life. Don't let depression take over, fight back and learn to manage it so that you can live your life.
If you are looking for more articles on this topic then head over to the landing page where you will find links to other posts on depression.