Your Pet Care This Holiday Season
Taking your pet care seriously is important; they are important members of your household and they need to have their needs met too. Making sure, they have the food, warmth and love this holiday season is important. If you are taking them to a new environment, then you have to expect the occasional accident due to being excited about going somewhere new and meeting different people. It is a stressful time and putting their needs first, above yours, is more than an act of kindness, it is the right thing to do.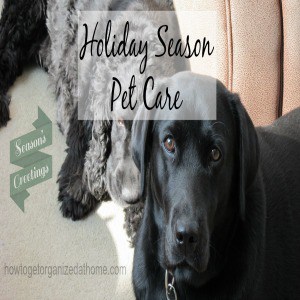 Pets And Decorations
While we decorate our homes with trees, lights and other odd items it is no wonder that these can entice our pets to explore or hide in sheer terror. Whatever the reaction of your pet to the decorations, it is appropriate to give them a space away from the flashing lights and temptation.
Having a tree with lights and sparkly items is sometimes a temptation too much for inquisitive cats and dogs, and while they might not mean to cause mayhem and destruction this often follows when left unsupervised with decorations; they can even chew through the cable, which can start a fire or give your pet an electric shock.
One item that your home can't have if you have any pets because it is poisonous is the holiday plant, poinsettia. If you have cats or dogs and they eat the leaves it can kill them.
Pet Care: Leaving Them Behind
If you are planning to leave your pet care to someone else when you go away, it is important that you have enough food to last for the time you are away and that you leave instructions on the care of the animals.
Don't turn your heating off if you are going away and it is cold, they need to be warm too. Just leave it on a lower setting than normal. It will prevent burst pipes, too, if the weather gets too cold.
Always provide emergency contact numbers in case there is a problem and the person caring for your pet, or even your pet needs medical help. Ensure your pet is microchipped, if the worst does happen and they get lost; at least you will have some way of finding your pet.
Pet Care In Boarding Kennels
If you are planning to leave your pets in kennels then you should book early, often they fill up quickly during holiday time. Always check out the premises before you let your pets stay there, this will ensure that you are happy with the facilities they offer.
They will want to make sure that your pet is fully up to date with their injections; you can prove this by taking their vaccination record.
Travelling And Pet Care
If you intend to take your pets with you ensure that you consider the pet care that you can offer. Travelling to strange places and staying with different people can put stress on your pets and this can increase the potential for accidents.
If there are many people around during the holiday period make sure, they have a quiet place they can go if they just want to get away.
Travelling itself can be traumatic; I have had dogs that love going out in the car and other dogs who totally hate travelling. Knowing your pet, and what makes them happy, is important.
Therefore, if you are planning some sort of trip or having friends over it is important that you consider your pet care arrangements, to make sure they are happy with all their needs taken care of. If you buy them presents, make sure they are safe, you don't overfeed them with treats and ensure you consider their safety when it comes to decorations and loads of different guests coming into your home.