Reducing The Cost Of Bills
With winter taking a hold and the heating going on it is important to consider the cost of the bills. If you have been careful over the summer to ensure your bills are as low as possible, it is important to carry this on into the winter too, ensuring that you have enough money to pay the bills when they arrive.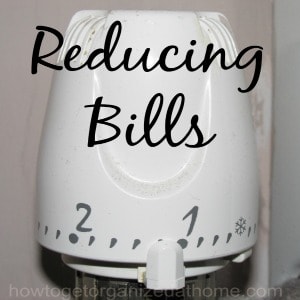 The Cost Of Energy Bills
The price of gas and electricity to heat our homes seems to creep up. There are ways in which you can actively help to reduce the cost of heating your home.
Use thermostats on your radiators then choose the right temperature for each room. Keep bedrooms cooler unless you have young children or older adults sleeping in there.
Make sure you have a thermostat to control the overall temperature of your home, reduce this by one degree and this will save you money.
If you are out at work all day have your heating set to come on just before you come home, it is not cheaper to have your house warm all day. If you are at home all day then still use a timer to see if you need it on all the time.
Check that you are on the cheapest tariff, if you owe the company money it is possible to change tariffs and companies but it can be more difficult. I paid a monthly fee and when I tried to change they never seemed to owe me money always the other way round and their bills are so complicated that I opted for paying my bills when they are due and I just save the money in my account each month and I earn interest on that money too.
There are other options that can help you save money and they are things that can affect you all year round.
When insurances are due for your home and your vehicle it is important to find the best quote possible, most insurance companies offer big discounts to new customers so take advantage of these discounts when it is time for renewal.
Consider a water meter, this means that you will pay for the water that you use and not what the water company estimates. It will make you think twice about a leaky tap and different ways you can reduce the amount of water you use each day.
The answer service that was previously free "1571" some phone companies are starting to charge for this service. So cancel it saving you money. I just will start using my answer machine that I already have so I don't miss any calls.
If you need to buy regular prescriptions, you can buy a pre-purchase prescription card and this will save you money. It is important to check that you will be making a saving long-term. This allows you to save up for the next period. The current cost of a 3 month prepaid option is £29.10 if you think the cost of a prescription is now £8.05 it won't take many items to reach this limit, it is just over 3 items in the three-month period to save on your prescription charges.
Ensure that you recognise all your direct debits; it is surprising how many people forget to cancel direct debits at the end of a term and continue paying for something they no longer need.
There are loads of ways that you can reduce the costs of your bills, it is important that you take this seriously as it can save you a lot of money, meaning you are paying for the best services for the least amount of money possible, making your money work harder for you.